Daily Fantasy NASCAR: AAA 400 Drive for Autism Track Preview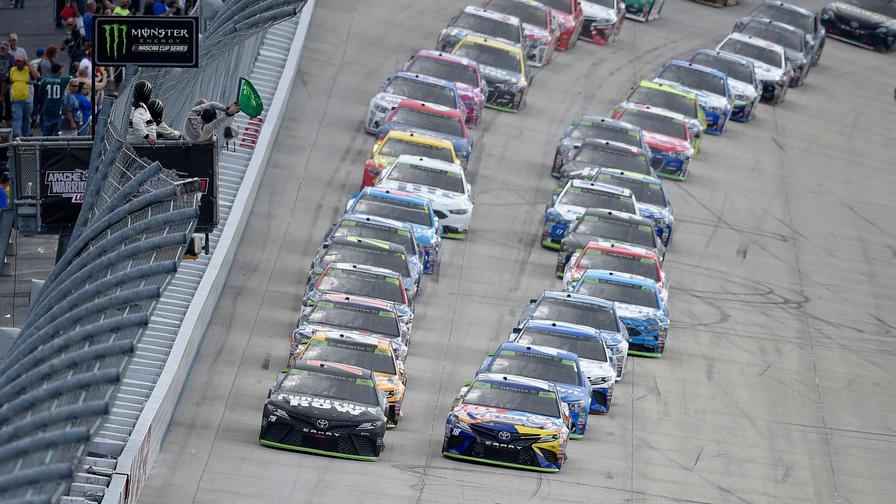 One of the unique challenges with daily fantasy NASCAR is that every track is different. Not only does this mean that certain drivers will perform better at one place than another, but each track will have different scoring tendencies than the previous one. That means we need to alter our strategies pretty drastically.
Each week here on numberFire, we're going to dig into the track that's hosting the upcoming weekend's race to see what all we need to know when we're setting our lineups. We'll have a separate piece that looks at drivers who have excelled there in the past; here, we just want to know about the track itself. Once qualifying has been completed, we'll also have a primer detailing which drivers fit this strategy and should be in your lineup for that week.
This week, the Monster Energy NASCAR Cup Series is heading to Dover, Delaware, for the AAA 400 Drive for Autism. Unlike Talladega last week, we get a full helping of 400 laps in this race at the one-mile track. That will play a major role in the strategy we deploy when filling out lineups, so let's check out what we need to know.
Track Overview
Last week at Talladega, we were safe to ignore practice speeds, and the only reason we used qualifying was to find drivers who would rack up place-differential points. That's not the case this week.
As mentioned above, we've got 400 laps in Dover as opposed to 188 in Talladega. That means there are 40 points available for laps led, 21.2 more than we had the previous weekend. You need to find drivers who are going to lead those laps if you want to score well here in DFS. There aren't many tracks as different from Talladega as Dover is.
We'll get to see how this relates to qualifying in the next section on historic scoring trends. But this style of racing does allow us to put weight into what drivers do in practice sessions over the weekend.
In last year's fall race at Dover, the correlation between each driver's ranking in the first practice session and their FanDuel points scored was -0.685 (with negative meaning a more meaningful relationship). That was the second-best correlation for the first practice session at any race of the entire year. There was a bit of extra chaos in the first race there last year, so the correlations were lower in that one. However, we need to incorporate practice rankings into our process.
We mentioned this in our piece on the importance of practice and qualifying speeds, but because it wasn't relevant at Talladega, it's good to go through where to find this data again. If you want a click glance, NASCAR's web site will post all practice data upon the completion of each session. The first practice is scheduled to take place Friday morning with qualifying that afternoon and the final two practice sessions taking place Saturday.
If you're looking to copy and paste this into a spreadsheet (which is highly recommended), then Fantasy Racing Cheat Sheet is a bit easier to use. Just click the "Quick Links" option at the top of the page and find the session you want to see.
Included on Fantasy Racing Cheat Sheet is the option to see 10-lap averages for each practice session. This will show the fastest average speed for each driver who completes 10 consecutive laps during practice. Because Dover is just a one-mile track, a good chunk of the drivers will likely do this in at least one of the practice sessions. Drivers who excel in these 10-lap averages may be able to better maintain speed over a longer run than others, meaning we should be checking this out, too, once it's available.
This is a plus if you like predictability. Being able to glean information from practice data is a plus for DFS because it allows us to better be able to figure out which drivers will be capable of leading laps and finishing well. But that doesn't mean Dover's boring.

Dover is a narrow track where small wrecks can turn into big issues in a hurry. These types of crashes aren't as prevalent as they are at Talladega, but they will happen.
Basically, Dover is a short track on steroids. You can be aggressive with your exposure levels on drivers in tournaments, but it's good to keep in mind that nobody is truly safe here.
If you're looking for a track similar to Dover, from which to gain some extra insight, you'll have to dig back only a few weeks to see what happened at Bristol. Both Dover and Bristol are concrete tracks with high banking. If a driver performed well there, the odds that he's in contention here are a bit higher than they would be at other tracks.
Historic Scoring Trends
As mentioned in the beginning, we need to find drivers who are capable of leading laps. This shows up when we look back at scoring trends at Dover.
The chart below shows the FanDuel point output by drivers at this track over the past four races, based on their starting position. Whereas last week we saw just one glob here, it should be fairly obvious that there are advantages to starting near the front.

Although you do get some big point totals from drivers starting in the middle of the pack (and some frightening ones from drivers at the front), the overall trend is that drivers score more points when they start at the front. The points available via laps led backs this data up anecdotally.
Drivers can lead laps without starting in the front, but it's much easier to do so without an entire pack in front of them at the beginning of the race. Of the seven drivers to lead at least 100 laps over the past four Dover races, six started in the top five and the other started 12th.
With this in mind, we need to take stabs at identifying which drivers will lead laps on Sunday. Of our five driver slots, at least two need to be used on drivers starting near the front who will have the ability to jump out and lead a bunch of laps. We can look for some place-differential points for the other three slots, but we need to sell out for those dominant drivers here.
This becomes particularly evident when looking at the scoring averages for each starting interval here.
| Starting Position | Average FanDuel Points |
| --- | --- |
| 1st to 5th | 72.10 |
| 6th to 10th | 59.91 |
| 11th to 15th | 58.76 |
| 16th to 20th | 66.02 |
| 21st to 25th | 62.20 |
| 26th to 30th | 55.79 |
| 31st to 35th | 53.13 |
| 36th to 40th | 43.14 |

Even though drivers starting in the top five carry lower floors should they wreck, they still had the highest average FanDuel score of any interval in the field. With the laps-led data mentioned before, that's easy to believe.
The average output for the drivers starting 6th through 15th is also a bit misleading. As you can see in the graph above, some drivers in that range wrecked and put up complete duds, which will drag down an average. That is certainly a risk, but these guys still carry good ceilings for tournaments.
Let's pretend for a quick second that salaries aren't an issue and that we want to roster just the five highest-scoring drivers at Dover. The table below shows where the five highest points totals have come from over the past four races, illustrating ranges we can target to get these high-upside days.
| Starting Position | Top-Five Scorers |
| --- | --- |
| 1st to 5th | 7 |
| 6th to 10th | 3 |
| 11th to 15th | 6 |
| 16th to 20th | 3 |
| 21st to 25th | 1 |
| 26th to 30th | 0 |
| 31st to 35th | 0 |
| 36th to 40th | 0 |

Drivers starting 15th or higher have accounted for 16 of 20 top-5 scores in this 4-race sample. No driver starting lower than 26th has made the cut. That's important data to have.
If you're looking for a driver who will have just massive upside, you need someone who will start near the front and lead laps. Over the past four races, 6 of the 10 highest scores have come from drivers starting in the top five. We need to have these anchors in our lineups.
But that doesn't mean we can completely ignore those drivers in the back. Unfortunately, we can't just load up with five studs and call it a day. We have to fit our roster beneath a $50,000 salary cap, and that means we'll need to find some value somewhere.
If a young driver has a huge weekend out of nowhere, you can occasionally find a value play who will give you laps led. But that's going to be the exception rather than the rule. More often than not, we'll just need our value plays to log a decent finish.
With that in mind, let's take drivers who led laps at Dover out of the equation. Once we do this, we're left with 16 drivers (an average of four per race) who have scored at least 75 FanDuel points without the benefit of a lap led. Here's where those drivers started the race.
| Starting Position | 75+ Points, 0 Laps Led |
| --- | --- |
| 1st to 5th | 1 |
| 6th to 10th | 2 |
| 11th to 15th | 3 |
| 16th to 20th | 4 |
| 21st to 25th | 2 |
| 26th to 30th | 1 |
| 31st to 35th | 3 |
| 36th to 40th | 0 |

Things here are pretty spread out. While that doesn't give us one definitive starting area to target, it does give us actionable information.
We get five slots to fill in with drivers for this weekend. Two or three of them should be drivers capable of leading a ton of laps. For the other two to three slots, we need to find drivers who will finish better than they started.
Of our 16 drivers who scored 75 points without leading a lap, 15 had a positive place differential. The average starting spot was 18.63 with an average finishing position of 7.56. Three of these drivers didn't even finish in the top 10; they just had enough place-differential points to make up for a mediocre finish.
As such, every time you put a driver into your lineup, you should ask two questions.
1. Can this driver lead a bunch of laps?
2. Can this driver get me some place-differential points and a decent finish?
If you can say yes to both questions, you need to load up on exposure. If you can say yes to one, then that driver deserves to be in your lineups. But if you struggle to answer in the affirmative for both, then you likely need to look elsewhere for that slot.
The way to identify which drivers will lead laps and make up ground can come from track history and current form, which will be covered in tomorrow's driver preview. But you can also pin that down by looking at practice speeds. If a driver had great practice sessions but qualified poorly, they're probably a good bet to make up some ground once the green flag falls.
Dover can be a beast at times (its nickname is "The Monster Mile"), and that can be frustrating for DFS. But it's far more predictable than Talladega, and we'll have extra information to factor into our process this week.
As long as you're considering these historic scoring trends and studying the data from this weekend's practices, you should be in a good spot to pump out some snazzy lineups.