3 FanDuel Hitters to Avoid on 8/3/16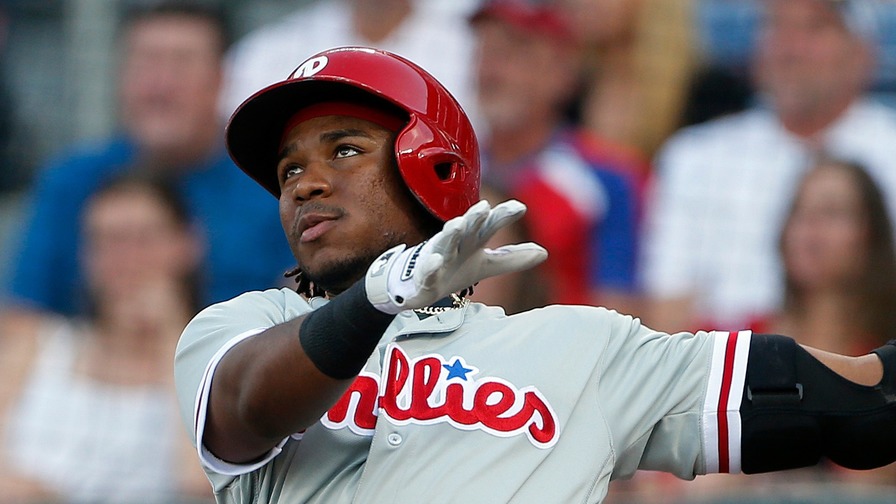 As is the case in most daily fantasy sports, finding information on players you might want to roster is a lot easier than finding players to avoid.
While you can get away with a zero from a hitter in daily fantasy, you certainly don't want to target guys whose matchups aren't enticing.
Here are three hitters you may want to lessen your exposure to or even fade altogether on Wednesday.
Maikel Franco, 3B, Philadelphia Phillies
FanDuel Price: $2,900
Maikel Franco made someone a ton of money on Tuesday night. He put together a 4-for-4 outing with a double, homer and four RBI's. He had just over 50 FanDuel points, but tonight the Phillies are running into Johnny Cueto. The right-handed Franco may have hit lefty Madison Bumgarner well last night, but he could see different results against Cueto.
Franco owns a .313 wOBA against right-handed pitchers this season. His ISO drops 57 points to .193 against righties, while his hard hit rate plummets to 28.7%.
Cueto, on the other hand, has made his money against righties both this season and throughout his career. Right-handers have a .253 wOBA versus Cueto this season. He also has a 0.98 WHIP and a slightly-above-average 22.2% strikeout rate against righties this year, making Franco a player to avoid on Tuesday's slate, especially with the assumed increased ownership after his big Tuesday.
Chris Davis, 1B, Baltimore Orioles
FanDuel Price: $3,300
Chris Davis has not been getting it done of late. He is 5-for-53 in his last 13 games with no homers and only two RBI's. He did drive in a run Tuesday night, but he has also been swinging and missing a lot recently with a strikeout rate of 37.7% in those 13 games.
Tonight, he has to go up against Cole Hamels, a very tough matchup for any lefty. What makes Davis a fade this evening is the fact that he has also been atrocious at home in 2016 compared to last year.
Davis posted a .345 wOBA against lefties last season and at home, it went up to .387 against southpaws. However, in 2016, Davis owns a .332 wOBA overall against lefties and a .340 wOBA at home against left-handers. His strikeout rate is already high, but with it elevated recently and Davis' less-than-stellar stats at home, the Hamels matchup is too much to overcome here.
Hamels has held 117 lefty hitters to a .234 wOBA this season. Left-handed hitters have a 27.4% hard hit rate, and the Rangers' ace has been even more dominant on the road this season. Overall, hitters have a .261 wOBA against Hamels when he is away from home.
Tim Anderson, SS, Chicago White Sox
FanDuel Price: $2,900
The rookie matchup tonight in Detroit between Michael Fulmer and the White Sox' Tim Anderson should be a good one. Both first-year players are great seasons, but tonight Fulmer should get the best of the Chicago shortstop.
Anderson was 0-for-3 in his first meeting with Fulmer this season, and even though the young shortstop has only around 200 at bats in the major leagues, his splits against righties are troubling. Anderson owns a .278 wOBA with a 28.7% strikeout rate against righties this season. His ISO drops to .124 against right-handed pitchers.
Fulmer has been outstanding this season. Earlier this year, he had a stretch of nine games where he allowed only one earned run or less, including five scoreless outings. Even though he looked bad the last time he faced these White Sox (July 22nd), he bounced back his next time out against a tough Boston Red Sox lineup, going 7 2/3 innings and allowing three earned runs.
Fulmer has also been great against righties. They have a .283 wOBA against him over 200 total batters faced. His strikeout rate jumps to 26.0% against right-handed sticks, and hitters have just a .219 wOBA against him at Comerica Park.