Do Andrew Cashner and Colin Rea Make the Miami Marlins Playoff Contenders?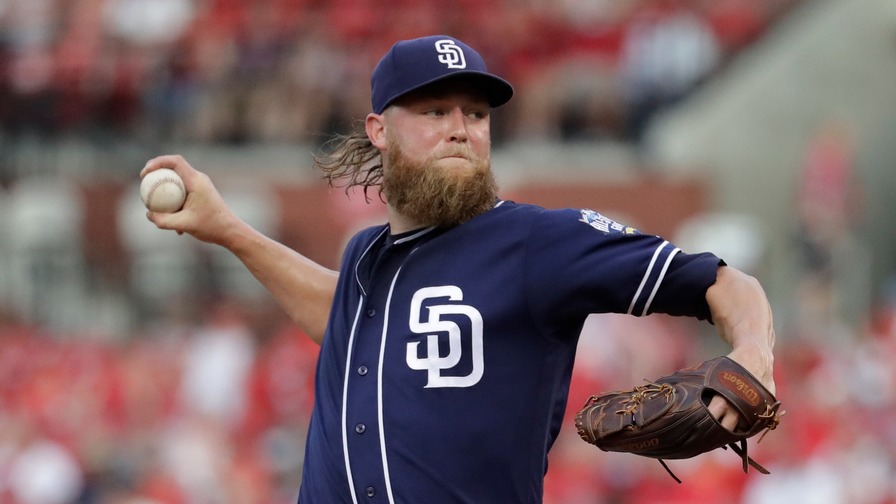 Well, you can't say the Miami Marlins aren't trying, at least.
On Friday, the Fish and the San Diego Padres agreed on a seven-player deal that featured two members of the Padres rotation, Andrew Cashner and Colin Rea, going to the Marlins in exchange for their number-two and number-six prospects. As a result, the Marlins have firmed up the back of their rotation, while the Padres have completely obliterated the one they started the regular season with.
The full deal includes minor league pitcher Tayron Guerrero going to San Diego. Meanwhile, Marlins starter Jarred Cosart and injured reliever Carter Capps are heading to San Diego along with two interesting prospects, first baseman Josh Naylor and pitcher Luis Castillo.
How It Helps the Marlins
Miami already has a solid top of the rotation, with Jose Fernandez and Adam Conley both having great seasons. But they recently lost their top free-agent signee Wei-Yin Chen to the disabled list with an elbow sprain, and Tom Koehler (8-8, 4.18 ERA, 1.1 fWAR) has been so-so at best.
With Cashner on board, the Marlins get a rental who has not been great in 2016 but who has upside that could make him a valuable arm to have as they fight for a wild card spot in the National League.
Here's what he's done since becoming a full-time starter four years ago.
| Year | W | L | GS | IP | K/9 | BB/9 | ERA | FIP | fWAR |
| --- | --- | --- | --- | --- | --- | --- | --- | --- | --- |
| 2013 | 10 | 9 | 26 | 175 | 6.58 | 2.42 | 3.09 | 3.35 | 2.7 |
| 2014 | 5 | 7 | 19 | 123.1 | 6.79 | 2.12 | 2.55 | 3.09 | 2.3 |
| 2015 | 6 | 16 | 31 | 184.2 | 8.04 | 3.22 | 4.34 | 3.85 | 2.3 |
| 2016 | 4 | 7 | 16 | 79.1 | 7.6 | 3.4 | 4.76 | 4.94 | 0.2 |

Historically a two-to-three-win pitcher, he hasn't been nearly as effective this year. And while Rea is controlled through the 2022 season, his numbers this year in the San Diego rotation have also been less than stellar.
| Year | W | L | GS | IP | K/9 | BB/9 | ERA | FIP | fWAR |
| --- | --- | --- | --- | --- | --- | --- | --- | --- | --- |
| 2016 | 5 | 5 | 18 | 99.1 | 6.89 | 3.99 | 4.98 | 4.75 | 0.5 |

Miami's rotation has a collective fWAR of 7.9 this year, eighth-best in the National League. Their 4.05 ERA is tied for sixth, and opponents are batting .250 against them this year, fifth-best in the National League. Their 4.22 SIERA ranks 11th in the bigs and 8th in the National League. But remember, a lot of that is due to the excellence of Fernandez and Conley.

Yes, the Marlins needed stability in the back of the rotation, but it's fair to wonder if an option like Jeremy Hellickson -- who has pitched more innings than either Miami starter (125 2/3), has a higher strikeouts-per-nine-innings rate (7.66), lower walks-per-nine-innings rate (2.01), lower ERA (3.65), lower fielding independent pitching (4.17), and better fWAR (1.8) -- wouldn't have been a better option.
Sure, Rea's contract keeps him around for a while, and he came into the season as the team's number-four prospect at MLB.com, but if he turns out to be not very good, controlling a mediocre starter for a long time isn't that great a thing.
How It Helps the Padres
San Diego has completed their entire purge of their opening day starting rotation. Only Tyson Ross remains, but he's been on the shelf with shoulder problems and may not return. The Padres have traded away James Shields, Cashner, Rea, and Drew Pomeranz and will struggle to piece together a rotation for the remainder of the 2016 season.
However, they landed two very intriguing prospects from Miami's system: a young starter who has struggled but has talent, and a dominant relief pitcher who is currently recovering from Tommy John Surgery.
Naylor was the 12th overall pick in the 2015 draft and played in the Futures Game this year. MLB.com said Naylor was the team's second-best prospect and has hit .269/.317/.430 with 9 homers, 24 doubles, 2 triples, and 10 stolen bases as a 19-year-old first baseman in A-ball.
MLB.com rated Castillo as the sixth-best prospect in the Marlins' system. The 23-year-old is also in A-ball, with a 2.25 ERA, striking out 7.6 batters per nine and walking 1.4 per nine. He's a ground ball pitcher who has produced a 51.9% ground ball rate this year, which is quite good.
Cosart has some talent but has struggled to put it together at the Major League level. In 57 career starts over four seasons, he has an ERA of 3.69, and a FIP of 4.20, striking out 5.62 batters per nine and walking a too-high 4.29 per nine innings. He spent the majority of this season at AAA.
And Capps was having a phenomenal season last year with Miami as their closer, with a 16.84 strikeouts per nine and a 2.03 walks per nine, posting a 1.16 ERA and a 1.10 FIP. He's the guy who pitches like this.
But Capps will miss all of this season as he recovers from Tommy John surgery. The team obviously is taking a chance that he'll be recovered enough in time to give them some innings next year.
Analysis
At the end of the day, I'm not sure how much this deal helps Miami make the playoffs.
Yes, they needed some stability at the back of the rotation, and there is some good upside potential with Cashner and Rea. If they pitch more like their past or pedigree suggests, they can be effective fourth and fifth starters.
But both have struggled to do much in 2016, and it's hard to see how they help improve Miami's odds of making the playoffs, which our projections currently have at 36.5%. Miami also gave up a solid package of prospects in order to land two pitchers who, in the end, may not help them achieve their goals this year.