The San Diego Padres Won't Stop Hitting Home Runs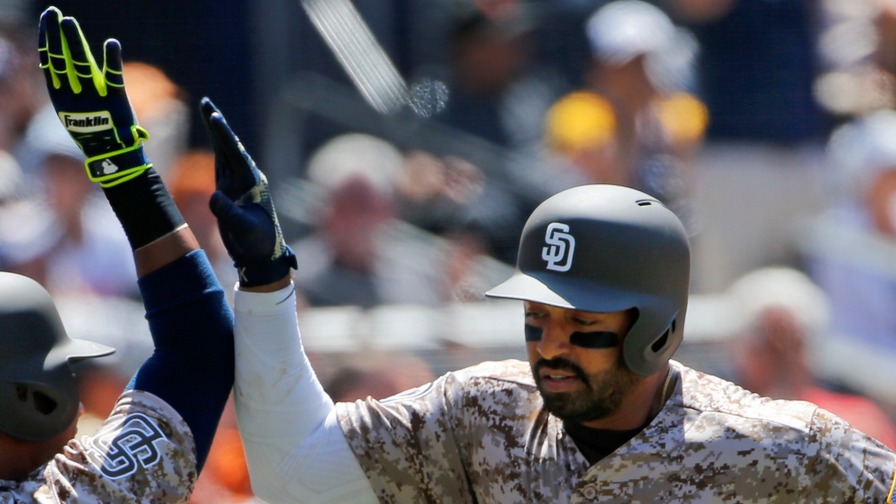 There was a time when the San Diego Padres, and Petco Park, had trouble with home runs. Those days are now long gone.
While their record is not where they would like it to be, the Padres offense, and particularly their power bats, have been solid all season long. But there are on a roll right now that has only been done one other time in National League history.
In today's game against the Blue Jays in Toronto, Adam Rosales and Brett Wallace both went yard for the Padres. Here's why that's news.
.@Padres have homered in 25 straight games, tied for longest streak in NL history (1998 @Braves). pic.twitter.com/xtBEfFwBFS
— MLB Stat of the Day (@MLBStatoftheDay) July 27, 2016

That's right, the San Diego Padres have homered in 25 straight games, tied for the longest streak in the history of the National League. Only the Atlanta Braves in 1998 matched that feat, and they are now two games away from tying the all-time record, set by the Texas Rangers in 2002.
This recent homer barrage has helped San Diego move up to 6th in the National League in home runs as a team with 120. Only the St. Louis Cardinals, Washington Nationals, Chicago Cubs, New York Mets and Colorado Rockies have hit more dingers this year. Matt Kemp is the team leader with 23, followed by All-Star Wil Myers with 20.
San Diego did lose one of their big power bats to these same Blue Jays this week when they traded Melvin Upton and his 16 dingers to Toronto, but they still have Derek Norris (12) and Yangervis Solarte (10) in double figures.
And for those who remember Petco Park as death for home run hitters, that has all changed over the last couple years. Last season, Petco Park yielded 1.085 homers per game, 10th-most in baseball. This year, the rate has actually slowed a bit, coming in at 0.982, which is 14th overall.
Still, that's considerably different than in the park's first few seasons, when they were regularly among the bottom five in terms of homers per game.
Out of all the teams, San Diego is really among the last ones you'd think would break this kind of record, but they are two games away from doing it.