Fantasy Baseball Waiver Wire Adds: Week 14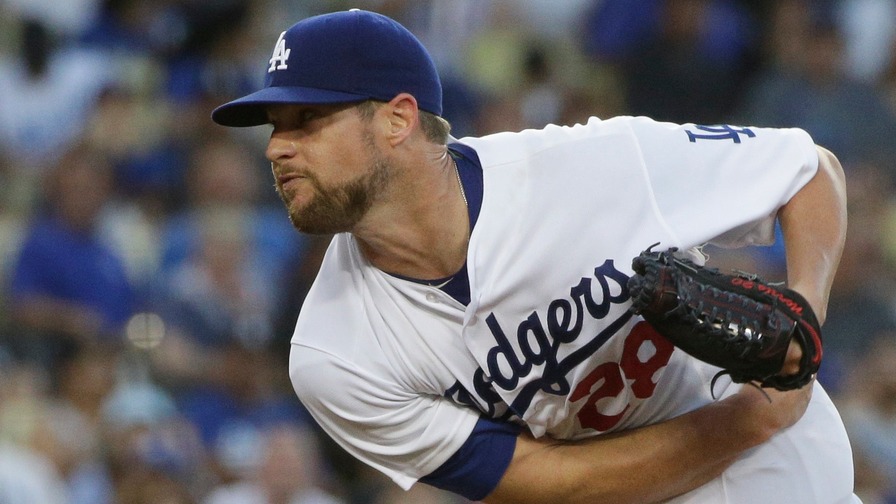 It's officially tradin' season.
Yes, that's right, now that the MLB Draft is over, teams have their swappin' hats on (they look like normal hats, just turned backwards and stuff) and have begun the process of remaking their rosters for a summertime playoff push. The Los Angeles Dodgers and Miami Marlins got the ball rolling this week when L.A. acquired Bud Norris from the Atlanta Braves for a pair of minor league pitchers and the Marlins picked up Fernando Rodney from the San Diego Padres to fortify their bullpen.
We'll get to Norris in a minute, who has been one of the NL's better pitchers over the last few weeks and is likely very much available in your league. As for Rodney, the move from San Diego, where he was the unquestioned closer, with a 0.31 ERA in 28 2/3 innings and 17 saves, to Miami, may not be good for his fantasy stock.
The Marlins already have a quality closer in A.J. Ramos, who is having his third-straight outstanding season, the second as his team's closer. He has a 2.45 ERA, a 3.08 fielding independent pitching (FIP) and is striking out 11.18 batters per nine (K/9) while walking an admittedly-high 5.18.
Still, Ramos has 24 saves, and is following up a season in which he had an ERA of 2.30 and put up 32 saves for the Marlins. It's unlikely he's going to lose his job as the team's closer, which means fewer, if any, save opportunities for Rodney.
On the other side of the coin, Rodney's departure opens up an opportunity for the Padres Ryan Buchter.
The 29-year-old has been excellent for San Diego as Rodney's set-up man, with an ERA of 2.75 and a FIP of 2.76, with a 13.00 K/9 and a BB/9 of 4.75. He's only owned in 11.7% of ESPN fantasy leagues.
Dependable closers are hard to come by at this stage of the season, so if he hasn't been scooped up already, now's the time to swoop in and land him.
Here are your other fantasy pick-ups for this week.
Bud Norris - Los Angeles Dodgers (SP)
ESPN Percentage Owned: 30.1%
With Clayton Kershaw on the shelf for an unspecified amount of time, the Dodgers went out and snagged Norris, who has been oustanding as of late for Atlanta.
On the season, Norris is 4-7 with a 3.89 ERA and a 3.67 FIP, striking out 8.02 per nine and walking 3.42. And after a dreadful April, in which he went 1-4 in five starts with an ERA 8.74 and was sent to the bullpen, he's been extremely effective.
Since returning to the starting rotation at the beginning of June, Norris is 3-1 in six starts (35 1/3 IP), with an ERA of 1.78 and a FIP of 1.93, with 9.42 K/9 and 2.29 BB/9. Opponents are hitting just .183 off him during that stretch, with a WHIP of 0.91. And he was outstanding in his first start with the Dodgers last week.
Bud Norris was on cruise control tonight. 👌https://t.co/U8CbeqnEWq
— Los Angeles Dodgers (@Dodgers) July 2, 2016
Dodgers get their 9th shutout this season (tied w/Phillies for most in MLB). Bud Norris: 1st time w/back-to-back 8-strikeout gms since 2012
— ESPN Stats & Info (@ESPNStatsInfo) July 2, 2016

I'm not sure how long Norris can keep this up, but for the moment, he's one of the most effective pitchers in the National League, so take advantage of it while you can.
Danny Espinosa - Washington Nationals
ESPN Percentage Owned: 45.1%
Someone taught Danny Espinosa some plate discipline.
The formerly free-swinging, low on-base infielder has learned the art of the walk, and it's helped him draw more bases on balls while allowing him to continue hitting for decent power, as evidenced by his two-homer, six-RBI day against the Reds on Sunday, and this mammoth grand slam in the series opener.
Still just 29, Espinosa is having a career year with Washington, batting .242/.341/.477 with 18 homers, 49 RBIs, 40 runs scored and a weighted runs created (wRC+) of 111. Over the last 30 days, only one person in the NL has a higher fWAR (1.2), with 11 of his 18 homers coming during that stretch.
And among MLB shortstops, Espinosa's 2.4 fWAR is sixth-best, and his continued hot bat has marginalized the team's future at the position, Trea Turner.
Espinosa isn't going to be hitting the bench anytime soon, guys.
Cody Asche & Peter Bourjos - Philadelphia Phillies (OF)
ESPN Percentage Owned: 2.2%, 5.5%
Believe it or not, over the last 30 days, both Peter Bourjos and Cody Asche have been two of the hottest hitters in baseball. In 77 plate appearances, Bourjos is batting .414/.461/.629 with 2 homers, 8 RBI and 14 runs scored and a wRC+ of 193. Asche is hitting .302/.351/.535 with 3 homers, 12 RBIs and 12 runs scored. He also hit 10 doubles in the month of June.
Bourjos is a rental, and the Phils will look to flip him at the deadline, but if Asche continues to hit well, the 25-year-old could be playing himself into the team's long-term plans. Either way, both players are in the lineup nearly every day and continue to produce for a suddenly-hot Phillies offense.
Coco Crisp - Oakland A's (OF)
ESPN Percentage Owned: 17.1%
So Coco Crisp just doesn't ever seem to go away, does he?
The Oakland outfielder has been red-hot over the last two weeks, hitting .356/.463/.667 over his last 11 games (54 plate appearances) with 2 dingers, 12 RBIs and 12 runs scored and a wRC+ of 203. And as the trade deadline inches ever-closer, the 36-year-old is at his hottest.
His season-long numbers aren't terrific (.247/.311/.425, wRC+ of 96), but recency is everything. And right now, Crisp has been a very hard man to get out.