Where Did Hanley Ramirez's Power Go?
Hanley Ramirez was one of the league's better hitters from 2006 to 2014.
He's never been the most durable or consistent player, but he's always been able to generate a lot of power.
Until this season.
This drop in power has actually been an issue since May 2015 -- just not nearly to the extent that it is now. A guy who is built like an NFL linebacker is now driving the ball like a skinny slap hitter.
How Bad Is It?
Ramirez's ISO in 2016 is just .115, the exact same as Billy Hamilton's, entering Sunday. Let that sink in.
Ramirez has spent the majority of the season hitting fifth, and the only games he hit in a different slot in the order were the four he spent batting cleanup. He has only 14 extra-base hits this season, just four of which are homers.
If you combine Boston's left field platoon into one player, Ramirez is eighth on the Red Sox in home runs.
He was hitting .311 as recently as May 25th, but he's since slumped so badly that his batting average has dropped 30 points. Amidst these extended struggles, it's evident that he's tinkering with his mechanics in an attempt to rediscover his old form.
Look at a side-by-side view of his batting stances from 2014, 2015, and 2016.

He's gone from a closed stance in his final season in Los Angeles to a very open stance this year, while dropping his back elbow each year. Aside from his power outburst in April of 2015, Ramirez has totaled just 13 home runs in a Red Sox uniform since running into a wall in left field.
As David Ortiz's successor at designated hitter, he needs to display the pop he's capable of producing.
What's going on?
What Has Changed?
Unfortunately, no matter what metric you look at, he is performing well below his career norm. His walk rate is down, and his strikeout rate is up.
This is why.
| Sample | O-Swing% | Z-Swing% | Swing% | O-Contact% | Z-Contact% | Contact% | SwStr% |
| --- | --- | --- | --- | --- | --- | --- | --- |
| 2016 | 29.9% | 68.3% | 47.5% | 57.7% | 86.0% | 76.4% | 11.2% |
| Career | 26.2% | 66.5% | 45.1% | 65.4% | 89.7% | 82.2% | 8.0% |

Not only is he swinging at more pitches both in (Z-Swing%) and out of the zone (O-Swing%), but he's also making less contact on pitches both in (Z-Contact%) and out of the zone (O-Contact%).
Subsequently, he's whiffing 3.2 more percentage points than his career average (SwStr%). While this isn't ever a good combination for a hitter, it shouldn't affect the quality of his power at all. His own hitting coach has no idea what's wrong with him, but his swing looks the same and he still possesses massive power potential:
Hanley Ramirez just hit the second longest home run of 2016. (468 ft.) pic.twitter.com/iWHVKil7zc
— Andrew Hockridge (@drewhockridge) May 11, 2016

I'm not sure this ball has even landed yet. Somehow, that home run was one of just a few fly balls Ramirez has hit to left or center field all season. He's pulling the ball less frequently and going the other way far more than he ever has in his career.
The only other time he's pulled the ball this infrequently was the year he hit fewer home runs than any other season in his career. Couple that with a opposite field contact rate that's over three percentage points higher than any of his other seasons, and you have the beginning of a recipe for decreased power.
Okay, the guy is not pulling as often as he used to. By itself, that's fine. When combined with all the other problems he is having, it's not good.
Soft Contact and Ground Balls
He's making much more soft contact this season while making less medium and hard contact with the ball. Obviously, this isn't ideal. What if we consider the amount of ground balls and fly balls he's hitting?
Well, this is even worse. His career GB/FB rate (prior to 2016) was 1.27. This year, it's 1.81. He's hitting more ground balls and fewer line drives and fly balls, and it's impossible to hit a home run when the ball isn't in the air. When he does elevate the ball, his HR/FB ratio is the lowest of his career, and his infield fly ball percentage is the second-highest of his career.
He's still hitting lefties fine -- he has a .276 ISO against southpaws, which is above his career rate of .218 -- so clearly, that isn't the problem. However, he has an ISO of .089 against righties, which is a whopping .099 below his career mark.
Here's where things get weird.
He has an ISO of .056 when pulling the ball. This isn't just bad -- it's horrific.
His career average ISO going to left field is .342, and his previous career low was .215. In his career, Ramirez has a HR/FB ratio of 35% when going to left field. In 2016, it's 0.0%. He's actually popped the ball up in the infield more often than he's hit fly balls to left.
Look at his spray chart, from FanGraphs.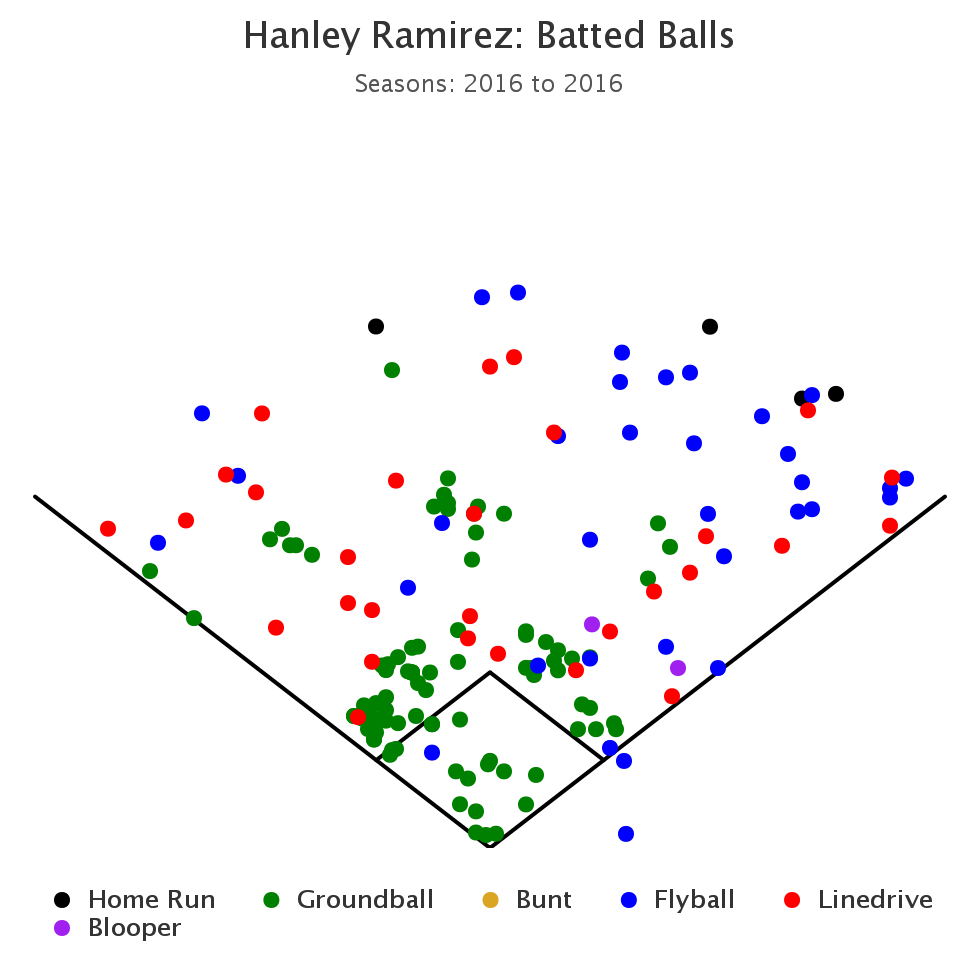 This year, 59% of his fly balls have gone to right field, which is 20% above his career average. The part that doesn't make any sense is that 46% of these fly balls have been hit hard (12% above his career average).
He's just not hitting the ball hard to left field anymore, so maybe he's having trouble turning the inside fastball around. But that's not it either (table courtesy BrooksBaseball).
Ramirez has an ISO of .200 against fastballs, so he's squaring them up just fine. The problem that becomes evident here is that he's been unable to drive sinkers, sliders, curves, and cutters at all. That's definitely not a good sign because most pitchers throw at least one of those pitches. Pitchers are noticing this too -- he's seeing a decreased percentage of offspeed and an increase in breaking stuff.
The strange part for a man with so much raw power is that he's not having trouble hitting inside pitches at all.
He's turning inside pitches into base hits more frequently than any other pitch. He's just suddenly incapable of driving them, as evidenced by his ISO heat map.
He's been able to do the majority of his damage on pitches on the outside part of the strike zone, which makes sense when you look at his numbers going to right field this season.
It also makes sense when you look at where he's seeing pitches.
Now, it's clearer why he's hitting the ball to right field so much. He's simply not getting the inside pitch as often as he used to. That doesn't change the fact that he still can't drive an inside pitch at all, and it's perplexing as to why. To be honest, I have no idea why that's the case.
What It All Means
All of this isn't meant to make Ramirez out to be a bad hitter all of a sudden. When he's not bunting in crucial situations, he's still a valuable commodity in the Red Sox' lineup because his batting average is high enough that he's often able to drive in the runners who are on base in front of him just by hitting singles.
Having said that, since his own hitting coach doesn't know what's going on with him, it may be prudent to move Ramirez down in the batting order until he figures it out.
It's difficult to point definitively to any of the numbers listed and cite them as the main cause for his struggles, but we can attempt to paint a picture to contextualize these struggles.
And in terms of power production right now, that picture looks bleak.