Juan Lagares Made a Highlight Reel Catch on Wednesday Night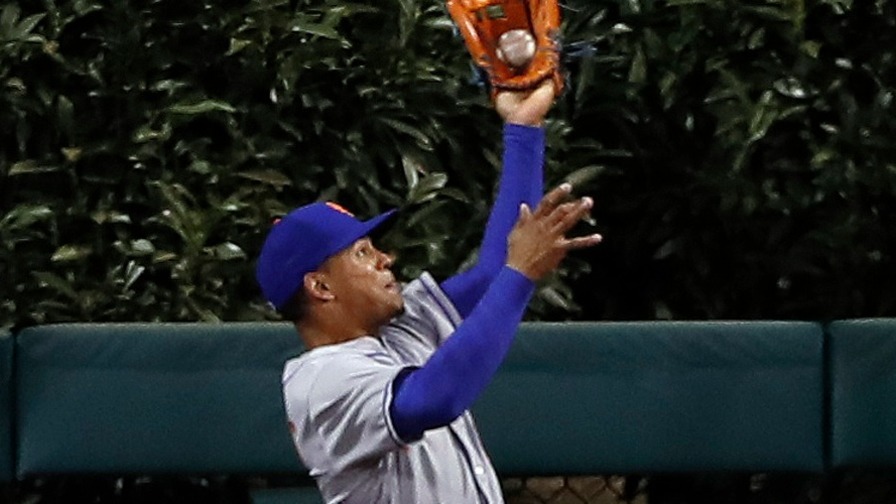 New York Mets center fielder Juan Lagares made an incredible catch on Wednesday night against former teammate Daniel Murphy, now of the Washington Nationals.
Just Juan doing Juan things in CF. #Mets @juanlagares2 #Juanderful pic.twitter.com/2mpzTzTqkB
— New York Mets (@Mets) May 19, 2016

If you feel like you've seen this catch before, you're likely thinking of the one Willie Mays made in Game 1 of the 1954 World Series.
They say imitation is the sincerest form of flattery, and if Willie saw Lagares' catch, I'm guessing he would be flattered. Although Lagares could argue he was simply imitating himself.
This catch happened in April 2015, a little more than a year prior to Wednesday's similar grab.
Back to Lagares' most recent snag: there were runners on second and third when Murphy came up to bat, and instead of a hit that plated both runs, Murphy was left with a sacrifice fly. In most instances, he would have been standing on second base after his deep fly ball.
This great catch Juan Lagares made on Daniel Murphy is a base hit 93% of the time based on exit velo & launch angle https://t.co/X0XmMsqT2n
— Daren Willman (@darenw) May 19, 2016

May the odds be ever in your favor, Murphy.
Luckily for the Nationals, they didn't need the extra run that Lagares prevented from scoring, as they easily won the game 7-1. Prior to Murphy's at-bat, the Nationals had an 89.6 percent chance to win the game, according to FanGraphs, so minus taking an additional RBI away from Murphy, the amazing catch wasn't detrimental.
It was another example of Lagares' ability to go get the ball, however.
Despite playing sparingly this season -- Lagares has just 60 plate appearances and 112.0 innings manning center field -- he owns a 12.0 Ultimate Zone Rating/150, which is ninth-best among center fielders with at least 110 innings played. He also finished the 2015 season in ninth place per UZR/150 (4.1) among center fielders with at least 950 innings played.
Unfortunately for Lagares, he has three outfielders playing in front of him who are all unlikely to come out of the starting lineup: Yoenis Cespedes, Michael Conforto, and Curtis Granderson. Lagares has a career .289 wOBA, compared to .349 for Cespedes, .365 for Conforto, and .352 for Granderson.
Our projections forecast Lagares to hit .255/.297/.362 with 4 home runs and a .283 wOBA over the remaining course of the season. So, despite his best Willie Mays impersonation, we're likely limited in our attempts to catch Lagares create some additional flattery.