4 Daily Fantasy Baseball Value Plays for 5/4/16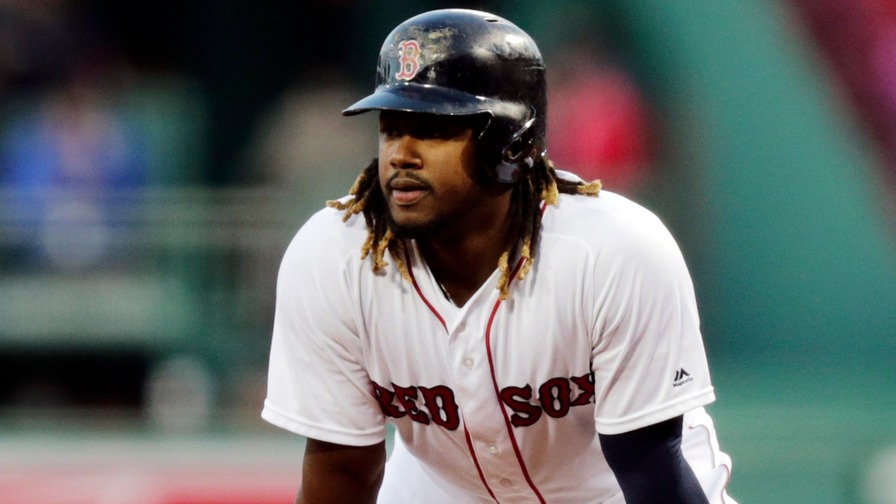 Building daily fantasy baseball lineups can be intimidating. On any given slate, you have a massive number of options in front of you and a ton of factors to consider.
We're here to help take some of that burden off and break down some hitters who you can slot into your lineup for nice and cheap, while still being well-positioned to provide your lineup with solid fantasy production.
Let's take a look at where we can find value on today's slate.
Hanley Ramirez, 1B, Boston Red Sox
FanDuel Price: $3,300
To start his young career, Carlos Rodon has really struggled with right-handed hitters, allowing a .349 wOBA with a 4.22 xFIP in 117.2 innings.
Hanley Ramirez hasn't been producing particularly well lately, but that has his salary low enough that his upside against a questionable arm like Rodon's becomes very appealing.
Despite his low wOBA and ISO to start the season, he's actually sporting a 36.7 percent hard-hit rate, which is above his career average. He also has a career 40.2 percent fly ball rate against lefties, with a .217 ISO, and could give Rodon a hard time tonight.
Derek Dietrich, 2B, Miami Marlins
FanDuel Price: $2,900
Now a mainstay in the Marlins' lineup until Dee Gordon returns from suspension, Derek Dietrich is a strong fantasy option, especially while his price tag is this low.
He has hit right-handed pitching well over his career with a .347 wOBA and .207 ISO as well as a 40.9 percent fly ball rate and 35.0 percent hard-hit rate.
Rubby De La Rosa has had a hot start to the season, but it should take more than seven games to make you forget about the other 76 he's thrown. He still has a 4.07 career SIERA, has given up 1.28 home runs per nine, and has allowed a massive .374 wOBA with a 4.70 xFIP against left-handed hitters.
Preston Tucker, OF, Houston Astros
FanDuel Price: $2,200
The Houston Astros have the second-highest implied total of the day against Phil Hughes and the Twins.
Any time the Astros are against a righty, it's worth having your eye on Preston Tucker, at least while his salary is so low.
Tucker has huge upside against righties, and through 309 career plate appearances, he has a .342 wOBA, a .242 ISO, and a 117 wRC+. Also, he matches up well with Hughes, who has allowed a .322 wOBA to lefties with a 4.24 xFIP.
For a price tag so close to the minimum, Tucker's upside tonight makes him an excellent value.
Kiké Hernandez, OF, Los Angeles Dodgers
FanDuel Price: $2,100
Becoming a real staple of this article, Kiké Hernandez is hard to ignore when he's up against a lefty and has a near-minimum salary.
Hernandez has been terrific against lefties over his short career, and in 150 plate appearances, he has posted a .454 wOBA and .269 ISO. While that has come on a .410 BABIP, the numbers are nonetheless hugely encouraging.
He's against the left-handed Drew Smyly tonight, who isn't a pushover, but whose 3.17 wOBA allowed and 4.02 xFIP against righties shouldn't be enough to scare you off of Hernandez, especially with such a low price tag.