Rich Hill Has Transformed Into an Elite Starter
Stranger Than Fiction was a 2006 movie starring Will Ferrell and was preceded by a trailer that seemed to preview a typical goofy Will Ferrell comedy.
Audiences came in expecting as much, but the movie was actually pretty dramatic and a bit dark.
"Stranger than fiction" is also an apt description of Rich Hill's professional career, as the American League's third-best pitcher in terms of strikeouts per nine began his big league career by posting a 4.72 ERA and 4.41 FIP in his first 471 MLB innings.
He signed a minor league deal with Washington last winter and was released in June, leading to a brief stint with the Long Island Ducks of the independent Atlantic League. After a pair of dominant starts on Long Island, he was signed by the Red Sox in September and would start a big league game for the first time since 2009.
Not unlike moviegoers in 2006 looking for Will Ferrell's trademark antics, big league hitters facing Hill may have been expecting smiles but were met with surprising sadness.
Hill posted a 1.55 ERA, 2.27 FIP, and 2.50 xFIP in four starts (29 innings) with the Red Sox last season, striking out 34.0% and walking just 4.7% of the batters he faced. That second number is significant, as Hill entered 2015 with a 22.0% strikeout rate but an awful 11.1% walk rate in the Majors.
While it would have been easy to cast off his September 2015 as a fluke, Hill has picked up where he left off after signing with Oakland in the offseason. Through his first five starts over the course of 26 innings, Hill had a 2.42 ERA, 2.25 FIP, and 2.69 xFIP, with a sterling 33.6% strikeout rate (and a less impressive 8.2% walk rate).
After his sixth start, his numbers sit at a 2.53 ERA, 3.01 FIP, 3.34 xFIP, 30.4% strikeout rate and 9.6% walk rate.
Even after a pedestrian outing on Sunday -- two runs, two hits, four walks, four strikeouts in six innings -- how has Hill done this?
More Grounders
From 2005 to 2009, Hill posted a 4.87 ERA and 4.66 FIP and was done in thanks, in part, to a 1.3 home run per nine innings rate. This was hardly the result of poor fly ball either luck -- his home run per fly ball rate was a roughly average at 10.7% -- but the rather the product of allowing far too many fly balls.
During this span, he allowed a 33.8% ground ball rate and only 12 pitchers had a lower one.
Hill transitioned to the bullpen afterwards, and from 2010 to 2014, his HR/9 rate dropped all the way down to 0.4. His grounder rate did increase to 42.6%, but this was still below average, and this time, the home run rate was the product of fly ball luck (to the tune of an unsustainably low 4.5% HR/FB rate).
Since his reemergence last September, roughly half of the balls in play he has allowed have been grounders, giving more legitimacy to his 0.5 HR/9 rate during this time.
The driving force here seems to be getting more drop on his curveball, a pitch which has produced a 63.8% ground ball rate since 2015, according to Brooks Baseball.
Hill has thrown the pitch about 40% of the time during this span, which is actually comparable to its usage rate of 35.5% from 2007 to 2014.
During that latter stretch, though, the pitch generated a ground ball rate near 50%, which is considerably less impressive (since 2007, the median ground ball rate for curveballs is 50%, according to the PITCHf/x data at Baseball Prospectus; a ground ball rate of 64% would put a pitcher in the 94th percentile).
The different results seem to be the product of more vertical movement and the fact that he is throwing the pitch lower in the zone, as you can see from these two charts from Brooks Baseball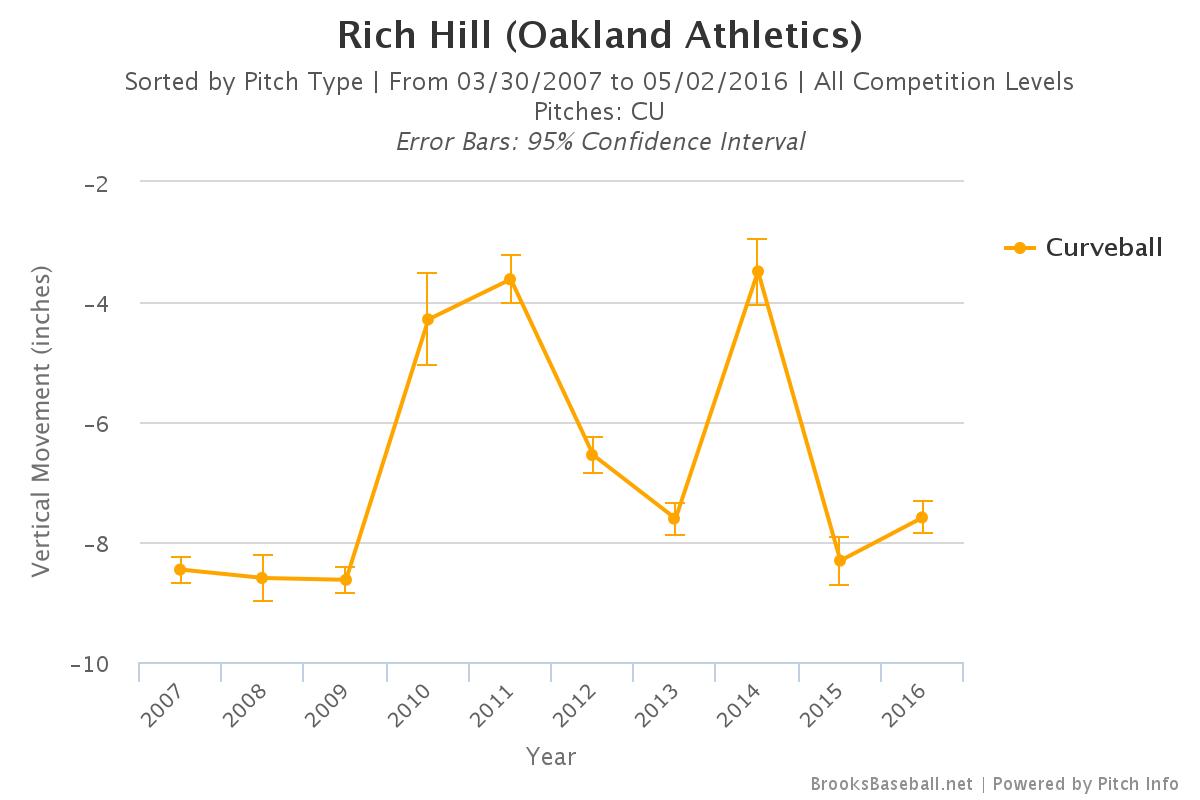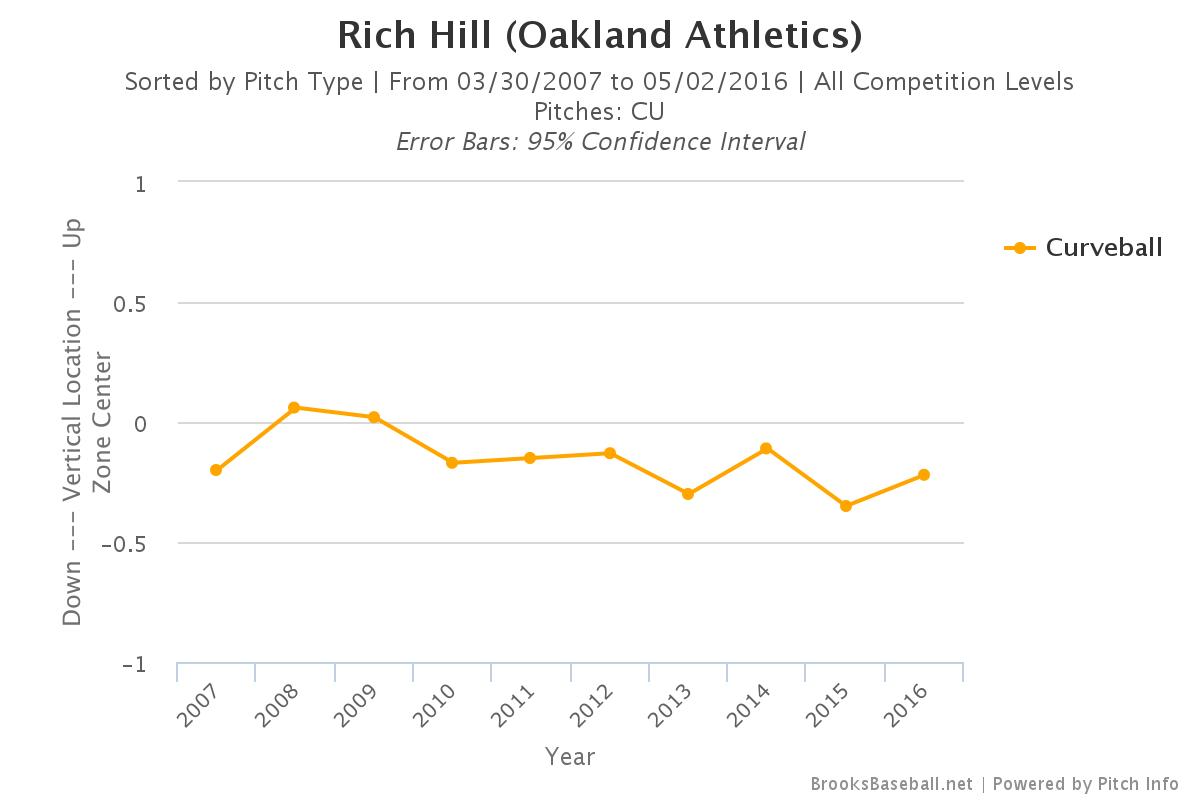 Hill is evidently pairing the drop on his curve that was apparent early in his career with lower location, and the result is the uptick in grounders.
This seems to be the biggest factor in his new, high ground ball rate, as he has thrown his fastball over 46% of the time this season, leaving little room for any other pitches.
His fastball has only generated a 32.4% ground ball rate, and unlike his curveball, he tends to throw his fastball up in the zone.
More Strikeouts, Too
While it has done little in the groundball department, Hill's fastball does help explain the recent increase in his strikeout rate.
Hill has always tended to outpace the league average in terms of strikeouts, but he has reached new heights in the post-Long Island Ducks segment of his career.
Among the 358 pitchers who have thrown at least 50 innings since the start of the 2015 season, Hill's 32.0% strikeout rate is 13th. He has outpaced his overall swinging strike rate a bit (his 10.9% rate is 121st), but has been nearly peerless in terms of whiffs on his fastball.
In 2015, only eight pitchers could best Hill's 30.9% whiff per swing rate on his fastball, and this season, his 32.0% rate is second in the Majors (minimum 200 fastballs thrown). He has done so despite an average fastball velocity that has sat between 90.3 and 91.3 mph since last September.
August Fagerstrom wrote about this during Spring Training at FanGraphs, noting that, while his fastball velocity was nothing to get excited about, its horizontal movement rivaled that of the game's best pitchers. In 2015, Hill ranked fourth in terms of horizontal movement on his fastball, and he ranks sixth this year.
As you may have guessed, these whiffs were not evident during Hill's first stint as a starter, as his fastball did not have nearly the movement it does now.
Walks will probably remain an issue, but if he can remain around the league average like he has so far this year, it's something that will be more than offset by the strikeouts and ground balls.
It should be noted that for all the emotions Stranger Than Fiction elicited, the film had a happy ending.
If Rich Hill keeps this up, we should be able to say the same about his career.