Can Anibal Sanchez Bounce Back in 2016?
In some ways, Anibal Sanchez's 2015 season wasn't that different from his previous nine big league campaigns.
During his first nine seasons, he struck out 20.8% and walked 8.0% of the batters he faced, while allowing a 1.29 WHIP. Last year, he posted a 20.9% strikeout rate, 7.4% walk rate, and 1.28 WHIP.
In another away, though, 2015 was very different for the 31-year-old righty, and it caused him to have by far his worst season as a Tiger.
Sanchez allowed a staggering 16.0% home run per fly ball rate, causing him to give up 1.7 home runs per nine innings. This inflated his ERA to 4.99 and caused his FIP to jump to 4.73, his highest rates in both metrics since his 2008 season with the Marlins.
Pitchers generally have little control over the rate at which the fly balls they allow leave the park, so it might be a good idea to expect regression here, which would be a welcomed development for a Tigers team that finished last in the American League in park-adjusted ERA in 2015.
Was the Home Run Rate a Fluke?
It would probably not be a good idea to assume Sanchez will run such a high home run to fly ball rate again.
HR/FB is a volatile statistic in small samples, and Russell Carleton wrote in 2013 that it takes about 400 fly balls for the sample to become reliable.
Sanchez has allowed 1,400 fly balls during his career and has actually ran a lower than expected HR/FB (8.6%).
In fact, prior to 2015, it was worth asking whether his particular skill set made him better equipped than the average pitcher to keep fly balls in the park. From 2006 to 2014, only four qualified pitchers had a lower HR/FB rate than Sanchez's 7.4%.
This reached extreme levels in 2013 and 2014; in 2013, he tied for the fourth lowest HR/FB rate in MLB (5.8%), and the following season, his 3.1% rate was the lowest in baseball.
As the graph below shows, if there is a flaw in Sanchez's approach that caused him to allow this outlier home run rate, it would have reared its head in 2008, went away for six years, and then returned in 2015.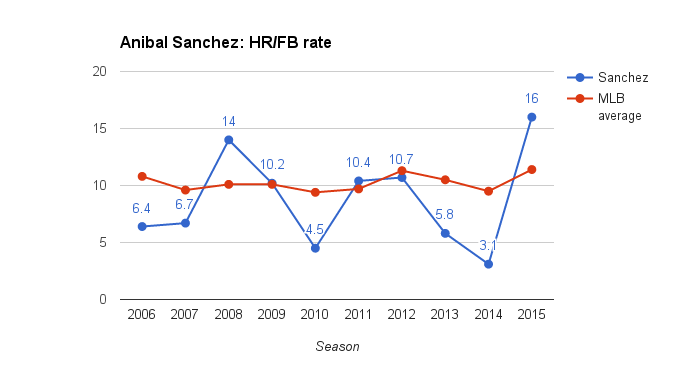 That is not to say such a flaw does not exist, but given our sample includes just 181 fly balls in 2015, it is difficult to chalk this up to something beyond random variation.
Sanchez was shut down in mid-September after a shoulder strain but reportedly had no major damage and is expected to pitch this season with no issues. While it is tempting to blame his shoulder for the home run problems, he hardly suffered a drop in velocity and actually saw both his swinging and looking strike rates increase relative to 2014.
Plus, a closer look at the home runs he allowed themselves backs up the big problem here was luck/randomness, rather than Sanchez himself.
Per ESPN's home run tracker, Sanchez allowed seven home runs classified as "just enough," meaning "the ball cleared the fence by less than 10 vertical feet, [or] that it landed less than one fence height past the fence."
In 2014, Sanchez allowed just four home runs total -- of any distance.
The only area of real concern here might be might be Sanchez's dip in ground ball rate, which dropped from 44.8% during his first nine years to 40.0% in 2015. His SIERA and xFIP- both took a hit as a result, dropping to 4.03 and 100, respectively, from his previous career rates of 3.80 and 94.
Still, the silver lining here is that Sanchez allowed a high pop-up rate (9.1% of his balls in play, ranking 19th in the Majors, according to Baseball Prospectus), balls in plays which almost always go for outs.
SIERA and xFIP are good ERA estimators, but both (particularly xFIP) have blind spots for pitchers who can reliably induce pop ups, so this could bode well for Sanchez.
With all this considered, the biggest problem does seem to be an unsustainable home run per flyball rate, so a bounceback could certainly be in order for Sanchez.