FanDuel Daily Fantasy Baseball Helper: Friday 9/16/22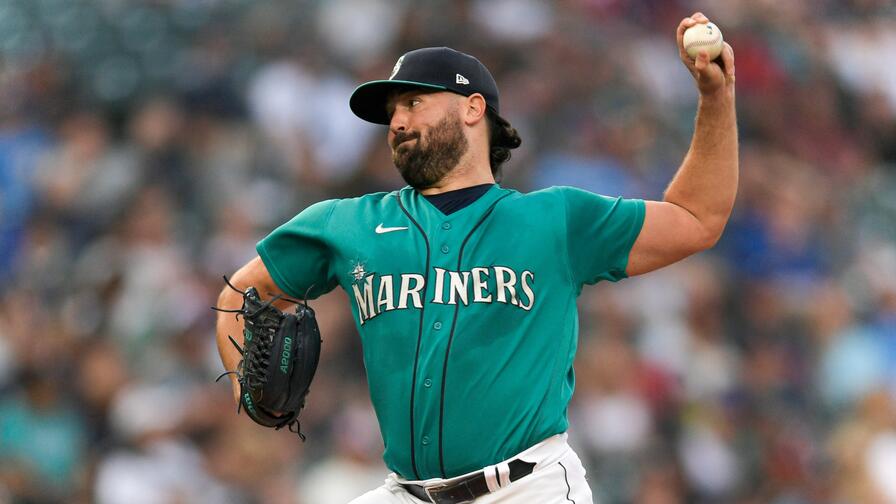 A hefty 14-game slate awaits us on Friday night. Which pitchers and stacks should we prioritize?
Our daily helper is available every day to analyze FanDuel's main slate and help give you a starting point when you're building lineups. Be sure to also incorporate our great tools into your research process. Whether you're looking for daily projections, the latest starting lineups and weather, or batting and pitching heat maps to find the best matchups -- we've got you covered!
Let's check out the top options on today's main slate.
Pitchers
Robbie Ray ($10,600): Although the Angels aren't a high-strikeout matchup for opposing southpaws, that hasn't stopped Ray from completely dominating them this year. Across three starts versus the Halos, Ray has posted exactly 10 strikeouts in all three instances, helping him to 58, 52, and 52 FanDuel points.
It sure doesn't look like this matchup is going to hinder the Seattle lefty's upside.
Overall, Ray has generally gotten the job done in 2022, producing a 3.41 SIERA, 28.0% strikeout rate, and 7.8% walk rate across 28 outings. He'll still struggle with walks and home runs here and there, but the ceiling's been there in the right spots, and he seems to have the Angels' number in 2022.
Blake Snell ($10,100): Snell still has bouts of wildness, but he's been in control more often than not in the latter stages of this season, owning a 2.75 xFIP, 33.2% strikeout rate, and 6.4% walk rate since the All-Star break.

The Diamondbacks' active roster only has a 21.0% strikeout rate versus lefties, but they also have a below-average wRC+ (94). Much like Ray, Snell is capable of piling up the punchouts against just about any opponent when he's dealing, and he did just that against the D-backs earlier this month with 10 Ks and 49 FanDuel points.
Snell will almost certainly be capped at six innings -- he's yet to exceed that mark in 2022 -- but his elite strikeout rate always gives him a path towards being the top scorer on the night.
Lucas Giolito ($9,000): Between a high BABIP (.352) and a sizable gap in ERA (5.18) and SIERA (3.78), Giolito's certainly been the victim of bad luck this year. That being said, he really hasn't demonstrated a ton of DFS potential down the stretch; the last time he scored over 40 FanDuel points came in mid-July.
But any time the Tigers are up against a right-hander, they fall under consideration pretty much by default, and Giolito is no exception. Detroit's active roster has a league-worst 75 wRC+ in the split, and that comes attached to a fantasy-friendly 25.0% strikeout rate.
Giolito hasn't taken full advantage of his matchups versus the Tigers this year, but he's logged seven and eight strikeouts in his last two meetings with them, so the potential has been there. The veteran right-hander has put up a solid 24.2% strikeout rate since the beginning of August, so perhaps he can finally break through with a big performance tonight.
Stacks
Boston Red Sox
The Boston Red Sox haven't been a go-to stack in 2022 as in some past years, but here they are atop the list of implied team totals at 5.20.
That's because they're facing right-hander Jonathan Heasley, who comes in with an ugly 5.35 SIERA, 15.4% strikeout rate, and 10.5% walk rate. He's been getting crushed for 1.87 homers per nine off a 46.3% fly-ball rate, too.
Heasley is doing poorly against both lefties and righties, so we can comfortably stack both sides of the plate. Rafael Devers ($3,900) remains the crown jewel of this lineup with a .239 ISO, and then both Xander Bogaerts ($4,000) and Trevor Story ($3,700) stand out as solid power-speed options.
Top prospect Triston Casas ($2,400) is getting a look this month, and he already has two dingers in just nine games. He slashed a promising .273/.382/.481 in Triple-A before getting called up.
St. Louis Cardinals
The Reds haven't announced an official starter, but the St. Louis Cardinals are already being credited with a 5.20 implied total, which is pretty telling in and of itself. We're likely looking at a bullpen game of sorts, and Cincinnati's current crew of relievers own the league's seventh-worst xFIP.
Raynel Espinal was called back up from Triple-A yesterday, so it's possible that he sees some innings tonight. The 30-year-old only has two MLB appearances in his career, and it isn't a great sign for him that he's bounced around between three different organizations this season. He's struggled in Triple-A at all three stops with an ERA above 5.00 and uninspiring peripherals.
But even if Espinal isn't part of the equation, the Cardinals should generally face some mediocre competition tonight, and guys like Paul Goldschmidt ($4,500) and Nolan Arenado ($4,300) should feast.
St. Louis doesn't have too many screaming values tonight, but Brendan Donovan ($3,100) is pretty easy to fit in at leadoff, and Albert Pujols ($3,200) and Corey Dickerson ($2,700) are getting regular playing time these days.
San Diego Padres
Regression has hit Madison Bumgarner in the second half of the season, and that's of little surprise considering his 4.80 SIERA, 16.0% strikeout rate, and 37.0% ground-ball rate.
Even his numbers against left-handed batters are uninspiring. In same-sided matchups, the southpaw is showing a 5.18 xFIP, 15.8% strikeout rate, and 9.6% walk rate.
Manny Machado ($4,300) is the obvious first choice, but Juan Soto ($2,700) is a no-brainer at his salary, too. Soto has been in a rough slump over the last couple of weeks, but this is a screaming value for one of the league's best hitters. The lefty-lefty spot is a non-issue with the way Bumgarner is pitching, too.
Machado will also be easier to find room for with guys like Ha-Seong Kim ($2,500) and Josh Bell ($2,700) joining Soto at low cap hits. This means that three of the first four projected hitters in the order have sub-$3,000 salaries.
Brandon Drury ($3,200) is back from the injured list, and his .234 ISO is a welcome addition to any stacks as well.