FanDuel Daily Fantasy Baseball Helper: Monday 8/8/22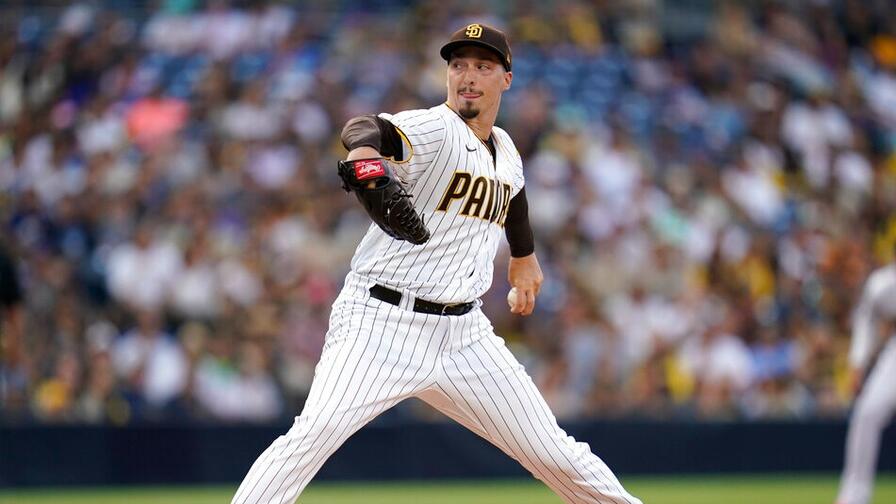 We're lacking any bonafide aces on Monday's main slate, so your priorities may boil down to roster percentages and how much risk you're willing to accept. A handful of offenses stand out, with just three cracking implied totals of 4.75 or higher.
Our daily helper is available every day to analyze FanDuel's main slate and help give you a starting point when you're building lineups. Be sure to also incorporate our great tools into your research process. Whether you're looking for daily projections, the latest starting lineups and weather, or batting and pitching heat maps to find the best matchups -- we've got you covered!
Let's check out the top options on today's main slate.
Pitchers
Blake Snell ($9,400): Snell owns the slate's highest strikeout rate (30.2%), but we know that rostering him is never quite that simple due to an 11.8% walk rate.
That being said, it's been far more good than bad from the left-hander lately, as he's now posted a 37.1% strikeout rate and 2.80 xFIP across his last six starts. While walks have continued to be an issue over this encouraging stretch, he's issued just one across his last two outings, and we know what he's capable of if he can keep that trend going.
San Francisco is an above-average offense and will presumably load up on right-handed batters to make things difficult on Snell. However, their active roster carries a 23.9% strikeout rate versus southpaws, and Snell is striking out righty sticks at a 30.9% clip this season. The Giants come in with just a 3.25 implied total.
For all the positives, we can never rule out the bad version of Snell showing up. But, in terms of pure upside, he's the best option on a slate lacking elite arms.
Chris Bassitt ($10,400): If you're worried about rostering Snell -- particularly if he ends up being the chalk option -- then Bassitt qualifies as the far safer route.
Bassitt isn't someone who pops from a DFS perspective, but he has a strong all-around skillset through a 3.56 SIERA, 24.3% strikeout rate, 6.6% walk rate, and 48.5% ground-ball rate. Unlike Snell, he's far less likely to get in his own way, and he's now logged quality starts in 9 of his last 11 outings.
The Reds should give Bassitt a big assist, too, as their active roster has an 80 wRC+ and 23.7% strikeout rate versus righties.
While Bassitt isn't a great candidate to come away with double-digit strikeouts, he's also less likely to completely burn us when compared to Snell.
Zac Gallen ($9,600): I'll usually list a value play as our third choice, but Bassitt is the only pitcher with a five-digit salary, so we're not looking at a ton of restrictive pitching salaries tonight. Snell's salary is low enough to work for most builds, so I'm not sure there's a huge incentive to go lower.
But if you're really strapped for cap space, Keegan Thompson might be the one to consider at $8,000 in Wrigley. He's occasionally popped for big strikeout numbers, and he'll benefit from pitcher-friendly winds.

Otherwise, a more direct pivot away from Snell is to hop up to Gallen.
Gallen is rather similar to Bassitt, producing a solid if unspectacular 3.74 SIERA, 23.3% strikeout rate, 7.0% walk rate, and 47.0% ground-ball rate. His matchup is also similar, facing a Pirates roster with an 88 wRC+ and 24.2% strikeout rate versus right-handed pitching.
However, the Arizona right-hander has been more up and down from start to start, which is why Bassitt earns his higher salary. Still, given the inconsistencies of Snell, opting for Gallen is an easy way to differentiate depending on how roster percentages shake out.
Stacks
New York Mets
The New York Mets check in with a slate-high 5.65 implied total, and it's easy to see why when we take a peek at Justin Dunn's credentials. Dunn is making his first 2022 start, and between his MLB track record and recent minor league results, expectations shouldn't be high for the right-hander.
While Dunn has a respectable 3.94 ERA over 25 career starts, his underlying numbers have left a lot to be desired between a 5.79 SIERA, 20.6% strikeout rate, and 15.5% walk rate. An absurdly low .205 BABIP has done most of the legwork, and per projections on FanGraphs, he's a pitcher who should have an ERA well over 5.00.
This year's Triple-A marks don't inspire any confidence, either. Over seven starts, he's posted a 6.09 xFIP, 17.8% strikeout rate, and 12.4% walk rate.
To top it all off, we're also looking at hitting-friendly winds and temperatures in Citi Field, giving a nice bump to what's usually a venue that benefits pitchers.
The Mets are pretty straightforward to stack, with Pete Alonso ($4,200), Francisco Lindor ($3,900), and Starling Marte ($3,600) leading the way and then the rest of the lineup coming in at mid-to-low salaries. The acquisitions of Dan Vogelbach ($3,000) and Tyler Naquin ($2,900) have added some thump to this lineup, and they're great ways to round out full stacks without breaking the bank.
Toronto Blue Jays
The ball hasn't been flying out of the park as often for Jordan Lyles this season, but there really isn't anything to suggest that he's suddenly an improved pitcher in 2022. We're still talking about a guy with a low strikeout rate and low ground-ball rate, so this feels more like some good luck going his way.
Against right-handed batters, he's put up an 18.7% strikeout rate and 40.9% ground-ball rate, yet he's allowed just 0.67 home runs per nine innings due to a 5.8% homer-to-fly-ball rate. He looks bound for regression, and the Toronto Blue Jays' army of righties could take advantage.
Vladimir Guerrero Jr. ($4,300), Teoscar Hernandez ($3,800), Bo Bichette ($3,400), Matt Chapman ($3,400), and Alejandro Kirk ($3,000) give us plenty of ways to access power at different salary tiers.
Lourdes Gurriel Jr. ($2,900) has an affordable salary as tonight's projected leadoff man, and Danny Jansen ($3,000) is worth considering, as well. Jansen bats low in the order, but he's posted impressive barrel numbers when healthy.
Arizona Diamondbacks
The Arizona Diamondbacks will likely only see Tyler Beede for a handful of innings at most, but we'll gladly take that to attack someone with a 4.81 SIERA, 13.3% strikeout rate, and 10.1% walk rate. And it's not like Beede will be followed by an imposing group of relievers; the Pirates' bullpen has the worst xFIP (4.32) among active rosters.
The D-backs are an ideal value stack, too. No batter has a salary above $3,300.
Christian Walker ($3,100) leads the team with a .248 ISO, and he's be joined by Ketel Marte ($3,300), Daulton Varsho ($3,300), Josh Rojas ($3,000), and Alek Thomas ($2,700) in the top half of the order, who all have some combination of power and speed upside. Jake McCarthy ($2,200) has performed fairly well since getting called back up last month, and he could bat as high as sixth at a near-minimum salary.