FanDuel Daily Fantasy Baseball Helper: Monday 7/11/22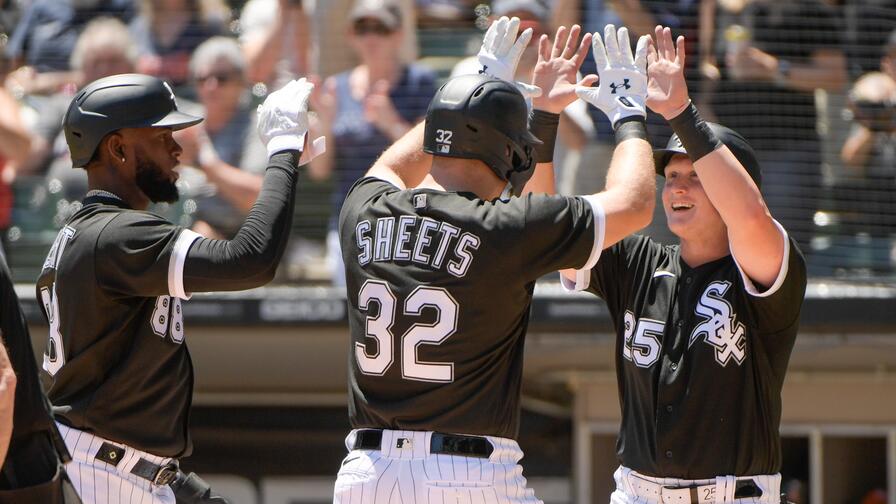 This is one of those slates where the main decision you'll have to make is whether or not to fade Coors Field, a spot that should be immensely popular tonight. We have some excellent pitchers taking the mound, as well, though you can nitpick the matchups for all the top arms.
Our daily helper is available every day to analyze FanDuel's main slate and help give you a starting point when you're building lineups. Be sure to also incorporate our great tools into your research process. Whether you're looking for daily projections, the latest starting lineups and weather, or batting and pitching heat maps to find the best matchups -- we've got you covered!
Let's check out the top options on today's main slate.
Pitchers
Max Scherzer ($10,700): Scherzer returned from the injured list last week, and he sure looked like his usual self, racking up 11 strikeouts over six scoreless innings against the Reds. He logged 79 pitches in that outing, so he shouldn't be restricted tonight versus the Braves.
While Scherzer has only nine starts this season, it doesn't get much better than his 2.67 SIERA, 32.7% strikeout rate, and 5.1% walk rate, and it's clear he has plenty left in the tank.
This is a dangerous matchup against an active roster that boasts a 118 wRC+ versus right-handers, but it's one that also strikes out at a 24.1% clip, so there's also potential upside. And despite the opponent, Scherzer is largely getting the benefit of the doubt, as Atlanta only has a 3.65 implied total.
It may not be the safest spot for Mad Max, but he's still the best candidate to lead the slate in punchouts, making him the night's top option.
Aaron Nola ($10,100): Max Fried and Nola are the other two guys with salaries above $10,000, and both have difficult matchups for strikeouts. However, Nola gets the nod as the better bet for Ks in general.

The Cardinals' right-hander is coming off a disappointing three-strikeout performance against Washington -- a team that suppresses punchouts -- but he still went 7 2/3 innings, keeping up a streak of going 7 or more innings in six straight games, something almost unheard of in 2022.
That volume only further adds to an already enticing profile that features a 2.92 SIERA, 27.8% strikeout rate, and 3.5% walk rate.
Nola will have his work cut out for him to get swings and misses versus the Cardinals, though. Against righties, St. Louis' active roster is top-10 in both strikeout rate (20.2%) and wRC+ (110).
Even so, Nola has the talent and innings to put up a big score, and he should be your first pick in lineups sans Scherzer.
Alex Cobb ($8,400): I feel like I mention Cobb just about any time he starts, but he always ends up underwhelming. And yet, he remains a classic candidate to turn things around with a 3.04 SIERA, 24.1% strikeout rate, 6.5% walk rate, and 63.0% ground-ball rate.
Cobb should have a full workload after recording 97 pitches in his most recent start, which is the most in his four starts since returning from the injured list in mid-June. The post-injury strikeouts haven't really been there, but it doesn't seem like he's doing anything all that different in terms of velocity or pitch mix, so it's hopefully just a small-sample fluke.

While he's facing the Diamondbacks for the second straight start -- another possible negative -- the D-backs are a weak team against righties with a 92 wRC+ and 22.7% strikeout rate. And it's telling that despite all of Cobb's struggles in 2022, Arizona has the second-lowest implied total tonight (3.41).
Stacks
San Diego Padres
The chalk stack is painfully obvious, as we're getting the San Diego Padres at Coors Field against Jose Urena with a 6.25 implied total, and most of their bats have salaries of $3,200 or lower.
In his first start for Colorado, Urena defied the odds by holding the Dodgers to one earned run over 6 2/3 innings -- because of course he did. But considering Urena posted an 11.5% walk rate, 7.7% strikeout rate, and 4.5% swinging-strike rate in that start, there's nothing to suggest he isn't the same guy he's been for a while now.
As a refresher, Urena is atrocious against left-handed batters, producing a 5.71 xFIP, 8.0% strikeout rate, and 10.3% walk rate in the split last season, and even in a small 2022 sample, he's put up similar marks in 2022.
The veteran righty has generally been adequate in same-sided matchups, but last year's 21.1% strikeout rate in the split will get him only so far at Coors Field.
Both lefties and righties can also take advantage of a Rockies bullpen that has the second-worst xFIP (4.41) among active rosters.
Manny Machado ($4,400) and Jake Cronenworth ($3,800) are the only high-salaried bats on the team, with Machado being easily the best healthy Padres hitter.
That's a tough salary for Cronenworth, but he joins fellow lefties Trent Grisham ($3,100), Eric Hosmer ($3,000), and Nomar Mazara ($2,900) as the top options who can take advantage of Urena's awful splits.
Aside from Machado, Luke Voit ($3,200) is the other strong power threat on the team, owning a .187 ISO and leading the squad in barrels per plate appearance.
Chicago White Sox
I'll avoid doing a full write-up of the Rockies to highlight some non-Coors stacks, but they have the next-best implied total behind the Padres (5.25) and are the only other team above five.
The Rox ought to be a distant second to the Padres in popularity, which makes them intriguing, but they do take on a much, much better pitcher in lefty Sean Manaea. The good news is that Manaea is a fly-ball pitcher who doesn't have an elite strikeout rate, giving the Rockies' bats a path towards a big night.
Once we get past those two teams, the Chicago White Sox are a possibility against perhaps the night's weakest starter outside of Urena.
Cal Quantrill has a 3.86 ERA, but his lackluster peripherals may finally be catching up to him, as he's now given up at least one dinger in six straight starts. Overall, he's showing a 4.87 SIERA and 14.7% strikeout rate this season, and a mere 40.3% ground-ball rate suggests the home runs should keep coming.
While the White Sox have been a modest offense against right-handed pitching this year, they have one of the best implied totals outside of Coors (4.54).
Given the way the team has played, I'm not sure there's a "must-have" hitter in this offense, but all of Jose Abreu ($3,800), Tim Anderson ($3,600), Andrew Vaughn ($3,300), and Luis Robert ($4,200) have been above-average hitters in wRC+ and should occupy the first four slots in the order. In terms of barrels, Abreu and Robert have been the best of Chicago's regulars.
Eloy Jimenez ($3,100) hasn't quite gotten going in limited time, but this is a great salary to bet on his talent, while Gavin Sheets ($2,600) and Yoan Moncada ($2,300) are low-salaried guys who will have the platoon advantage.
Texas Rangers
We don't have much to go on for Adrian Martinez, but early returns have been mediocre for the 25-year-old over his first three MLB starts. So far, he isn't getting strikeouts (16.7%) and has already coughed up four bombs off a 43.1% fly-ball rate.
Given that Martinez had just a 4.68 xFIP over 13 Triple-A starts before his call-up and performed similarly in 2021, there's little reason to expect immediate success for him at the highest level.
Corey Seager ($4,000) is easy to like with the platoon advantage out of the three-hole, cleanup hitter Adolis Garcia ($3,800) is one of the Rangers' top power threats (.217 ISO), and Marcus Semien ($3,700) has really turned things around with a 145 wRC+ since the beginning of June.
After that trio, lefty Josh Smith ($2,600) is a value leadoff hitter, and most of the bottom half of the order is littered with low-salaried plays, including Jonah Heim ($2,900) and Kole Calhoun ($2,700).