FanDuel Daily Fantasy Baseball Helper: Friday 10/16/20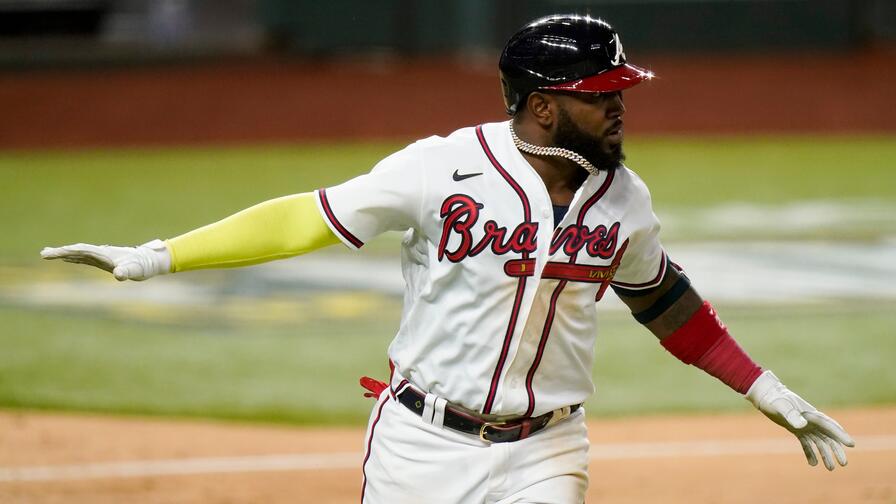 The Houston Astros once again live to see another day. The Tampa Bay Rays get another crack at knocking them out at 6:07pm ET, while it's the Los Angeles Dodgers who now find themselves on the brink against the Atlanta Braves at 9:08pm ET.
Our daily helper is available every day to analyze FanDuel's main slate and help give you a starting point when you're building lineups. Be sure to also incorporate our great tools into your research process. Whether you're looking for daily projections, the latest starting lineups and weather, or batting and pitching heat maps to find the best matchups -- we've got you covered!
Let's check out the top spots on today's slate.
Pitchers
Blake Snell ($9,200) and Framber Valdez ($9,500) will be our best bets on the mound tonight, as Dodgers starter Dustin May ($7,800) isn't likely to log many innings (he's gone just 4.2 innings across 3 appearances this postseason) and the Braves are expected to opt for a bullpen game.
Snell brings the most firepower, producing a 31.0% strikeout rate in the regular season, but as we saw in his Game 1 start, getting through this Astros lineup can be a chore. It took Snell 105 pitches to slog through 5.0 innings in that start (one earned run), all while uncharacteristically notching just a pair of punchouts. Houston's active roster only struck out 19.7% of the time versus lefties during the regular season.
The good news is that Snell was allowed to reach 100 pitches after throwing just 84 and 82 in his prior two starts. It could be tough sledding again for Snell, but the ceiling was on display in the wild-card round when Snell put up 50 FanDuel points in a 9-strikeout game versus the Blue Jays.
Valdez doesn't have as lethal a strikeout rate (26.4%), but he boasts an elite 60.0% ground-ball rate and has the easier path to punchouts against the Rays. Tampa Bay was tough on southpaws this year (124 wRC+), but they also stuck out at the highest clip (28.1%).
And sure enough, in Game 1, Valdez piled up 8 strikeouts while allowing just 2 earned runs in 6.0 innings. He did walk four batters in that outing, but considering he posted a mere 5.6% walk rate this season, that's nothing to worry about.
The matchup arguably makes Valdez the slightly preferred choice, but if you're making multiple lineups, it makes sense to get exposure to both hurlers.
Hitters
The big scoring outbursts have been coming from the Dodgers-Braves series, and that will be the first place to look for your bats.
The assumption is that the Braves will cobble together a bullpen game, so it will tough to play specific matchups on the Dodgers' side. However, with the potential for guys like Game 3 punching bag Kyle Wright or the seldom-used Josh Tomlin to see innings, we have to like the idea of stacking up Los Angeles.
Chances are you'll only be able to fit one of Mookie Betts ($4,500), Corey Seager ($4,200), or Cody Bellinger ($4,400), but it's really hard to hate anyone in this lineup, including values like Justin Turner ($3,100) and Will Smith ($3,100). Edwin Rios ($2,400) has flashed his power on back-to-back nights, which could earn him another start.
Given how he's been used this postseason, Dustin May may very well only toss a few innings, so the Braves' bats are in a similar boat. Still, May posted a poor 5.00 xFIP, 17.5% strikeout rate, and 11.4% walk rate versus left-handed hitters, so we can at least prop up Freddie Freeman ($4,100) for his one or two at-bats versus May.
Overall, though, this is more about riding the top Atlanta bats. Ronald Acuna ($4,200) and Marcell Ozuna ($4,000) are obviously great if you can fit them in, while Travis d'Arnaud ($3,000) and Austin Riley ($2,800) are easier ways to gain exposure.
Stacking the other game isn't as desirable, but like we saw with the Braves against Clayton Kershaw last night, you really can't write anyone off on a two-game slate. Generally speaking, though, you're probably better off grabbing one-offs like the red-hot Randy Arozarena ($3,700) from the Rays or the right-handed stars on the Astros. Tampa Bay should also have plenty of inexpensive righties in their lineup if you need to save salary.