FanDuel Daily Fantasy Baseball Helper: Thursday 9/3/20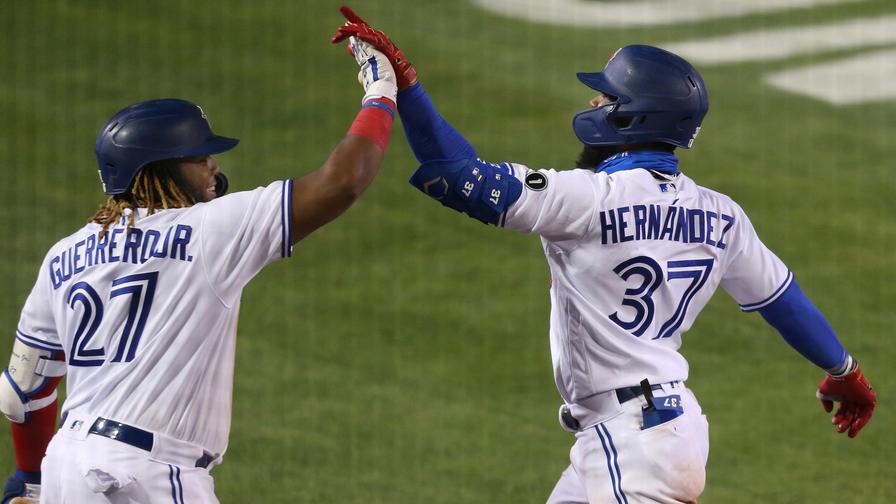 Our daily helper is available every day to analyze FanDuel's main slate and help give you a starting point when you're building lineups. Be sure to also incorporate our great tools into your research process. Whether you're looking for daily projections, the latest starting lineups and weather, or batting and pitching heat maps to find the best matchups -- we've got you covered!
And don't forget to take a listen to The Solo Shot podcast with Jim Sannes, who breaks down the MLB daily fantasy slate each morning.
On that note, let's highlight some of the top options for today's FanDuel main slate. Below are tonight's projected starters with their 2020 stats. Opposing team strikeout rate and wRC+ date now show this year's splits against a given pitcher's handedness using up-to-date active rosters, per FanGraphs.
| Pitcher | Salary | L/R | Opp. | SIERA | K% | BB% | Opp. K% | Opp. wRC+ |
| --- | --- | --- | --- | --- | --- | --- | --- | --- |
| Clayton Kershaw | $10,900 | L | ARI | 2.92 | 29.5% | 3.6% | 21.0% | 64 |
| Mike Clevinger | $9,400 | R | @LAA | 4.94 | 22.6% | 11.8% | 21.0% | 110 |
| Taijuan Walker | $9,200 | R | @BOS | 4.65 | 21.2% | 8.0% | 26.3% | 80 |
| Dylan Cease | $8,900 | R | @KAN | 5.59 | 17.7% | 11.8% | 25.0% | 84 |
| Andrew Heaney | $8,500 | L | SDP | 4.07 | 26.6% | 8.4% | 22.1% | 122 |
| Danny Duffy | $8,000 | L | CWS | 3.79 | 27.8% | 6.9% | 22.6% | 159 |
| Luke Weaver | $7,100 | R | @LOS | 4.09 | 26.4% | 7.8% | 20.2% | 126 |
| Martin Perez | $6,700 | L | TOR | 5.49 | 16.3% | 10.2% | 22.1% | 115 |

Let's check out the top spots on tonight's main slate.
Pitchers
On the small slate, Clayton Kershaw ($10.900) is the clear top dog, owning the night's best 2020 marks while simultaneously drawing the easiest matchup.
Kershaw continues to produce at a level reminiscent of his peak seasons, besting his 2019 figures in strikeout rate (29.5%), swinging-strike rate (13.4%), and ground-ball rate (56.0%) while even improving what was an already great walk rate (3.6%).
Amazingly, it's all come with a surprise jump in velocity after steadily declining in recent seasons, so many of these boosts could be here to stay.
The only thing going against Kershaw these days is the Dodgers' occasional pitch count limitations, as he's yet to reach 100 pitches in five starts. Still, the lack of walks helps his efficiency, and he's logged seven innings in both starts where he's exceeded 90 pitches. The Diamondbacks have been one of the worst offenses of 2020, so a deep outing could be in the cards.
After Kershaw, things get a bit murky, with most other appealing options getting saddled with difficult matchups.
I'm most inclined to bet on talent and side with Mike Clevinger ($9,400) despite uncharacteristically mundane numbers through four starts. He's had a 24% strikeout rate or better in three of those four outings, and his 12.6% swinging-strike rate actually sits right around his career average. He also showed his best velocity of 2020 in his most recent start, another positive sign that better days are ahead.
His matchup against the Angels isn't great, but you'll gladly take them over other opponents on the slate, such as the Padres, White Sox, and Dodgers.
Hitters
Toronto Blue Jays
The first place to look for bats should begin with the Toronto Blue Jays, as they face a shoddy Boston pitch staff that has become a stacking staple this season.
The Red Sox actually have a real starter taking the mound tonight in Martin Perez, and while his results haven't been truly egregious, his peripherals remain as bad as ever.
In fact, if the season ended today, Perez would have the worst SIERA of his career (5.49), in addition to his highest walk rate (10.2%) and lowest ground-ball rate (37.7%). The latter mark is a surprise for a pitcher who used to rely heavily on inducing grounders but is the result of a change in pitch mix this year -- something Perez also toyed with in 2019.
But no matter what the southpaw does, it ultimately doesn't seem to matter, with the end result always being mediocre to poor. Perez has escaped allowing too much hard contact so far, but the decrease in grounders should make him more susceptible to home runs, perhaps making him an even better pitcher to stack against than years past.
A majority of Toronto's lineup should bat right-handed tonight, with Randal Grichuk ($3,400), Vladimir Guerrero Jr. ($3,300), Teoscar Hernandez ($3,900), and Lourdes Gurriel ($2,900) forming a formidable group. Hernandez, in particular, has a beautiful 2020 Statcast page.
Los Angeles Dodgers
Luke Weaver may have a high strikeout rate (26.4%) and solid SIERA (4.09), but he's really struggled to keep the ball in the park, allowing a 13.1% barrel rate over seven starts. He's given up eight dingers over 27.1 innings, getting smacked for a 53.6% hard-hit rate and 47.0% fly-ball rate.
Six of the home runs Weaver's allowed have come off left-handed batters, and there's no shortage of mighty lefty sluggers on the Los Angeles Dodgers, including Corey Seager ($3,900), Max Muncy ($3,600), Cody Bellinger ($4,300), and Joc Pederson ($2,700).
Weaver was excellent over a dozen starts in 2019 and has had some solid outings lately, so there's some risk here, but the upside is crystal clear with one of the league's top overall lineups.
Others to Consider
With a four-game slate, pretty much anything is on the table in large-field tournaments, and the Chicago White Sox, Kansas City Royals, and Boston Red Sox are the other spots to consider.
The White Sox have been world-beaters against lefties (and they were excellent against them last year), so they're automatically on the table against left-hander Danny Duffy. Duffy has performed well this year but is a fly-ball pitcher, so even if you don't stack Chicago, they're a great team to look for one-offs in the hopes of nabbing some dingers.
On the other hand, the Royals aren't an exciting offense, but Dylan Cease has struggled mightily with walks, and he issued 6 in just 4.1 innings against these same Royals in his last start. Cease has the worst SIERA of tonight's starters and has allowed 1.90 home runs per 9.0 innings dating back to last season (2.34 per 9.0 versus lefties). Hopefully, Kansas City's lower implied total keeps them from being too popular.
Finally, the Red Sox have a middle-of-the-road matchup against Taijuan Walker, who's actually had his moments this season. With the way the Red Sox have played in 2020, I'm not sure this is best spot for a full stack, but Walker's allowing a 46.2% hard-hit rate and 41.0% fly-ball rate to lefties.