FanDuel Daily Fantasy Baseball Helper: Thursday 8/13/20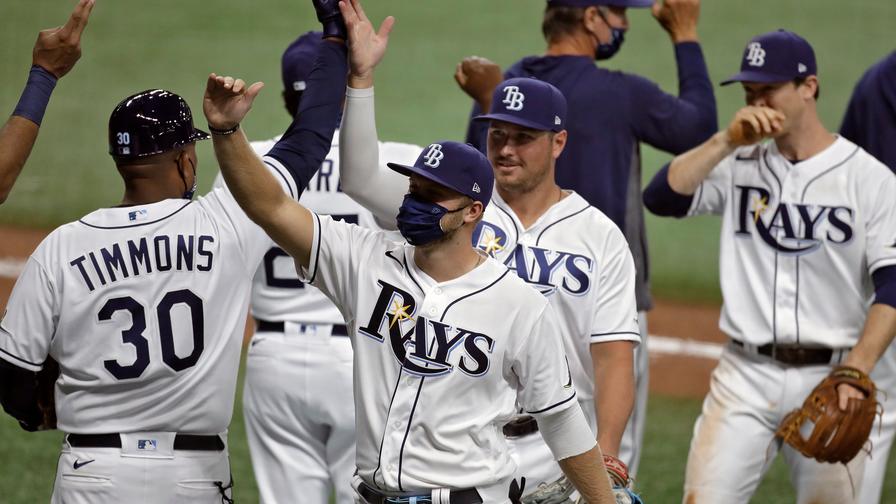 Due to some quirky MLB scheduling today, FanDuel's main slate will begin at 4:05pm ET, excluding only the late west coast nightcap between the Padres and Dodgers. That gives us a solid four games to work with, although there's some rain in the forecast for today's Orioles-Phillies contest, so be sure to keep tabs there.
Our daily helper is available every day to analyze FanDuel's main slate and help give you a starting point when you're building lineups. Be sure to also incorporate our great tools into your research process. Whether you're looking for daily projections, the latest starting lineups and weather, or batting and pitching heat maps to find the best matchups -- we've got you covered!
And don't forget to take a listen to The Solo Shot podcast with Jim Sannes, who breaks down the MLB daily fantasy slate each morning.
On that note, let's highlight some of the top options for today's FanDuel main slate. Below are tonight's projected starters with their 2019-20 stats. Opposing strikeout rate and wRC+ also date back to last year and are against a given pitcher's handedness using up-to-date active rosters, per FanGraphs.
| Pitcher | Salary | L/R | Opp. | SIERA | K% | BB% | Opp. K% | Opp. wRC+ |
| --- | --- | --- | --- | --- | --- | --- | --- | --- |
| Yu Darvish | $9,600 | R | MIL | 3.53 | 30.8% | 7.3% | 23.9% | 102 |
| Tyler Glasnow | $8,800 | R | @BOS | 3.26 | 33.8% | 7.8% | 20.5% | 103 |
| Jake Arrieta | $8,300 | R | BAL | 4.69 | 18.9% | 8.2% | 21.5% | 88 |
| Anthony DeSclafani | $7,100 | R | PIT | 4.26 | 23.8% | 6.8% | 20.8% | 89 |
| Trevor Williams | $7,100 | R | @CIN | 5.01 | 18.1% | 7.0% | 24.3% | 96 |
| Brett Anderson | $5,700 | L | @CHC | 5.13 | 12.1% | 6.6% | 22.3% | 94 |
| Tom Eshelman | $5,500 | R | @PHI | 5.49 | 13.2% | 6.3% | 23.6% | 93 |
| Kyle Hart | $5,500 | L | TAM | -- | -- | -- | 27.1% | 100 |

Let's check out the top spots on tonight's slate.
Pitchers
Yu Darvish ($9,600) checks a lot of boxes today, with high strikeout potential, a rising workload (93 pitches last time), and a plus matchup. Although his punchouts have been down a tad thus far (24.6%), he still has a healthy 15.1% swinging-strike rate, which is a positive sign that he can creep back up towards that 30% range. Furthermore, the Brewers' active roster has the second-worst strikeout rate versus righties thus far (28.6%), and while that should go down over the long haul, it's still another promising development for Darvish.
Tyler Glasnow ($8,800) is realistically the only other guy we should expect to compete with Darvish for tonight's top score. He's been a bit wild over three starts (15.7% walk rate), making him more boom-or-bust, but a 37.3% strikeout rate shows that fantastic upside. He hasn't made it through five innings yet this year, but he has a high-water mark of 88 pitches, so his workload should be intact if he avoids those control issues. The Red Sox sadly don't whiff much, but there are far more dangerous opponents at least.
Hitters
Tampa Bay Rays
The Tampa Bay Rays enjoy an exploitable spot against left-hander Kyle Hart, who is making his MLB debut for Boston.
In 2019, Hart only managed a 5.17 xFIP, 19.4% strikeout rate, and 8.7% walk rate over 100.1 innings in Triple-A. He also induced a low 40.2% ground-ball rate, leaving the door open for some Tampa Bay dingers.
The Rays' bats are inexpensive, so loading up on righty sticks like Yandy Diaz ($2,600), Jose Martinez ($2,900), and Hunter Renfroe ($2,800) will be easy. All three have demonstrated nice pop with the platoon advantage, with Renfroe having an especially potent track record (career .297 ISO versus lefties).
Michael Brosseau ($2,600) hit leadoff against a lefty on Tuesday, so there's a chance he's batting high in the order again. Dating back to last season, he's managed a 45.0% hard-hit rate and 43.6% fly-ball rate over 166 plate appearances, so we have to like his power potential, too.

And don't forget about Austin Meadows ($3,600), who could enact some lefty-on-lefty violence tonight. Over his young career, he's produced a 44.7% hard-hit rate and 41.2% fly-ball rate with a .242 ISO in same-sided matchups.
Philadelphia Phillies
The Philadelphia Phillies mostly disappointed last night, but they get another cushy matchup against the Baltimore Orioles today.
Thomas Eshelman is taking the mound for Baltimore and hasn't done anything to impress over his 43.1 innings since debuting last season. He's sitting on a 5.49 SIERA and 13.2% strikeout rate over that span, and the ball hasn't been staying in the park, either, landing in the outfield seats at a rate of 2.91 per 9 innings. With a mere 31.6% ground-ball rate paired with that puny strikeout rate, opposing batters figure to keep launching fly balls into orbit.
Bryce Harper ($4,300), J.T. Realmuto ($3,700), Rhys Hoskins ($3,000), and Jay Bruce ($2,900) are obvious power bats who can take advantage. Likely leadoff man Andrew McCutchen ($2,400) is struggling but is basically free, while Didi Gregorius ($3,300) has solid power versus righties.

Cincinnati Reds
Trevor Williams brings a sub-40% ground-ball rate and middling strikeout rate to Great American Ball Park, which should be music to the ears of the Cincinnati Reds.
Although Williams did a good job of suppressing home runs from 2017-18, that wasn't the case with the juiced ball last season, as he gave up 1.67 per 9 innings -- easily a career-worst. Perhaps that mark comes down in 2020, but he's allowing a 43.9% fly-ball rate through three starts, which doesn't bode well in one of the league's most hitter-friendly parks.
In particular, Williams has never had an easy time punching out left-handed batters, with a 12.5% strikeout rate against them last year and a 14.4% clip for his career. That boosts the lefty sticks of Joey Votto ($3,200), Jesse Winker ($2,500), and projected leadoff man Shogo Akiyama ($2,400).
Williams isn't anything special versus righties, though, so Nick Castellanos ($4,000) and Eugenio Suarez ($2,900) are natural inclusions, too. Castellanos has been an absolute beast in 2020, hovering near the top of just about every Statcast category.
On the opposing side, a full Pittsburgh Pirates stack against Anthony DeSclafani might be less appealing -- although viable on the small slate -- but he struggles versus left-handed batters, so definitely keep that in mind, as well.