KBO Daily Fantasy Baseball Helper: Tuesday 6/30/20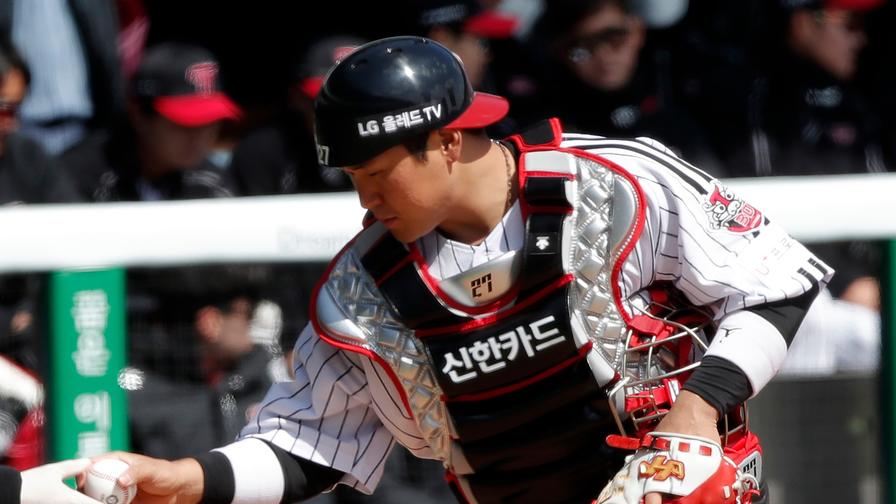 Tuesday's KBO DFS slate is a good time to hunker down and trust the process.
Specifically, the process I'm referring to is that which dictates our pitcher selection for any daily fantasy baseball offering. You want high-strikeout pitchers facing high-strikeout teams, preferably in a park that helps suppress offense. This slate has multiple routes for sticking to those guidelines, and we'd be wise to let our Hinkie flag fly.
Here's a rundown of the starters on the slate, sorted by the FanDuel salary of their team's starting pitcher slot. Opposing runs per game totals can be found at My KBO Stats with the strikeout rates at Baseball Reference. The park factors are a multi-year run factor via STATIZ with 1000 being neutral and a higher number favoring hitters.
Pitcher
Salary
L/R
Opp.
ERA
WHIP
K%
BB%
HR%
Opp. R/G
Opp. K%
Park Factor
Ki-young Im
(Kia)
$28
R
HAN
2.91
1.15
22.2%
4.0%
1.1%
3.54
19.6%
1003
Mike Wright
(NC)
$28
R
LOT
3.60
1.34
19.3%
10.8%
2.4%
4.60
16.3%
1012
Chae-heung Choi
(Samsung)
$27
L
SK
3.96
1.34
17.4%
10.8%
3.0%
3.77
19.1%
1093
Min-ho Lee
(LG)
$26
R
KT
1.59
1.02
18.1%
8.6%
0.0%
5.79
18.9%
959
Hui-kwan Yu
(Doosan)
$25
L
@KIW
4.66
1.71
7.6%
8.1%
2.4%
5.65
19.2%
979
Seung-ho Lee
(Kiwoom)
$25
L
DOO
4.89
1.48
13.5%
8.0%
2.5%
6.23
15.0%
979
Min-soo Kim
(KT)
$24
R
@LG
6.41
1.84
13.6%
4.8%
2.4%
5.49
16.2%
959
Dae-woo Kim
(Lotte)
$23
R
@NC
4.60
1.47
16.7%
15.2%
0.0%
6.48
17.4%
1012
Shi-hwan Jang
(Hanwha)
$22
R
@KIA
6.21
2.07
24.2%
13.2%
2.6%
4.84
17.2%
1003
Jung-hoon Park
(SK)
$21
R
@DOO
5.81
1.48
22.7%
9.5%
2.4%
5.06
17.8%
1093

Our optimal options should be pretty apparent based on that chart. So let's dig in and see if the process can lead us to the top of the leaderboards.
Pitchers
There are two standout pitchers who check the main boxes for tonight's slate: Ki-young Im (Kia Starting P; $28) and Min-ho Lee (LG Starting P; $26). Let's run through the appeal in both before picking our preferred option.
Im is facing the Hanwha Eagles, who are still the optimal matchup to target despite their recent improvements. Im blends results with peripherals, legitimizing his 2.91 ERA with a 22.2% strikeout rate and 4.0% walk rate. Against the highest-strikeout offense in the league, Im has both a high floor and a high ceiling.
Lee's due for some regression as his peripherals aren't as good as Im's, but there's no denying how nasty he has been this year. Across 28 1/3 innings, Lee has a 1.59 ERA and is allowing just over a base runner per inning. The 18-year-old righty has had his workload monitored, but he has topped 100 pitches in three straight starts and is facing a KT Wiz team that is more than willing to strike out.
Truly, you can't go wrong between these two. However, Im is facing a lesser offense and possesses the more reassuring peripherals, so he is going to sit atop our list. Lee is still a good option, especially in the best park for pitching on the slate, but he will have to settle for second fiddle here.
If you want to deviate from those two, Mike Wright (NC Starting P; $28) is the place to go. Wright's opponent -- the Lotte Giants -- don't strike out as much as Hanwha or KT, which lowers the appeal in Wright. Still, Wright himself has a 19.3% strikeout rate, and Lotte's offense isn't particularly high-powered. Wright's mostly in play if you're multi-entering for tournaments and have gotten a sufficient amount of exposure to Im and Lee.
Stacks
The focus within our stacks will have to be uncovering mid-range and value bats as both Im and Lee carry salaries of at least $26. We can get a big boost in that department from the Samsung Lions.
Samsung is facing Jung-hoon Park, who has put up a 5.81 ERA through his nine starts. Park has had an especially rough go of it recently with 14 earned runs allowed in his past two outings. With this game in the most hitter-friendly park in the league, it's easy to expect Park's struggles to persist.
Within the Samsung offense, only Tyler Saladino ($13) has a salary higher than $9, and Saladino is not on the roster as of this posting due to a back injury. Dong-Yeop Kim ($8) and Min-Ho Kang ($7) have both flashed pop this year and will gain the platoon advantage with a lefty on the bump, allowing us to target them and gain flexibility with the rest of our hitters. If Saladino is able to return, he's a high-quality outlet for utilizing that leftover salary.
The park isn't as tasty for the LG Twins, but they've got a plus matchup against Min-soo Kim. Kim has made four starts this year, and he has racked up just nine strikeouts across 20 innings. That makes it easier to believe in his 6.41 ERA when you count his time as a reliever, positioning LG for a big night with the sticks.
The keys to affording at least one of the studs within the LG lineup will be Ji-Hwan Oh ($9) and Kang-Nam Yoo ($10). Oh has multiple sources of upside as he has flashed pop but also has nine steals so far this year. Yoo doesn't have glittery overall numbers, but his .143 isolated slugging percentage shows he has at least some power. It's not a bad idea to begin your stack with either or both of those hitters before seeing if you can afford Roberto Ramos ($17) or Hyun-Soo Kim ($15).
If you find yourself with extra salary to burn, you should look long and hard at the NC Dinos. They're facing Dae-woo Kim, who is transitioning to the rotation for his first start of the season. Kim struggled even in the bullpen with an 11:10 strikeout-to-walk ratio, and putting free runners on base for an offense like NC's doesn't usually come with a fairy-tale ending.
Although stacking NC might be tough when paying up at pitcher, getting exposure isn't thanks to Hee-Dong Kwon ($7). Kwon hit second against right-handed starters on Saturday and Sunday, and he's slashing .330/.446/.565 for the full season. Assuming he hits second again, Kwon is the highest-upside value on the slate. With Kwon being as cheap as he is, you should at least try to stack NC no matter what you're doing elsewhere. Either way, Kwon is someone to consider both in stacks and as a one-off.