Fantasy Baseball: 5 Pitchers to Stream in Week 19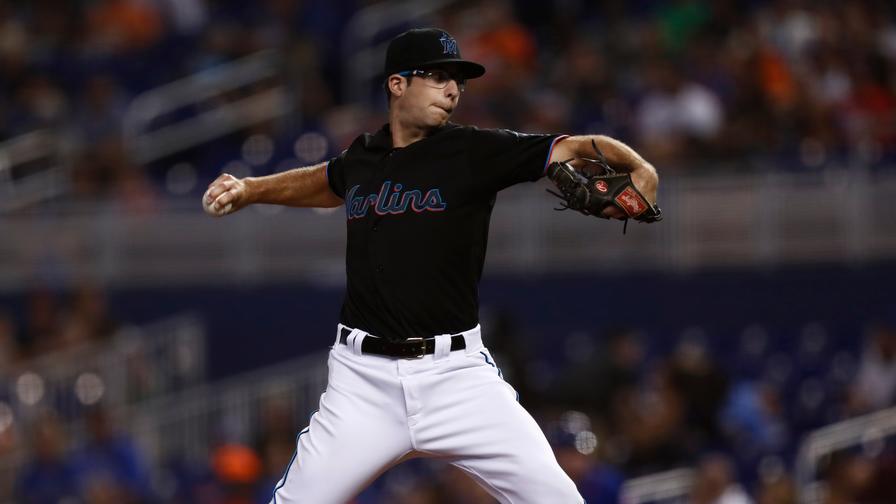 With so much recent clamor over that other fantasy sport, it's tempting to feel like the fantasy baseball season is on its last legs. But remember, there's still almost two full months of work to be done with your season-long leagues. So as your opponents turn their attention from the diamond to the gridiron, these five widely-available arms can help you make some real headway in your standings.
Aaron Sanchez, Houston Astros
Start: August 10th at Baltimore Orioles
ESPN ownership: 18%
Can the data-driven Houston Astros coaching staff rehabilitate the perennially disappointing Aaron Sanchez? Early return are promising, with Sanchez and the Houston bullpen working together to no-hit the Seattle Mariners over the weekend.
The hints at a sudden turnaround for Sanchez might make him a more heavily sought-after waiver add this week than his numbers seem to warrant, as the 27-year-old labored to a 6.07 ERA and 5.03 FIP across 112.2 frames for the Toronto Blue Jays this season. Sanchez's fastball command has been totally miserable; he carries a 23.9% walk rate on 422 four-seams this season, with that pitch surrendering a .451 OBP and .224 ISO.
There may not be any quick fixes for Sanchez and the Houston coaches, but the honeymoon might last one more week as Sanchez lines up to face an impatient and very beatable Baltimore Orioles offense. Shallow-league streamers can lean on Sanchez in the short term, even as it seems unwise to pencil Sanchez in as a reliable fantasy mainstay for the balance of the season.

Anibal Sanchez, Washington Nationals
Start: August 6th at San Francisco Giants
ESPN ownership: 20%
It's getting harder and harder to ignore Anibal Sanchez in standard leagues. The 35-year-old's 3.24 ERA in the second half is just a hair worse than Justin Verlander's across that span. Of course, JV's 36.2% strikeout rate since the start of June almost doubles Sanchez's modest 18.2% rate in that stretch, but even so, it seems odd that shallow leaguers continue to hold Sanchez at arm's length given the current pitching climate.
Sanchez should find his way onto a few more rosters this week at the Washington Nationals visit the San Francisco Giants and the ever-accommodating Oracle Park. The G-Men have, to the chagrin of pitching streamers, gotten somewhat hot of late, but they remain total pushovers in their crippling home park, with only the Miami Marlins registering worse home power numbers in the second half.
Zac Gallen, Arizona Diamondbacks
Start: August 7th vs. Philadelphia Phillies
ESPN ownership: 17%
Hopefully a change of scenery won't cramp Zac Gallen's mojo. Traded from the Miami Marlins to the Arizona Diamondbacks ahead of Wednesday's trade deadline, the 24-year-old has shoved to the tune of a 2.39 ERA in 26.1 frames since the start of July.
The move away from South Beach looks to be a largely lateral one in terms of park factors, if not an improvement, leaving Gallen's shine as a high-upside play intact. And while at first glance the Philadelphia Phillies don't appear to be an ideal streaming opponent, their offense has been a low-key disaster of late, with only the Marlins and the Pittsburgh Pirates boasting worse production across the National League in the second half.
Dylan Cease, Chicago White Sox
Starts: August 6th at Detroit Tigers, August 11th vs. Oakland Athletics
ESPN ownership: 10%
Dylan Cease's first taste of the Major Leagues hasn't been all that pretty, but with a 5.22 FIP that shaves more than a run off of his hair-raising 6.43 ERA and a 59.5% strand rate that jumps off the page as a positive regression candidate, the highly touted prospect might deserve the benefit of the doubt from needy streamers.
A date with the bottom-feeding Tigers offense (the MLB's second-worst since the All Star Break) should get Cease off the schneid, though owners in weekly-lock leagues will want to tread lightly with a tough Oakland Athletics team on tap over the weekend.
Dinelson Lamet, San Diego Padres
Starts: August 6th at Seattle Mariners, August 11th vs. Colorado Rockies
ESPN ownership: 6%
Deep leaguers looking to fill up the strikeout column this week can turn to Dinelson Lamet as the 27-year-old San Diego Padres' hurler draws a favorable two-start slate.
Still grinding back into form after Tommy John surgery stalled his bid for sleeper status in 2018, Lamet has yet to clear five innings of work across five assignments this season. His brief outings display both his promise (29.1% strikeouts, 14% whiffs) and his limitations (8.9% walks, 5.09 ERA), but with the floundering Seattle Mariners coming up followed by a matchup with the free-swinging Colorado Rockies away from Coors, there's upside for days here, provided wins and quality starts are not at a premium.