Fantasy Baseball Waiver Wire Adds: Week 22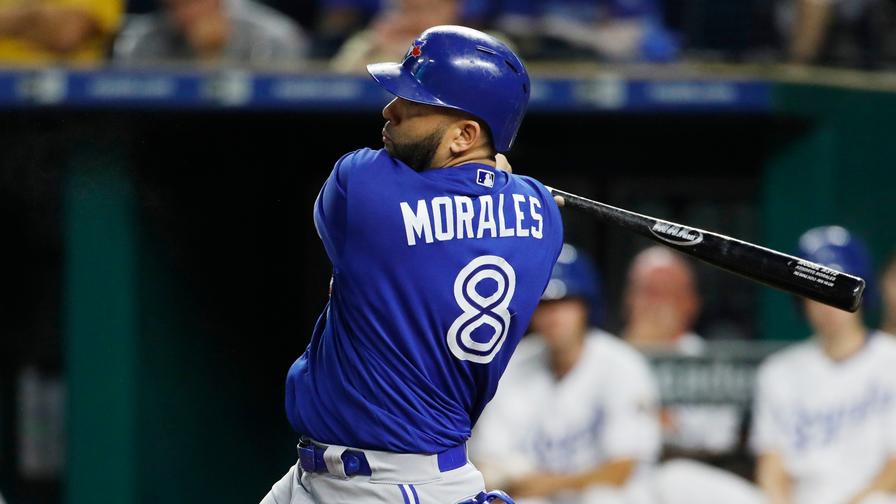 The waiver wire has plenty of goodies available for the taking, so let's try to get a leg up on our fellow league members and make some moves where needed.
The four players below are all owned in fewer than 60% of ESPN leagues and could give your squad a shot in the arm as we enter the dog days of summer.
Kendrys Morales - Toronto Blue Jays (1B)
ESPN Ownership: 53.9%
When someone homers in seven consecutive games, it's time to take some serious notice.
Kendrys Morales is doing some work at the dish right now. In his past seven games, which includes eight home runs, Morales is batting .481 with an .889 isolated power (ISO). He has always been a heavy fly-ball hitter, but perhaps part of his success is attributed to a 60.9% fly-ball rate over the last week, which pairs nicely with a 43.5% hard-hit rate.
If you need some help at the corner infield or utility slot, peep Morales.
German Marquez - Colorado Rockies (SP)
ESPN Ownership: 45.7%
Sound the alarms -- there's a pitcher that is fantasy relevant in Colorado and his name is not Jon Gray. Only in his second major league season, German Marquez could be a bit of an unknown fantasy commodity, but his recent performance is forcing folks to buy in.
Since June 30, spanning 10 starts and 66 2/3 innings pitched, the righty owns a 2.76 FIP and 29.3% strikeout rate. He may be a bit under the radar to some, but he's actually been one of the best pitchers in baseball over the last two months.
Marquez's success comes thanks to a 27.4% fly-ball rate, and that's critical to success in a park like Coors. Check out Marquez for some pitching goodness.
Dellin Betances - New York Yankees (RP)
ESPN Ownership: 37.0%
While no one is going to feel sorry for the New York Yankees, Aroldis Chapman was placed on the disabled list with a shoulder injury, adding to their health woes. Lucky for them, they hold the keys to one of the best relievers in all of baseball in Dellin Betances.
While Betances just notched his first save of 2018, he's been brilliant in a setup role this season, logging a 44.1% strikeout rate, 2.18 ERA, and 1.85 SIERA over 53 2/3 innings. Even crazier is that Betances was pretty rough over the first five weeks of the season. Since May 12th, he's been almost untouchable, logging a 0.72 ERA and 0.74 WHIP since that date.
Betances will help you across all of the ratio categories, and he's going to add some saves to boot. If he's available, now would be the time to snatch him up.
Melky Cabrera - Cleveland Indians (OF)
ESPN Ownership: 26.4%
If there's one thing Melky Cabrera can do, it's hit. The switch-hitting veteran outfielder is flat-out raking yet again, and he's opened up the ears of fantasy owners everywhere.
Cabrera started the year in Triple-A, but since play resumed following the All-Star break, he's been a boss at the Major League level. Over 114 plate appearances, Cabrera owns a .398 wOBA, .223 ISO, and 41.9% hard-hit rate. It's no surprise that he has posted 15 runs and 16 runs batted in over about a month of work.
As the fantasy playoffs start to heat up, check out Cabrera as a sneaky outfield add.