4 Daily Fantasy Baseball Stacks for 8/20/18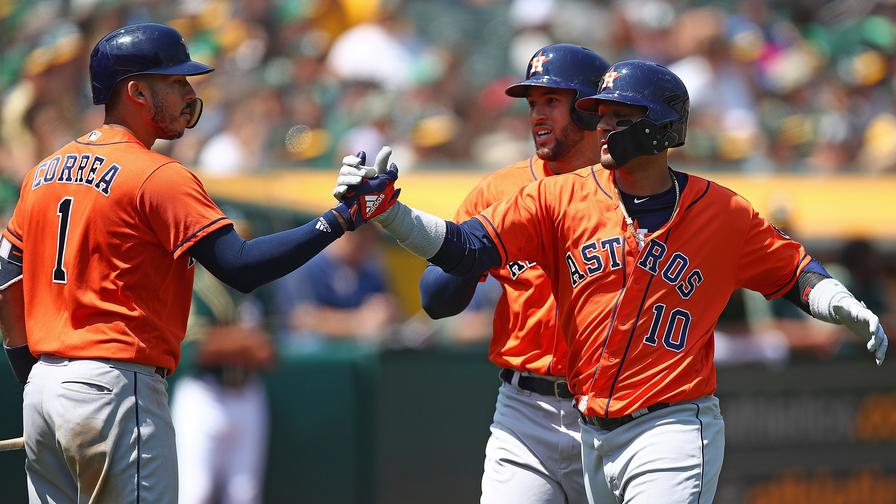 Stacking can be a controversial topic in many daily fantasy sports, but you can count baseball as a glaring exception. Here, it's universal.
Using multiple players on the same team on a given day presents you with the opportunity to double dip. If one of your players hits an RBI double, there's a good chance he drove in another one of your guys. When you get the points for both the run and the RBI, you'll be climbing the leaderboards fast.
Each day here on numberFire, we'll go through four offenses ripe for the stacking. They could have a great matchup, be in a great park, or just have a lot of quality sticks in the lineup, but these are the offenses primed for big days that you may want a piece of.
Premium members can use our new stacking feature to customize their stacks within their optimal lineups for the day, choosing the team you want to stack and how many players you want to include. You can also check out our hitting heat map, which provides an illustration of which offenses have the best combination of matchup and potency.
Now, let's get to the stacks.
Houston Astros
Felix Hernandez has had a tremendous career, including a 3.32 ERA and 168 total victories. It's been rough for him in recent seasons, however, and things even culminated in a brief stint to the bullpen here in 2018. The Seattle Mariners weren't crazy in removing Hernandez from the rotation either. "King Felix" is allowing a 39.5% hard-hit rate, while managing just an 8.4% swinging-strike rate.
The Houston Astros rank third in walk-to-strikeout ratio, and ninth in fly-ball rate against right-handed pitching with a 37.1% mark. Because of their excellent plate discipline and ability to hit the ball in the air, they are seventh in baseball with a 103 wRC+ against righties.
Alex Bregman ($4,200) is a stud. He's got a higher walk rate (13.1%) than strikeout rate (12.5%) to go with his ideal batted ball profile for power (43.7% fly-ball rate and 37.8% hard-hit rate).
George Springer ($3,700) and Carlos Correa ($3,600) both recently returned from injuries. For someone who's main flaw on his prospect profile was contact ability, Springer's 18.9% strikeout rate in 2018 is extremely impressive. Add in the 35.1% hard-hit rate and he is a force to be reckoned with. Correa, meanwhile, hasn't done much impressing this year, but he still has an excellent career 132 wRC+.
There are plenty of ways to get cheap exposure to this high flying offense as well. Evan Gattis ($2,800) has monster power upside from the catcher position with his 47.0% fly-ball rate and 34.8% hard-hit rate. Yulieski Gurriel ($2,700) owns a career 10.3% strikeout rate and 110 wRC+ against right-handed pitching. Josh Reddick ($2,600) has also hits righties well in his career. His marks in that split include a 15.6% strikeout rate, 44.3% fly-ball rate, and 114 wRC+.
To read all premium content, upgrade to a Premium account with numberFire
If you're not a Premium subscriber, it takes just a few seconds to sign up. You'll get access to all of our insider information, game projections, handicapping advice, DFS tools, advanced statistics, and more.