Aaron Judge Was Bound to Slump at Some Point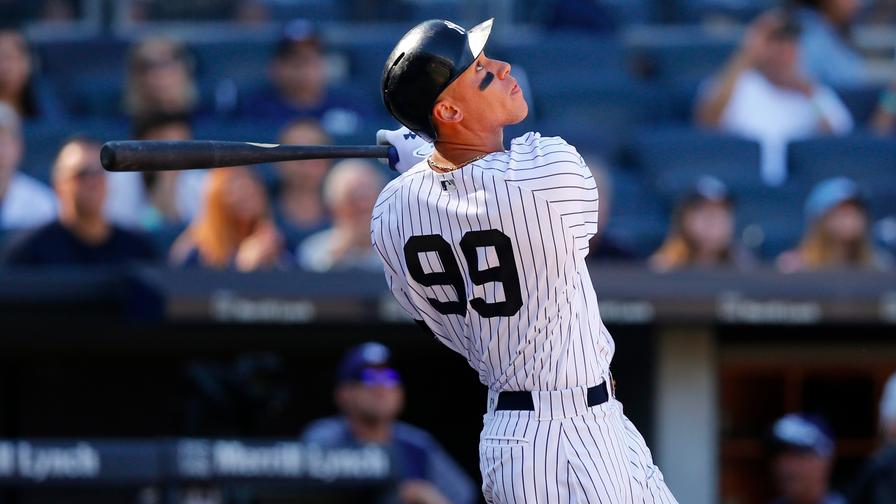 Heading into MLB's All-Star break a few weeks ago, New York Yankees rookie outfielder Aaron Judge was dominating the headlines on a daily basis. It's hard not to in a big market like New York when you're hitting .329/.448/.691 with 30 home runs and 66 RBI, all good for a wRC+ of 198 and an fWAR of 5.9.
He didn't only appear to be a lock for American League Rookie of the Year, but he was also at the forefront of AL MVP discussions. After stealing the show at the Home Run Derby, the attention on him only intensified.
And then it happened -- he's hit the skids since taking the field in the second half. He won't categorize it as a slump -- mostly because he's got the right mindset for any successful ballplayer -- but Judge has struggled to a .158/.310/.316 triple slash through his last 71 plate appearances. Furthermore, his 57 wRC+ during this time is one of the 30 lowest numbers in baseball among qualified hitters.
Baseball is a humbling sport, isn't it? Every ballplayer is bound to deal with some peaks and valleys throughout any given season, and after one very long peak, it looks like Judge is finally traveling through a valley for the time being.
It's silly to look at a tough couple weeks and draw conclusions from it (especially after what he just did over the first three-and-a-half months), but there are clear indications as to why he's recently fallen on tough times at the plate.
Not Hitting the Ball as Hard as Usual
If there's one thing we've come to know and love Judge for, it's his ability to constantly push the limits of Statcast. We're not just talking about how far he hits balls into the night, though -- we're also talking about the frequency in which he hits balls hard. After all, his average exit velocity of 95.4 miles per hour ranks first among hitters with at least 30 batted-ball events this season.
However, hitting the ball hard with regularity has been missing from Judge's game since the All-Star break. The below table shows how his soft-hit rate (Soft%), medium-hit rate (Med%), and hard-hit rate (Hard%) have changed from the first half to this point in the second half.
| Time Period | PA | Soft% | Med% | Hard% |
| --- | --- | --- | --- | --- |
| First Half | 366 | 12.0% | 39.1% | 49.0% |
| Second Half | 71 | 9.1% | 63.6% | 27.3% |

While watching his fly-ball rate jump up to 54.5% since the midsummer classic is something we'd like to see because of Judge's particular skillset, it's not very effective when the quality-of-contact numbers aren't there to back it up.
Starting to Chase Again
One of the biggest signs of progress for Judge throughout the first half of 2017 was his drop in strikeout rate compared to last year. After whiffing 44.2% of the time in just 95 plate appearances, he knocked that down to a much more manageable 29.8% prior to the All-Star break.
From the jump on Opening Day, it was clear to see that he made a significant change in his plate discipline for this to become a reality. Once again, Judge's second-half stats are way too small of a sample size to draw legitimate conclusions from, but it also helps us see why he's slogged through the last few weeks.
The below table shows how his chase rate (O-Swing%), swings on pitches in the strike zone (Z-Swing%), the corresponding contact rates, and his swinging-strike rate (SwStr%) have compared between his brief stint in 2016, the first half of this year, and the couple weeks since the All-Star break.
| Time period | PA | O-Swing% | Z-Swing% | O-Contact% | Z-Contact% | SwStr% |
| --- | --- | --- | --- | --- | --- | --- |
| 2016 | 95 | 33.6% | 63.4% | 36.6% | 78.9% | 18.1% |
| 1st Half '17 | 366 | 24.1% | 66.9% | 44.8% | 80.6% | 13.2% |
| 2nd Half '17 | 71 | 30.6% | 66.4% | 45.0% | 75.3% | 16.7% |

In quite a few instances, what he's done recently resembles more of what he was doing last year instead of his other-worldly first half of play. What is encouraging, though, is that despite the increased strikeout rate (35.2% in second half), the rookie is still drawing quite a few walks (18.2% walk rate in second half).
As any player goes through a slump or some period that lacks production, it's natural to get a little antsy and start chasing balls out of the strike zone with more regularity. What separates the good hitters from the great ones is that they know how to minimize low points like this, while simultaneously maximize the high points.
If he can get himself back to zeroing in on pitches inside the zone and doing damage in that particular situation, then his hard-hit rate should start creeping back up toward the top of the league, as it's been most of his short MLB career.