Carlos Correa Is Already Better Than You Think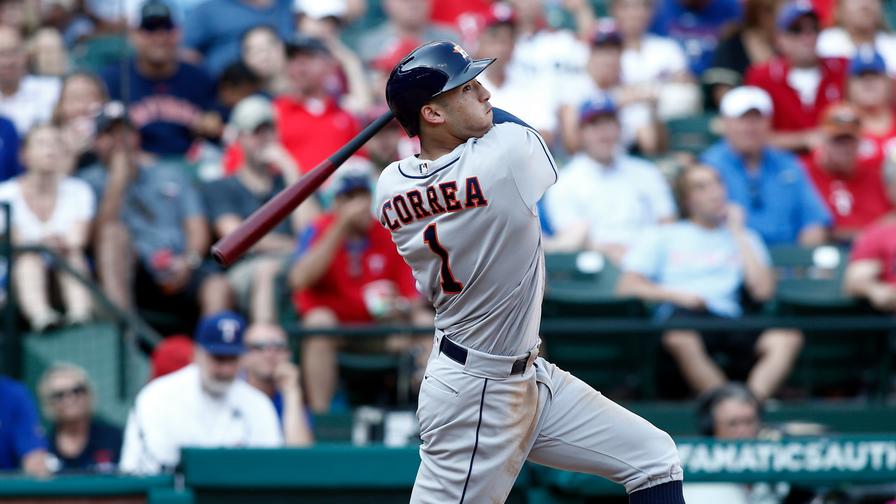 The Houston Astros are reaping the benefits of a long rebuild with, what looks like, a special season. They are 60-29, one win behind the Los Angeles Dodgers for the best record in baseball, and look like an unstoppable force. They're getting big-time production from several players, but they've gotten an unbelievable first half from Carlos Correa.
Correa, the first overall pick in the 2012 MLB Draft, has been excellent since arriving in the bigs at the tender age of 20, and he has a Rookie of the Year trophy in his cabinet to prove it.
This year, though, has been a different story for Correa. While no one really doubted him long-term potential after a somewhat underwhelming 2016 season, he is emphatically erasing all doubts while becoming one of the game's premier players. Is it possible we've somehow underrated him?
Where's the Love?
To call Correa underrated sounds absurd. He won the Rookie of the Year in 2015 and made the All-Star game this season, amassing 12.3 fWAR in his two-plus seasons (333 total games played). He has been a star since his debut.
However, he was ranked rather conservatively in plenty of preseason rankings. MLB.com put him 20th in their top 100, with Newsday ranking him 22nd and Fox Sports slotting him 15th, (3rd among shortstops).
These rankings are far from perfect, but they are a way to measure how players stack up against each other according to writers and those who analyze the game. These rankings often shape the casual fan's opinions, and, for the most part, they are consistent.
But Correa's ranking across all three of these well-known platforms is far, far too low, and he's making them look silly with a monster season.
Outplaying the Rankings
As we said, Correa has been good since he entered the league. His Rookie-of-the-Year campaign saw him hit .279/.345/.512 with a .233 ISO, 135 wRC+, and 3.4 fWAR in 99 games.
He took a bit of a step back in his sophomore campaign, slashing .274/.361/.451 with a .177 ISO, a 122 wRC+, and 4.9 fWAR in 153 games. His fWAR rose more than a win, but he also played in 54 more games. Despite his slight regression, he was still a well-above-average offensive player and very valuable overall.
However, this year, Correa has been unbelievable, posting a slash line of .325/.402/.577. He has been one of the best players in all of baseball.
| Stat | Correa's Numbers | League Ranking | Shortstop Ranking |
| --- | --- | --- | --- |
| OPS | .979 | 7th | 1st |
| wRC+ | 161 | T-4th | 1st |
| fWAR | 4.0 | T-5th | 1st |

Correa's 161 wRC+ is tied with Bryce Harper and teammate Jose Altuve for fourth overall while his 4.0 fWAR is tied with Paul Goldschmidt for fifth.
When you look at his numbers compared to his peers at shortstop, he has been the clear leader, which is saying something considering how deep the position is right now. In OPS, there's a huge gap -- .979 to .941 -- between Correa and second-place Zack Cozart, and in wRC+ he leads 161 to 143 over Cozart, who is again the second-best shortstop in the stat. He leads second-place Corey Seager in fWAR by 0.6.
Simply put: Correa has been the most dominant player at his position, and he has produced like one of the best overall players in the league.
Is This Sustainable?
One of the big questions for any player having a breakout campaign is the sustainability of it. What Correa is doing looks rather sustainable.
This season has two big differences when compared to 2016. He has reverted back to his high-contact self, and his BABIP -- which has risen every season of his career along with his hard-hit rate -- has taken a big jump.
We can see his contact improvement by looking at his swinging-strike rate (SwStr%) and zone-contact percentage (Z-Contact%), which is the percentage of times Correa makes contact when swinging at pitches in the zone.
| Year | Walk Rate | Strikeout Rate | Hard-Hit Rate | BABIP | SwStr% | Z-Contact% |
| --- | --- | --- | --- | --- | --- | --- |
| 2015 | 9.3% | 18.1% | 32.9% | .296 | 8.4% | 89.0% |
| 2016 | 11.4% | 21.1% | 37.2% | .328 | 10.3% | 84.5% |
| 2017 | 11.3% | 18.7% | 40.5% | .358 | 8.4% | 89.0% |

He's basically replicating his initial breakout campaign back in 2015, but he's improved his walk rate while making a lot more hard contact.
Correa's BABIP could be due for some regression, but as a youngster who is a good athlete and makes a lot of hard contact, he may carry a higher-than-average BABIP (the league average this year is .299). Also, BABIP tends to stabilize after two seasons, so it is not out of the question that he can sustain a BABIP in the range he's in now, especially if he maintains his hard-hit rate.
The young shortstop's 2016 campaign looks like an outlier. His swinging-strike rate rose nearly 2%, which, in turn, caused his strikeout rate to spike by 3%. His zone-contact percentage dipped quite a bit in 2016, too. Correa has corrected both of these things in 2017, though, as his swinging-strike rate and zone-contact percentage are identical to his 2015 numbers.
In Conclusion
It's only his third season, but Correa is on pace for his second breakout campaign.
His 20 home runs are only 2 off his career high, and he is smashing his previous career-best slash line with his current one. He is on track to be an 8.0-win player, according to fWAR, which is something only a pair of guys -- Mike Trout and Kris Bryant, the two MVPs -- did a year ago. While Correa's glove still lags behind his bat (-9.9 career Ultimate Zone Rating and -1 career Defensive Runs Saved), his offensive prowess more than makes up for it.
At the age of 22, he looks to be way better than where the preseason rankings had him; instead of a top-20 type, he's a top-five guy. While his greatness might actually be flying under the radar a bit right now, he should get his due pretty soon as one of the best players on a dominant Astros team, especially if he keeps playing like this.