Mike Trout or Bryce Harper: Who Is Baseball's Best Player?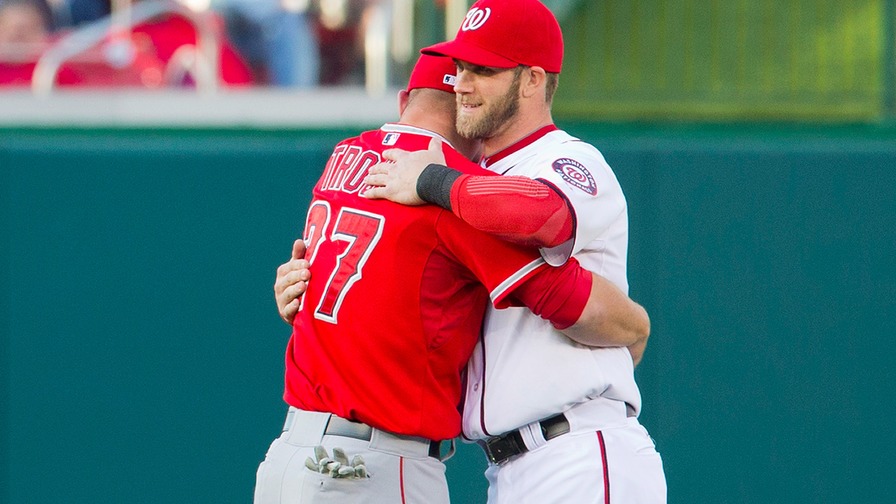 We've had this conversation before, and we're probably going to have it many, many times over the next few years: Who's better, Bryce Harper or Mike Trout?
Back in 2015, Harper was on his way to winning the NL MVP award with a 9.5 fWAR and some absolutely insane batting statistics. Meanwhile, over in the American League, Trout was busy having a 9.0-fWAR season and finishing second in the AL MVP vote behind Josh Donaldson, despite the fact Donaldson's fWAR was a couple ticks lower, at 8.7.
The debate raged. Who was the The Man? Was it Trout, who came into the season as the undisputed king of the game and gave no reasons why he should be removed from the top of the heap? Or was it Harper, who finally saw his talent explode in the way that everyone suspected it would?
Obviously, something was wrong with Harper in 2016. Whether it was a shoulder issue or something else altogether, he wasn't the same player last year, although he was still reasonably effective. Meanwhile, Trout went on to win his second MVP award, re-establishing himself as the game's top dog.
But now, the race is on again.
| Player | fWAR | rWAR | wOBA | OBP | wRC+ | HR | OPS | dWAR | BsR |
| --- | --- | --- | --- | --- | --- | --- | --- | --- | --- |
| Bryce Harper | 2.8 | 2.4 | .511 | .500 | 215 | 12 | 1.252 | -0.1 | -0.7 |
| Mike Trout | 2.7 | 2.5 | .487 | .449 | 225 | 12 | 1.187 | -0.2 | 2.2 |

The margin between these two players, if there is one, is razor thin. In fact, based on the numbers above, it seems almost impossible to find any daylight between these two sluggers right now. Harper leads by one-tenth of a point in FanGraphs' Wins Above Replacement, while Trout leads by the same margin in Baseball Reference's version. Harper's weighted on base average (wOBA) and on-base percentage are better, but when adjusted for parks and other factors, Trout's weighted runs created (wRC+) is slightly superior.
Both players are about the same defensively, according to their dWARs and they've both hit 12 dingers. Trout is currently a slightly better baserunner, as evidenced by his BsR, FanGraphs' measurement of baserunning that takes into account steals, caught stealing, and other baserunning plays, like taking extra bases.
And both have a flare for the dramatic.
It's not even fair.

4 games, 4 home runs for @MikeTrout. pic.twitter.com/bWjAjXtSdI
— MLB (@MLB) May 16, 2017

Last night, Trout hit a homer in his fourth straight game, the first time he's done that in his career. StatCast noted that none of them were cheap.
Mike Trout smashing baseballs... 4 HRs in 4 games. pic.twitter.com/Msm7Gl33I8
— Daren Willman (@darenw) May 16, 2017
As for Harper, he's hit two walk-off homers this season, both of them coming off the Philadelphia Phillies.

And here's the fun part. Both are getting better.
Trout and Harper are striking out at career low rates, with Harper at 17.5% and Trout at 17.9%. And if Harper can maintain it, he would be the first player since Barry Bonds in 2004 to have an OBP of .500 or better.
Right now, it's impossible to pick which player is better. Trout has a few more stolen bases (seven), but that's about it. If there is an edge one player has over the other, it's that.
Harper & Trout are both batting .350/.450/.750 or better. Last two hitters to slash at least that in a season: Ruth & Gehrig in 1927.
— Ryan M. Spaeder (@theaceofspaeder) May 16, 2017

At the moment, it's impossible to say definitively who is better with the metrics we have.
And happily, it's a debate we'll hopefully continue to have for the next decade.