Travis d'Arnaud Is Finally Emerging as a Legitimate Fantasy Baseball Option at Catcher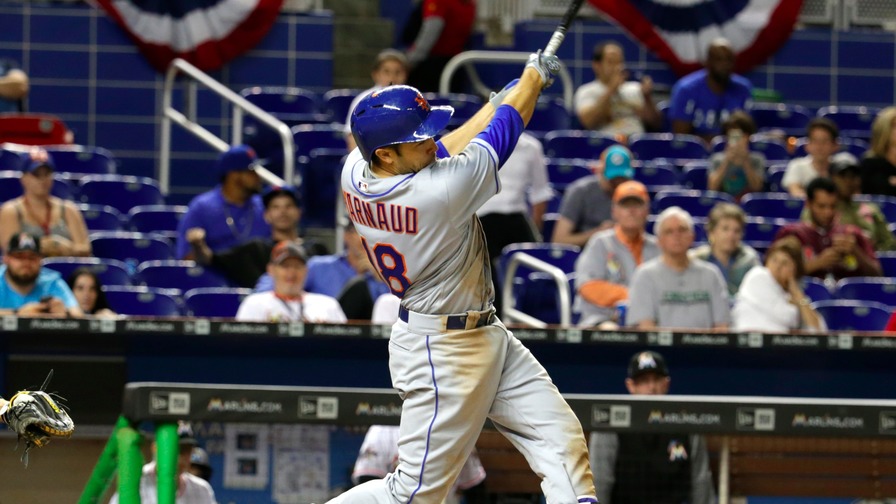 Coming into 2017, the worst fantasy position in baseball was easily catcher.
Outside of Buster Posey, there were no elite options, and the fellas in the next tier weren't worth spending a lot of capital on early. Last month, I argued it was best to simply punt the position until later in the draft, and offered four potential late-round options who could break out and provide good value in season-long formats.
At least one of those guys is panning out so far.
It's never too late. https://t.co/wB3ywvnGNU #Clutch pic.twitter.com/lUjMhYaKES
— MLB (@MLB) April 14, 2017

New York Mets catcher Travis d'Arnaud's 16th-inning solo homer capped a career game in which he had a career-high four hits in New York's 9-8 win over the Miami Marlins. So far on the young season, he is batting .333/.438/.704 with 2 home runs, 9 RBI, and a weighted runs created (wRC+) of 198.
Here is where he ranks among MLB catchers just two weeks into the 2017 MLB season (at least 20 plate appearances).
| Category | Stat | Rank |
| --- | --- | --- |
| fWAR | 0.6 | T-1 |
| wRC+ | 198 | 3 |
| SLG | .704 | 1 |
| RBI | 9 | 1 |
| OBP | .438 | 6 |
| AVG | .333 | T-5 |
| OPS | 1.141 | 2 |

The 28-year-old d'Arnaud has long been a promising young player, but injuries and ineffectiveness have torpedoed his career up until now.
Prior to this year, he has played 100 games in a season just once, when he played 108 games and put up a wRC+ of 102 in 2014. He only played 67 games in 2015, but hit .268/.340/.485 with 12 homers and a wRC+ of 130, which showed his true talent level.
But after hurting his rotator cuff and spending eight weeks on the disabled list last year, he eventually lost his starting job to Rene Rivera. When he did play, his exit velocity was down and his numbers suffered, leading to a slash line of .247/.307/.323 in a mere 75 games.

d'Arnaud was a top prospect in the Philadelphia Phillies' system in 2010 when he was the centerpiece in the trade that brought Roy Halladay from the Toronto Blue Jays to the Phils. He then came to the Mets from the Blue Jays along with Noah Syndergaard in the trade for R.A. Dickey that is quickly going down as one of the most lopsided deals in MLB history.
There will always be worries about injuries, but for now, d'Arnaud is healthy, hitting and rewarding the Mets and their fans for the patience they've shown over the last few seasons.
And if you took a chance and drafted him late, you're reaping the rewards, as well.