Don't Sleep on Brett Anderson in Fantasy Baseball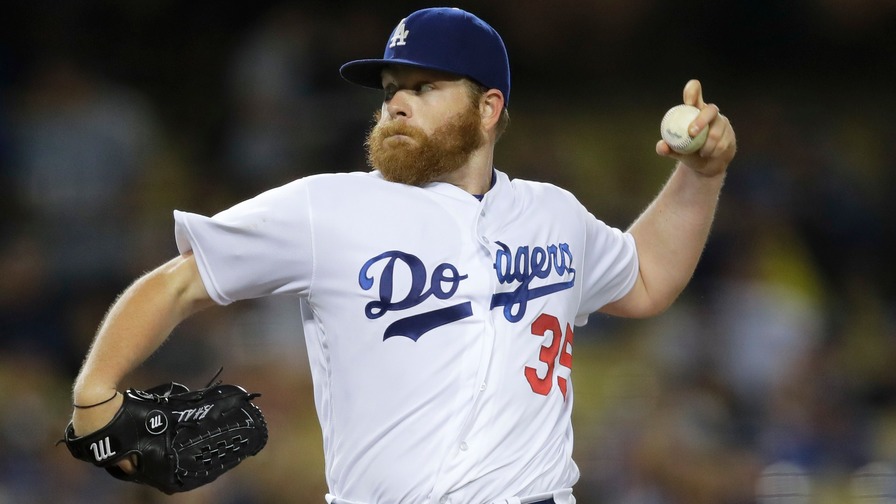 For a fan base ready to watch its team defend its first championship since 1908, the signing of Brett Anderson may not have moved the excitement needle very far.
For fantasy owners though, the Chicago Cubs' acquisition of Anderson may have created an intriguing buy-low opportunity.
The 29-year-old signed a one-year, $3.5 million contract with the Cubs in January that reportedly could be worth up to $10 million if he reaches certain incentives. The structure of the deal makes sense given Anderson's injury history. He missed most of last season with a back injury and has only hit 100 innings in a season three times since making his big league debut in 2009.
When healthy, the lefty has been an effective pitcher, owning a career 3.86 ERA and 3.70 FIP in 685 2/3 innings. After adjusting for ballpark and league, he has a 97 ERA-, 92 FIP-, and 87 xFIP-. He also has a 3.31 Deserved Run Average, according to Baseball Prospectus.
Anderson will reportedly compete with Mike Montgomery for the fifth starter role, and if he wins the job, he could be a fantasy relevant pitcher, particularly because of the team he'll be pitching for.
Elite Defense Behind Him
Anderson has thrived largely because of his control and ability to keep the ball on the ground, and by extension, in the park.
Among the 371 qualified pitchers since 2009, his 17.5% strikeout rate ranks just 257th, while his 6.3% walk rate is 74th and his 58.2% ground ball rate is tied for 11th. He has also only allowed 0.83 home runs per nine innings in his career.
This high-contact approach seems to be especially well suited to pitching in front of the Cubs' defense, which by all accounts was the game's best last season. Chicago turned 72.8% of all balls in play into outs, which led the league by a wide margin. The 2.5% gap between the Cubs and second-place Toronto Blue Jays was equivalent to the gap between Toronto and the 26th-place New York Mets.
The Cubs also led the majors in Defensive Runs Saved, UZR and UZR per 150 innings -- all by large amounts.
The type of contact hardly mattered, as they led the league in defensive efficiency on grounders (80.1%), fly balls (94.1%) and line drives (43.5%), according to ESPN's Sam Miller.
That first figure could be especially relevant to a worm-killer like Anderson, who has allowed a .311 BABIP over his career. He is worse than average in this regard, and while BABIP is prone to insane levels of randomness, ground balls do generally go for hits more often than fly balls. The MLB average BABIP on grounders was .239 last season, compared to .127 on fly balls (the drawback, of course, is that the fly balls that do not find a fielder's glove go for extra base hits more frequently than ground balls; the league had a 28 wRC+ on ground balls, compared to a 139 wRC+ on fly balls).
The Cubs' defensive performance will probably regress somewhat, but it still has all the markings of the game's best, which would be a boon to a contact-heavy pitcher like Anderson.
Fantasy Projections
Steamer projects Anderson to be solid on a per-inning basis, with an ERA that is better than his FIP thanks in part to a projected .296 BABIP. His overall value is limited thanks to the fact he is only projected to throw 54 innings. If you prorate his numbers to 200 innings, though, Anderson looks like a 3.0 WAR pitcher.

| Projection | ERA | FIP | WHIP | IP | Wins | K/9 | BB/9 | HR/9 | WAR/WARP |
| --- | --- | --- | --- | --- | --- | --- | --- | --- | --- |
| Steamer | 3.69 | 3.87 | 1.32 | 54 | 4 | 6.4 | 2.8 | 0.8 | 0.8 |
| Steamer600 | 3.69 | 3.87 | 1.32 | 200 | 13 | 6.4 | 2.8 | 0.8 | 3 |
| PECOTA | 4.41 | 4.24 | 1.38 | 58 | 4 | 6.5 | 2.9 | 1.1 | 0.3 |

He almost surely will not pitch that much -- he never has before -- but if he can stay on the mound for 100-plus innings, he is indeed a valuable commodity. PECOTA likes him less than Steamer, forecasting a worse homer rate and more hits per nine.
Steamer sees Anderson performing in line with his career averages while PECOTA projects a decline, which is not unreasonable, given the injury questions.
Anderson currently has a National Fantasy Baseball Championship average draft position of 588, so he is currently off the fantasy radar and will presumably start the year on the waiver wire in all but deep National League-only formats.
That said, his situation is something to monitor throughout the spring. If he comes out of it with the fifth-starter job, the combination of his past effectiveness and the Cubs' defense make him worth considering. At the very least, he would be a viable streaming option, and this would probably still be the case if he is a spot starter rather than a rotation member.
The injury question marks are not going anywhere, but the potential for upside is there with hardly any cost attached.