Carlos Martinez's Extension Is a Steal for the St. Louis Cardinals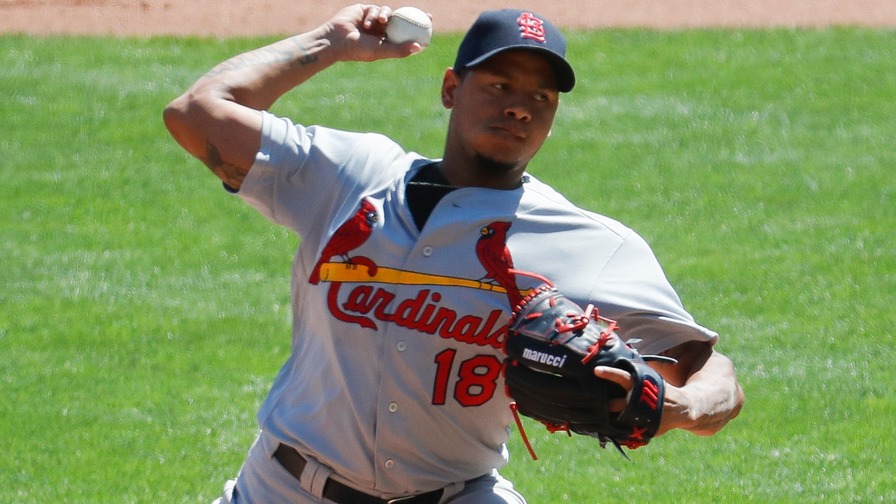 This hasn't exactly been the most glorious week for the St. Louis Cardinals. They started things off with the announcement that they'd have to forfeit two draft picks and $2 million for the hacking of the Houston Astros' operations database, a scandal that had already landed former scouting director Chris Correa in prison. That's a taste you're going to want to flush from your mouth in a hurry.
Thank the sweet heavens for Carlos Martinez.
carlos martinez and cardinals will have an extension for $51M for 5 years. announcement expected tomorrow.
— Jon Heyman (@JonHeyman) February 2, 2017

Giving Martinez this extension would keep him in town through 2021, but he could be there even longer.
Carlos Martinez's 5-year, $51-million extension also includes a pair of options - which means this deal could take him through 2023 season.
— Jenifer Langosch (@LangoschMLB) February 2, 2017

You want good headlines? You sign good players, and that's exactly what the Cardinals have done here in locking up Martinez.
Let's take a look at what Martinez has brought to the table the past two years to earn these fat stacks. Once we've done that, it'll become clear just how big of a bargain this is for St. Louis.
Killing Worms Like Few Others
Martinez has plenty of upside in his ability to generate strikeouts, and we'll touch on that in a second. But any discussion around Martinez has to start with ground balls because no ground-dwelling creature is safe when he's on the bump.
There are 118 pitchers who have thrown at least 200 innings as a starter over the past two seasons. Here's how Martinez fares relative to them in both ground-ball rate and hard-hit rate, the two areas in which you want to excel to limit opposing balls in play.
| Last Two Years | Ground-Ball Rate | Rank | Hard-Hit Rate | Rank |
| --- | --- | --- | --- | --- |
| Carlos Martinez | 55.5% | 5th | 28.5% | 30th |

He ranked in the top 30 among all starters in the two most important batted-ball categories in his age-23 and age-24 seasons. Those two marks helped him post the 12th-best ERA over that span at 3.04.
Martinez could be a very good pitcher with just this batted-ball profile in his arsenal. But to make that assumption would short-change the ceiling Martinez presents if he can put everything together in generating additional strikeouts.
Room for Further Growth
Back in 2015 -- Martinez's first full season in the rotation -- he had the looks of a superstar. Not only did he have the absurd ground-ball rate, but he also sported a nifty 24.4% strikeout rate. Last year represented a slight step back there.
Martinez finished 2016 with just a 21.5% strikeout rate, which is still above the National League starter average of 20.6% but a step down from what he flashed the year before. Could this be a sign that he had already peaked here?
Martinez's performance from July on would seem to indicate that wasn't the case. He upped his slider usage to 21.2% from 17.2% prior to that, and his plate-discipline stats jumped with it. Contact rate is the percentage of swings that result in contact, and swinging-strike rate is the percentage of pitches that result in a swing and a miss.
| Split | Contact Rate | Swinging-Strike Rate | Strikeout Rate |
| --- | --- | --- | --- |
| Through June | 82.2% | 8.2% | 18.9% |
| July On | 77.6% | 10.5% | 23.9% |

Once he got his slider usage back up to near where it was in 2015, both his swinging-strike rate and strikeout rate followed. If you give him a strikeout rate around 24.0% and his ability to induce ground balls, he could be an elite arm. And once again, he's heading into his age-25 season.
Assuming Martinez's slider is brimming with silliness again at the start of 2017, he'll have just one more bugaboo to conquer in his walk rate. It was 8.7% overall last year, above the N.L. average of 7.8% for starters. It's something that ailed him a bit in 2015, too, and it has a tendency to get him into trouble. Thankfully, he has the tools to overcome that.
The two best ways to get out of trouble as a starting pitcher are generating ground balls -- which can lead to double plays -- and striking dudes out. Martinez showed last year that he has the ability to do both when he's on, lowering the concern around his walk rate. Although it's still an issue that could bite him, it shouldn't be a fatal flaw when everything else is flowing.
A Steal for St. Louis
Locking down 2016's version of Martinez for five years and $51 million would be a great deal for the Cardinals. But he also showed both in 2015 and from July on in 2016 that he can be even better, and that makes this an absolute no-brainer move for St. Louis.
With Martinez, the Cardinals now have a guy who can be a front-of-the-rotation starter under team control for the foreseeable future. He's entering his third season in the rotation at the ripe age of 25 years old, and it's possible that -- despite an already successful start -- the best could still be to come.
This year didn't get off to a banger start for St. Louis, but things are certainly looking better now with Martinez's extension. Pairing him with some solid offensive pieces and the rest of the pitching staff should inspire hope that 2017 will end far more favorably than it began.