The Dodgers and Nationals Saved an Underwhelming Division Series Round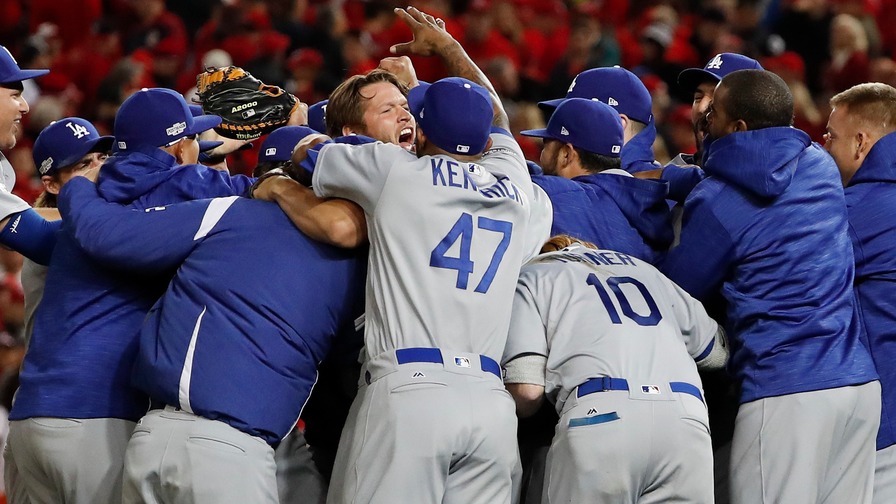 A full five-game series. Three games decided by a single run. An all-time great shaking his October ghosts to close things out.
It doesn't get much better than the series we just witnessed between the Los Angeles Dodgers and the Washington Nationals.
Things were tight all the way up until the final out, when Clayton Kershaw stranded a pair of runners in the bottom of the ninth to give the Dodgers a 4-3 win in the game and the series victory. This FanGraphs win probability chart should properly illustrate how thrilling of a clincher it was.
This game was dope in itself, but it was also representative of a series that jumped back and forth wildly between the two clubs. Even when the Dodgers were down, 2-1, the series never appeared to be a lock for either club.
This chart shows how the series win probability swung from one game to the next.

At no point did either team have series win odds above 75.79%, the mark the Nationals hit prior to Game 4. It turns out that Kershaw cares not for our win probability charts.
This series would be great in a vacuum, but it also served as a saving grace for an otherwise-disappointing division series round. The San Francisco Giants and Chicago Cubs played the only other series that didn't feature a sweep, and in that one, the Giants' series win odds never got higher than 28.29% entering Game 1.

Not exactly a nail-biter, even if the Cubs' comeback in Game 4 was sickly fun.
Outside of the Nationals and Dodgers, the other series to include a swap in series win odds was between the Cleveland Indians and Boston Red Sox. The Red Sox were slight favorites entering the series, but then everything done blown up.

This means we may have saved the ugliest for last. The Toronto Blue Jays were favored over the Texas Rangers entering Game 1, and then they unleashed a Rougned Odor-esque fury on the Rangers' win odds.

With the Rangers' win odds topping out at 46.26% prior to Game 1, there just wasn't a whole lot popping there, either. The Dodgers and Nationals saved a total snoozefest in the first round.
Thankfully, things are looking a whole lot brighter for the respective championship series. The Indians are favored to defeat the Blue Jays with 53.21% win odds, and the most likely scenario is that the series lasts either six or seven games.
The Cubs get a much more formidable foe this time around, entering with 65.30% win odds over the Dodgers. And as we've seen before, the Dodgers are a team you can't count out, even when the math is working against them.