5 Collegiate Hitters to Know for the 2017 MLB Draft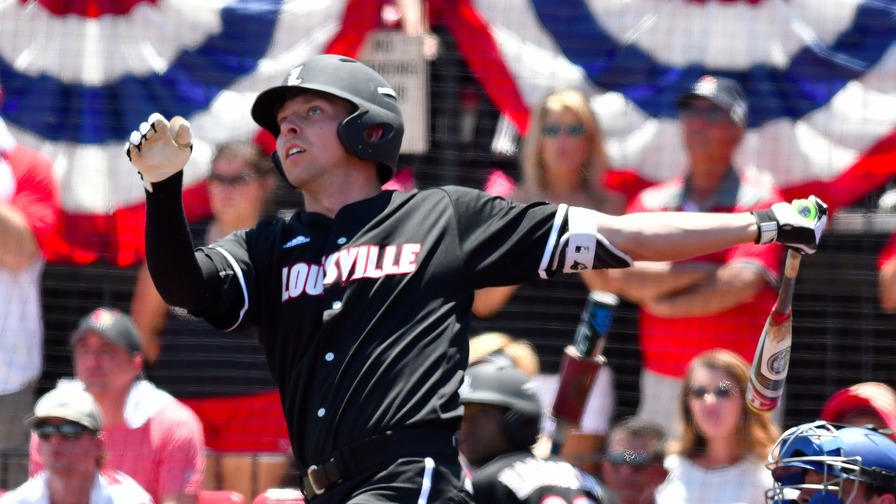 The passion. The intrigue. The drama.
When the 2017 MLB draft gets underway Monday night, your team's first pick is sure to elicit a compelling response:
"Who?"
Because the MLB's selection pool isn't as well known as that of its NFL or NBA counterparts, it's easy to look through Monday's slate of picks and be completely unfamiliar with the names flying off the board. There isn't as much hoopla as you get with the NFL draft, and the College World Series doesn't generate the same nationwide buzz as March Madness.
Sure, the top names like high school phenom Hunter Greene and others will get publicity, but unless you're digging in and doing research yourself, knowing the tools each player presents is difficult. That in no way lowers the importance of the rest of the crop. As guys like Kris Bryant, Kyle Schwarber, Trea Turner, Michael Conforto, and Andrew Benintendi have all shown the past few years, collegiate hitting prospects can rise quickly, and it's important we know who these guys are.
These players are clearly great at what they do, or else they wouldn't be hearing their names called within the first few rounds of the draft. That means they deserve some serious dap for what they have done already in college and what they could do at the next level. So let's run through some of the names that figure to go within the first few rounds of the draft, focusing here on collegiate hitters.
Now, because there are a bunch of factors at play (sample sizes, conference strength, park dimensions), it'll be important to focus on guys whose stats are most likely to translate in professional ball. These are the same limitations we see in looking at a player's numbers in the minors. However, a few years ago, Chris Mitchell wrote a piece for The Hardball Times detailing the importance of isolated slugging, strikeout rates, and -- to a lesser extent -- walk rates of minor league players in forecasting whether or not that player's talents would follow him into the majors. We'll be focusing on those three stats here, looking at players who excel in those arenas both overall and relative to their teammates in order to account for some of the other variables.
Because of this methodology, not every highly-rated collegiate hitter is going to be on the list. Vanderbilt's Jeren Kendall -- the sixth-ranked prospect on MLB.com and 18th on Baseball America -- struggled with that third strike this year, so although he's a great player who will go early, we'll be looking elsewhere.
Additionally, Louisville's Brendan McKay was omitted because there's a good chance he doesn't wind up being a hitter at the next level. He's a two-way guy who could easily use his cannon of a left arm on the mound, as opposed to his punishing stick. Just know that his stats in college were disgustingly beautiful.
With all of that said, let's check out five collegiate hitters you need to know entering the 2017 draft.