Preakness Stakes Notes for 5/20/22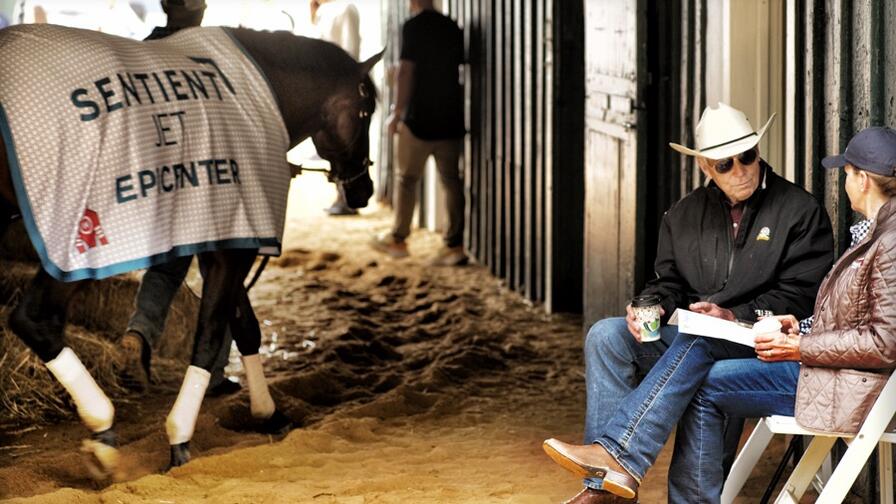 Winchell Hoping Epicenter Delivers First Triple Crown Race Win
(Edited Press Release)
While Steve Asmussen has trained two winners of the Preakness Stakes (G1), owner Ron Winchell is still seeking his family's first victory in any Triple Crown race.
Winchell believes Epicenter, the 6-5 morning-line favorite for the 147th Preakness at Pimlico Race Course on May 21, has all the tools for that breakthrough triumph. Of course, he thought that two weeks ago. That's when Epicenter was the favorite for the Kentucky Derby (G1) and turned in a huge effort, only to get passed late by 80-1 shot Rich Strike, who closed from last behind a record early pace.
"Obviously that was a tough beat, and I don't want to take anything away from the winner," Winchell said Thursday in a media Zoom call. "It felt like we showed up with a horse that was very prepared to win the race, mentally, physically. He had the right running style. We felt very confident where we were at. Of course, there's the old saying, 'Pace makes the race.' The Derby is a race where you're always thrown a variable. You're unaware of it until the starting gate opens.
"… Turning for home, he had the explosive run and I felt really confident that we were going to get it done," he added. "It was heartbreaking to get run down at the wire. You had Zandon, a horse we were kind of tracking, and you felt like you had him at bay, and it looked like we were going to get it done. I kind of saw that horse sneaking up on the rail. I've watched a million races, and you just have that sinking feeling.
"Last year we had Midnight Bourbon in the Preakness, and he got run down at the wire by Rombauer. Kind of similar fashion, pace scenario. That happened last year in the Preakness, and this happened this year in the Derby," he continued. "These Triple Crown races are very eluding for me. So, we'll see what happens on Saturday."
Winchell's late father, Verne, ran one horse in the Preakness – Arkansas Derby winner Olympio, who finished fourth in 1991. Ron Winchell has run three Preakness starters, with Midnight Bourbon second last year and Tenfold third in 2018.
"You love and hate to be the favorite," he said. "It's good because everybody is validating where you feel like your ability is. The second part is that you pretty much have a target on your back. And then if you don't win, it's like 'Oh, what happened to the favorite?' It's kind of like the Derby. That was a feel-good story for a lot of people, the longest shot beating the favorite in the stretch in dramatic fashion. It wasn't a feel-good story for me, but for the rest of the world… probably."
As far as the Preakness, Winchell said, "I think if he shows up and runs, then we're in good position."
The Preakness has been a better predictor of 3-year-old championships than the Derby. Daily Racing Form's Jay Privman points out 18 Preakness winners (including two fillies) in the last 25 years have been crowned as Eclipse champions, versus 13 for Derby winners.
"You have more variables in the Derby," Winchell said. "I think there are more butterflies from 'Hey, I think we can get beat by circumstances,' which is what happened. The Preakness, a nine-horse field versus 20 horses, less things can happen. I get a little more nervous with the unknown variables than the known variables. I think that's the difference between the Preakness and the Derby."
Asmussen: Can't Speculate How Pace Will Unfold
Trainer Steve Asmussen suggested Friday morning that it is futile to speculate how Saturday's Preakness Stakes will unfold at Pimlico Race Course in the aftermath of the Kentucky Derby (G1), which produced the fastest first quarter of a mile in the storied race's history.
"[Jockeys] might compensate and it will be the slowest first quarter ever in the Preakness. Who's to say?" he said. "[Jockey] Joel [Rosario] has a tremendous amount of confidence in Epicenter. Epicenter, I think, is in a great rhythm as far as maintaining a consistent speed, and that's what we're looking for. Whatever everybody else does around that, not our business."
The Preakness gave Asmussen his first Triple Crown race victory. Jess Jackson's Curlin got up in the final stride to beat Kentucky Derby winner and juvenile champion Street Sense by a head in the 2007 Preakness. Asmussen teamed with Jackson again two years later with Rachel Alexandra, purchased by the wine magnate after her record 20-length Kentucky Oaks (G1) romp.
About 12 days after the filly changed barns, Jackson and Asmussen had their second Preakness as Rachel Alexandra held off Derby winner Mine That Bird by a length.
Curlin went on to be the 2007 and 2008 Horse of the Year, his Grade 1 victories including the Breeders' Cup Classic, Dubai World Cup and the Jockey Club Gold Cup twice. Rachel Alexandra was the 2009 Horse of the Year after beating the boys again in Monmouth Park's Haskell (G1) and older males in Saratoga's Woodward (G1).
"Here at Pimlico, Curlin's Preakness victory over the Derby winner was such a great race that day," reflected Asmussen, who last year became North America's all-time winningest trainer. "The photo finish. The moment when they put his number up. You thought he won when they went under the wire, but we've all been mistaken about photos in the past. But, that was an extremely special moment in our professional career.
"Rachel, it's separate from everything else. I've been involved with great horses. But with Rachel, when you walked out there, you never felt that percentage of people truly, honestly rooting for one horse," he added. "It was Rachel against everybody, and everybody seemed to be on Rachel's side. We were along for the ride. That was a wonderful, unique experience to be a part of."
Asmussen has been connected to Epicenter since he was purchased for $260,000 as a yearling from breeder Westward Farms of Bowling Green, Ky. Asmussen's parents give all the Winchell babies their earliest preparation to become racehorses at their training center in Laredo, Texas.
One of Epicenter's chief rivals in the $1.65 million Preakness figures to be Kentucky Oaks winner Secret Oath, trained by six-time Preakness winner D. Wayne Lukas, now 86.
"Wayne, at his tender age, it's a beautiful thing and a great story," Asmussen said. "… Wayne is a very special person in horse racing, beyond iconic, and his positive attitude and everything he's accomplished and continues to do so. It's a lot to go up against."
Asked if he saw himself training at 86 and still riding the pony, Asmussen laughed and said, "It's inspirational. I have a longtime connection with Wayne through my parents. They're lifelong friends. I grew up knowing Wayne as my parents' friend. You cannot believe how encouraging, how positive he is, how helpful he is to young people, to anybody coming up. Nothing negative, all positive, all forward, what are we going to do next?
"Far more impressive than him training at 86 and getting on the pony is his consistent attitude and how positive he's always been about horse racing," Asmussen concluded.
McPeek Taking Another Shot with Creative Minister
Kenny McPeek knows something about taking shots in big races, as he will be doing at Pimlico Race Course Saturday when Creative Minister makes his stakes debut in the Preakness Stakes.
Rated fifth at 10-1 in the morning line, Creative Minister is coming off an allowance victory on the May 7 Kentucky Derby undercard at Churchill Downs.
Taking a shot was how the Kentucky-based trainer obtained his two victories in the Triple Crown series. McPeek captured the 2002 Belmont Stakes (G1) with Sarava, who came off a victory in the Sir Barton on the Preakness undercard to produce a $142.50 win mutuel, a record for the Triple Crown finale. McPeek won the COVID-delayed Preakness in October of 2020, when the filly Swiss Skydiver outdueled Kentucky Derby winner Authentic by a neck.
"What is it Wayne Gretzky said? 'You never make a shot you don't take,'" he said. "I've taken a couple of them and hit it, between Sarava and Swiss. Look, that's the fun of the sport. It's great being involved in these kinds of things. If you feel like you've got a legitimate chance to just hit the board, you can't be scared, because a lot happens."
With Creative Minister breaking from Post No. 2, McPeek envisions jockey Brian Hernandez Jr. tucking in behind the speed.
"I don't think he has any choice," McPeek said. "But as far as guessing [how the race will unfold], I gave up that years ago.
"Early Voting is going to be close. I think he's going to need to slow the pace down to win. But is Epicenter going to allow him to do that? Once we leg 'em up, it's out of our hands. I've seen some crazy stuff."