Charles Town Horse Racing Picks for Friday 6/26/20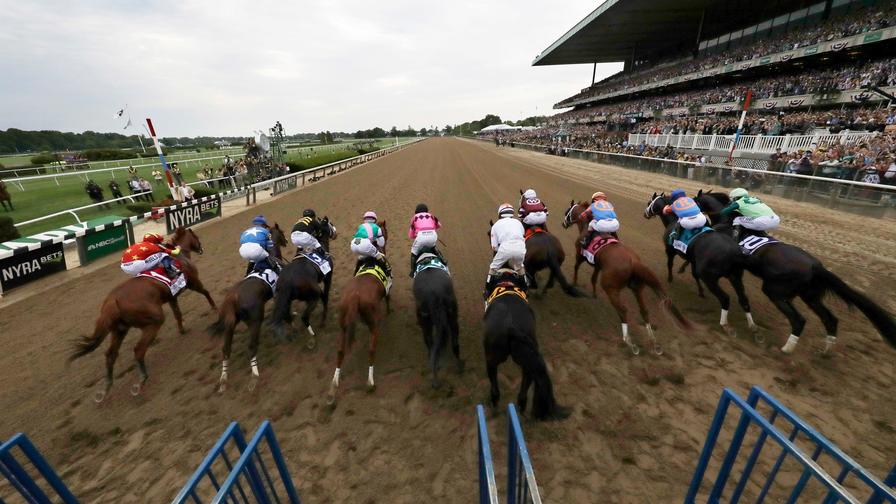 With most of the sports world on pause, it's a great time to dive into horse racing, and FanDuel Racing gives you the chance to do just that.
Starting at 7:00 p.m. EST this evening, we have eight races at Charles Town. Using our projections as a guide, here's a look at some of the best bets.
As always, keep an eye out for scratches and changes.
(I will be referencing Equibase's Speed Figure, which tells you how fast a horse has been running in each of its races -- adjusted for track, distances, and conditions)
Lass Moment, Race 1 (7:00 PM)
FD Racing Odds: 7/2
numberFire's models don't have Lass Moment placing top-three, but I like the gelding's odds. He's coming off a win here three weeks ago where he posted a speed figure of 51, his second consecutive of 50-plus. He'll be ridden by Wesly Ho, who's eighth in purse and has won 14% of his races in 2020.
Pleasant Lee (4/1) is also fresh off a win a month ago with a figure of 53. His workout six days ago showed a horse in excellent form. He should certainly be in the mix. Current betting favorite Busted Halo (2/1) is capable of reaching the highest speeds in this competition, but with only one outing in four months, I'm not so sure his form is where it needs to be. Allen Jr. (3/1) is capable of beating this field and has the best jockey at Charles Town -- Arnaldo Bocachica -- on his saddle. However, his lone race here three weeks ago left a lot to be desired.

Pick 3
Best Shot, Race 6 (9:32 PM)
FD Racing Odds: 9/2
Best Shot is a four-time winner here at Charles Town, including three victories at Allowance events. The gelding is coming off a fourth-place finish where he posted a figure of 80, and his form since returning from the break has been up to par. Jockey Christian Hiraldo is fourth in purse here in 2020 and has won 19% of his outings.
Our model's pick is Hypothesis (4/1). The gelding has won three of his six career efforts, with each victory coming at this track. He's posted a figure of 75-plus in four of his last five. Current betting favorite Majestic Seas (7/2) is not to be ignored. The five-year-old hasn't placed outside the top three in eight straight races and had career-best form prior to taking the last five months off. Majestic Seas' could be rusty in his return, and his jockey hasn't been among the most successful here. Benny Chang (6/1) will have Bocachica in saddle, and that alone makes him worth a bet. The gelding has never had a figure below 74 in six career efforts. Bybee (8/1) showed piss-poor effort in his last outing in January but displayed great promise in his four career races prior to that. He's had some good workouts in June and should be thereabouts.
She Gives Me Fits, Race 7 (10:02 PM)
FD Racing Odds: 4/1
It wouldn't be right to do a write-up on Charles Town and not pick a horse ridden by Bocachica -- after all, he's placed first in 30% of his 234 races this year. The horse in question here is She Gives Me Fits. I like the filly to win this Allowance event, despite it just being the third outing of her career. She's placed first and second in her first two efforts so far, with her form trending in the right direction. Her lone workout here since her last race was fantastic.
We shouldn't overlook Lady Storm (5/1), our model's current winning pick. The filly has the jockey and ability to win this outing, as evidenced by her four wins in six career efforts. However, her fifth-place finish in an Allowance event here a month ago was underwhelming, to say the least. Manarola (6/1) has not placed outside the top three in any of her eight career races, including two Allowance wins. Not one to ignore. Current betting favorite Boundtobebad (7/2) has won three of five career efforts, though her last couple of outings could drive her odds down. Mama's Grey Ghost (5/1) should be in the mix.
City Princess, Race 8 (10:32 PM)
FD Racing Odds: 3/1
This Claiming event is one where we should value jockey performance above all else. City Princess is the current betting favorite and our model's runner-up pick. The filly has placed top-three in three of her four 2020 outings. She'll be ridden by jockey J. D. Acosta, who is third in purse and has won 18% of his races at Charles Town this year.
numberFire's pick is My Hat (20/1). Given the mare's ability to reach speeds that will be tough to be matched by any horse in this race, and her appealing odds (which are bound to shrink considerably), she'd be my first pick for a "win" bet. My Hat averaged a figure of 61.3 in her final three races of 2019, which is elite for this field. She faded late in her lone race this year, a ninth-place finish three weeks ago. Walkntheplank's (7/2) recent form is off, but the filly will have Hiraldo in saddle, which makes her worthy of consideration. Sterling Furiosa (5/1) is our model's third pick and could be thereabouts.