Daily Fantasy Golf Helper for the Hero World Challenge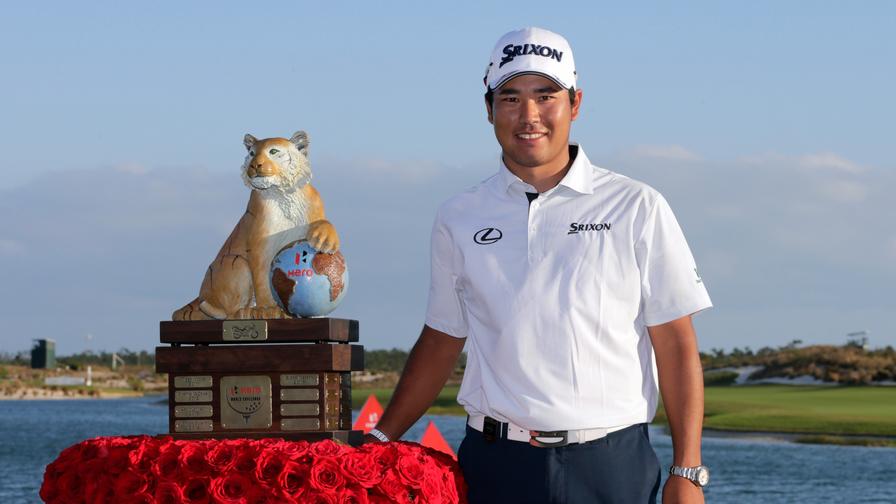 By now, you've probably dabbled in daily fantasy sports, but if not, don't worry. Now is a great time to start, especially with FanDuel now offering a revamped version of PGA golf.
Golf can be one of the most exciting DFS sports to follow, as tournaments span four days and allow ample time to prepare each week, so be sure to familiarize yourself with the basics of building a lineup on FanDuel, the scoring setup, and advanced stats to know about the PGA.
But whether you're brand new to the PGA or daily fantasy sports in general, we have you covered.
Let's take a look, well, the entire field for the Hero World Challenge. It's an 18-golfer field, and usually I detail 10 to 14 golfers who fit the course well and are in good form. We may as well touch on all 18 (sorted by salary).
Key Stats
Key Stats for the Hero World Challenge at Albany
Strokes Gained: Around the Green
Par 5 Scoring
Bogey Avoidance
Strokes Gained: Tee to Green
Driving Accuracy

You can scope out our course primer for more on why we're focused on these stats this week.
The Field
1. Jordan Spieth (FanDuel Price: $9,100 | bet365 Win Odds: 6/1) - Spieth jumps out here. He was the best golfer in this field in terms of strokes gained: around the green by a pretty decent margin. He also has played eight rounds on this par 72 and has been 70 or better in all of them (and sub-70 in six of eight). He enters with good form, too, as he was eighth last week at the Emirates Australian Open.
2. Dustin Johnson ($9,000 | 6) - DJ has the tee-to-green edge in this field and ranked third among the 17 golfers with PGA Tour action last season (so everyone but Tiger Woods) in strokes gained: around the green. That's a deadly combination for this course, particularly with Johnson's par 5 upside, and DJ used that to finish 3rd here last year (but he was 15th in 2015).
3. Justin Thomas ($8,800 | 5.5) - Thomas is the odds-on favorite after a blistering 2016-17 campaign. However, he hasn't played this course before (for what it's worth). He grades out as the least accurate driver of the 17 golfers in the field with data from last year. As the odds-on favorite, with justifiable accuracy concerns, and as a course newbie, fading Thomas in tournaments certainly makes sense from a game theory standpoint.

4. Rickie Fowler ($8,500 | 8) - Fowler has the best course history in terms of scoring average (67.75 over eight rounds). Only Fowler and Dustin Johnson ranked top five on both par 3s and par 5s among this field last year. He has no holes in his game and is my favorite play of the week.

5. Brooks Koepka ($8,200 | 9) - Koepka can crush the par 5s here but has finished 7th and 13th in two tries at Albany, with a scoring average of 69.13 and no rounds over par. Koepka enters with a T2 at the WGC-HSBC and a win at the Dunlop Phoenix Tournament in Japan. He's an upside play, but among golfers in this field, he was one of just four golfers to lose strokes around the green last season.
6. Justin Rose ($8,000 | 10) - Rose owns property in the Bahamas (Albany, to be more precise) and is quite familiar with the course. He withdrew last year and was just 13th in 2015 (shooting a 71-72-70-62). The 62 is a course record. Rose's past five weeks include two wins (WGC-HSBC and Turkish Airlines Open) as well as a T4 at the DP Would Tour Championship and a T10 at the UBS Hong Kong Open. Rose is my second favorite pick of the week.
7. Henrik Stenson ($7,700 | 16) - Among those in this field, no golfer was worse around the green than Stenson was last season on the PGA Tour, but at this event last year, he finished second (67-71-66-68). He's played just twice in the past 10 weeks: a T2 at the WGC-HSBC and a T35 at the Turkish Airlines Open. He's a wildcard in the purest sense, as he can win or withdraw. In tournaments, you have to be willing to embrace some Stenson this week.
8. Hideki Matsuyama ($7,500 | 12) - Last year's winner finished dead last the year prior. Matsuyama's numbers suggest he figured it out in 2015 (75-73-70-66) and strung together a 65-67-65-73 last year to win. He's one of the best par 5 scorers in the field and plays well around the green. He's absolutely viable to back here.
9. Patrick Reed ($7,300 | 20) - Reed's wife is due to give birth December 6th, so there's a chance that he withdraws. Just know that's in the cards for him. Reed lost strokes around the green last year and ranked 16th of 17 golfers in strokes gained: tee to green. Nothing about him stands out statistically here, but that didn't prevent him from a 2nd-place showing in 2015 (69-65-66-66). He dropped to 10th last year but was par or better in all four rounds (72-69-71-68).
10. Matt Kuchar ($7,100 | 25) - Kuchar is one of the more accurate guys in the field and one of the best par 3 scorers but would likely fall behind if wind is tame enough for the launchers to launch. But a pair of 67s helped him to a third-place finish here last year, and all eight of his rounds at Albany have been under par. He doesn't have a top 25 in three tries over the past 10 weeks, though (31, 31, 29).
11. Daniel Berger ($7,000 | 20) - Berger grades out okay in our key stats this week in the sense that he doesn't do anything terribly, but seeing him contend for the top is unlikely, and we'll need the winner on our teams to make any noise in an 18-player field. He has no course form, and his two events in the past 10 weeks have been just a 54th and a 24th.
12. Kevin Kisner ($6,900 | 25) - Kisner has no course history but did finish T4 at the RSM two weeks back in his only event since the TOUR Championship (a T3, which came 10 weeks ago). He probably can't dominate the par 5s enough to push for the top of the leaderboard.
13. Alexander Noren ($6,700 | 30) - Noren's PGA Tour history is sparse. He was 31st at the WGC-HSBC and played just 11 events in the 2017 season. He was 67th at the PGA, 6th at The Open, and cut at the U.S. Open and the Masters. That combination should leave him as one of the lowest owned picks in the field, but Noren ranked fifth in scrambling on the Euro Tour in the 2017 season. He's a sneaky pick this week, especially with expected low ownership because of his iffy results of late.
14. Francesco Molinari ($6,600 | 30) - Molinari isn't a launcher, but he hits fairways, he picks up strokes tee to green, and he picks up strokes around the green. He just isn't converting anything into results because of his putter. If he puts it together, he could flirt with the top of the leaderboard, but I'd rather look elsewhere in this range.
15. Tommy Fleetwood ($6,500 | 25) - Fleetwood won the Race to Dubai and should be able to hit these fairways, given his accuracy marks. He has no course history but has been playing a lot of golf lately (seven of the past eight weeks with all top 25s to show for it). The good form puts him firmly on the radar in this field, considering his price.
16. Tiger Woods ($6,400 | 35) - Okay, so, Woods looks good and knows this course well. He's pain free. He's going to be prohibitively popular by all estimations despite sitting at 35/1 (tied for the worst win odds in the field). Woods shot 73-65-70-76 here last year, en route to a 15th-place finish. Game theory says to fade him and hope for another dud showing at this event.
17. Charley Hoffman ($6,200 | 33) - Hoffman has no course form to dig into and has no top 15s in about three months. He's the 27th-ranked golfer in the world and is (obviously) one of the best on earth, but in this field, he doesn't stand out. That does mean you can just roll the dice and hope for the best, but the process just doesn't line up with Hoffman this week.
18. Kevin Chappell ($6,000 | 35) - Chappell is in a similar boat. He's 32nd in the world, but his event history is nonexistent, and his recent form reads: missed cut, 20th, 28th, 12th, 35th in the past five. He's about the median in all the stats we're looking at relative to the field, so he's not an awful pick, though nothing suggests he'll break through.