College Basketball Power Rankings Update: Virginia Loses Their Luster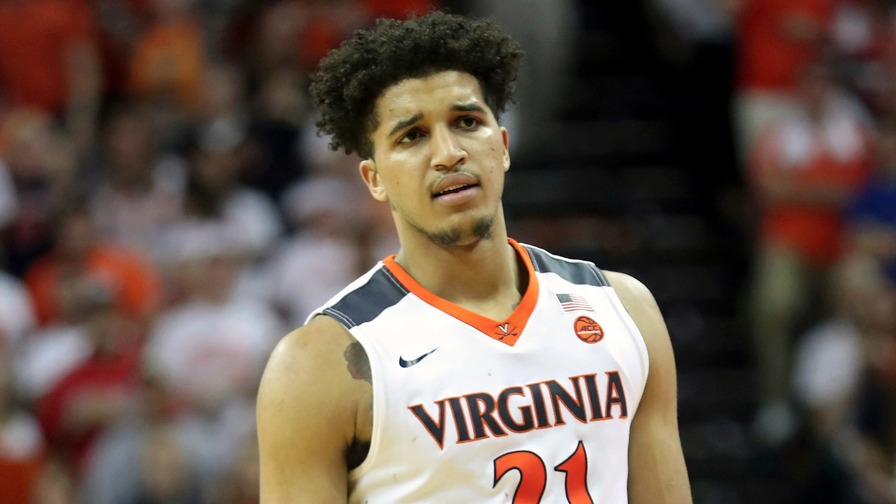 A top-10 school just weeks ago, the Virginia Cavaliers' recent slide may leave them out of the AP top 25 come next Monday. Four straight losses will do that to you.
While they own a terrifying defense, ranked first in the nation in terms of adjusted defensive efficiency by KenPom.com, their offense has been the real nightmare. They have struggled just to average 60 points per game their last eight games.
Once talked about as a potential top seed, the Cavaliers need to right the ship soon or face the possibility of being a 6 seed or even worse come March.
This week, we will take a closer look at Virginia's woes plus four other programs that have caught our eye.
You will find that our rankings can sometimes be much different from the AP Top 25 or the USA Today Coaches Poll. Our power rankings here at numberFire are not subjective or influenced by the latest hype; we put our faith and trust in our algorithms. Each week, we'll list the top 25 teams in Division I from worst to best based on our nERD metric, a predictive measure that projects the number of points we would expect that squad to win by against a league-average team.
25. Notre Dame Fighting Irish (nERD: 13.97, Record: 21-7, Last Week: 24)
24. Iowa State Cyclones (nERD: 14.35, Record: 18-9, Last Week: 25)
23. Butler Bulldogs (nERD: 14.46, Record: 21-6, Last Week: 23)
22. Arizona Wildcats (nERD: 14.54, Record: 25-3, Last Week: 22)
The class of the Pac-12, with a 14-1 record, the Arizona Wildcats have had to endure numerous injury woes all season long. This past week was no different. Starting guard, and the most experienced player on the team, Kadeem Allen has missed the last two games with a dislocated pinkie. Forward Dusan Ristic turned his ankle last Thursday versus Washington State, leaving the Wildcats short-handed as they traveled to Seattle to take on freshman phenom Markelle Fultz and the Washington Huskies.
While the Cougars represented no challenge to Arizona -- a 78-59 blowout -- the Huskies hung tough, taking the game down to the final minutes. Due to the injuries, coach Sean Miller was forced to go with essentially a six-man rotation, and it showed as the Wildcats narrowly escaped with a 76-68 victory.
This upcoming week, Arizona has two challenging games on their plate as they welcome the two L.A. schools to town. While the USC Trojans will be no easy out, the Wildcats will have trouble not looking ahead to their top-five showdown with the UCLA Bruins on Saturday.
21. Cincinnati Bearcats (nERD: 14.69, Record: 24-3, Last Week: 20)
20. Southern Methodist Mustangs (nERD: 14.74, Record: 24-4, Last Week: 19)
19. Oklahoma State Cowboys (nERD: 14.76, Record: 18-9, Last Week: 21)
18. Creighton Bluejays (nERD: 15.22, Record: 22-5, Last Week: 18)
The Creighton Bluejays' season is a tale of two different teams. One is the 18-1 squad led by point guard Maurice Watson that reached their highest ranking in school history (seventh) with one of the most dangerous offenses in the country. The other is a club that is just a shadow of itself after losing the nation's top assist man (Watson) to a season-ending knee injury.
While the offense has remained respectable, still averaging over 80 points per game since January 17, in the eight games since, the team lacks the firepower to remain one of the nation's elite teams. In the eight games without Watson, they are 4-4 with two of their wins coming against the 8-19 DePaul Blue Demons.
While the four losses did not come at the hands of any cupcakes -- all four schools rank in the top 60 by nERD -- there is no way the Bluejays should have lost to the Georgetown Hoyas by 20 or given up 104 points to the Marquette Golden Eagles. While they got a little bit of payback with an 87-70 win over the Hoyas on Sunday, the Bluejays need a strong finish to the regular season if they are going to have any confidence heading into the Big East and NCAA Tournaments.
17. Wisconsin Badgers (nERD: 15.46, Record: 22-5, Last Week: 17)
16. Florida State Seminoles (nERD: 15.65, Record: 22-6, Last Week: 14)
15. Wichita State Shockers (nERD: 16.38, Record: 25-4, Last Week: 15)
14. Oregon Ducks (nERD: 16.42, Record: 24-4, Last Week: 16)
13. UCLA Bruins (nERD: 16.77, Record: 24-3, Last Week: 13)
12. Virginia Cavaliers (nERD: 16.86, Record: 18-9, Last Week: 7)
The Cavaliers are reeling. Losers of four straight and six of their last eight games, Virginia can look squarely at their offense for the recent woes.
Over their last three games, which included an overtime contest, they have scored only 144 points (48.0 points per game), their lowest three-game total since 1951. They scored a season-low 41 points versus North Carolina and could only muster 48 points against Miami on Monday. Against the Heels, they shot 28.2% from the floor while going 2-for-20 from beyond the arc in a 24-point blowout loss. Against the Hurricanes, they weren't much better, sinking only 31.4% of their attempts.
For the year, the offensive efficiency looks decent, ranking in the 90th percentile, but in conference play, they have fallen back to 12th out of 15 ACC schools with a 103.8 mark, per KenPom.com. They just simply can't make shots, shooting less than 50% on their two-point attempts, ranking them 13th in the 15 team ACC.
11. Baylor Bears (nERD: 16.89, Record: 22-5, Last Week: 11)
10. Duke Blue Devils (nERD: 16.99, Record: 22-5, Last Week: 12)
From December 31 to January 23, the Duke Blue Devils lost four of seven games, and we were ready to write their season off. They were one more loss away from going from preseason number one team in the nation to out of the top 25. However, in their last seven games, all wins, they looked like the team many pegged as early-season favorites for the national championship.
In those seven wins, they defeated two top-25 teams on the road, Notre Dame and Virginia. The Dukies also handily took care of our fourth-ranked squad and bitter rival, North Carolina. While Luke Kennard leads the team in scoring, the key to the recent success has been the development of freshman Jayson Tatum's all-around game.
In the win over the Fighting Irish, he pulled down a career-high 14 rebounds as he recorded his first career double-double. Then in a game versus the Cavaliers, where the Blue Devils struggled for points scoring only 21 in the first half, Tatum singlehandedly took over the offense in the final 20 minutes, scoring 21 points to bring home the 65-55 win.
9. Purdue Boilermakers (nERD: 17.34, Record: 22-5, Last Week: 10)
8. Kansas Jayhawks (nERD: 18.53, Record: 24-3, Last Week: 9)
7. Louisville Cardinals (nERD: 18.98, Record: 22-5, Last Week: 5)
6. Florida Gators (nERD: 19.27, Record: 22-5, Last Week: 6)
T-4. West Virginia Mountaineers (nERD: 19.45, Record: 22-6, Last Week: 2)
T-4. North Carolina Tar Heels (nERD: 19.45, Record: 23-5, Last Week: 8)
The Tar Heels really don't like losing to Duke. After falling to their Tobacco Road rival for the fifth time in the last six meetings, North Carolina came out hot, stomping past NC State and Virginia by an average of 24.0 points as they tried to erase the pain.
Behind a balanced scoring game -- five players had at least 12 points -- the Heels put up their second-highest single-game point total in conference play this season in a 97-73 beatdown of the Wolfpack. Versus the Cavaliers, they may not have piled up the points (65), but the efficiency by which they played with was far more impressive, considering the opponent.
North Carolina shot only 46.5% from the field, but keep in mind Virginia limits the opposition to under 40% shooting on the season. Also, on their 27 made field goals, the Tar Heels had a superb assist rate of 63.0 % with 17 assists.
This week, the Tar Heels will look to keep the momentum going as they fight fire with fire by unleashing their top-six-ranked offense, in both points scored and offensive rating, onto the Louisville Cardinals and their top-five defense on Wednesday.
3. Villanova Wildcats (nERD: 19.61, Record: 26-2, Last Week: 4)
2. Kentucky Wildcats (nERD: 19.91, Record: 22-5, Last Week: 3)
1. Gonzaga Bulldogs (nERD: 20.86, Record: 28-0, Last Week: 1)