Daily Fantasy NASCAR: AAA Texas 500 Track Preview
One of the unique challenges with daily fantasy NASCAR is that every track is different. Not only does this mean that certain drivers will perform better at one place than another, but each track will have different scoring tendencies than the previous one. That means we need to alter our strategies pretty drastically.
Each week here on numberFire, we're going to dig into the track that's hosting the upcoming weekend's race to see what all we need to know when we're setting our lineups. We'll have a separate piece that looks at drivers who have excelled there in the past; here, we just want to know about the track itself. Once qualifying has been completed, we'll also have a primer detailing which drivers fit this strategy and should be in your lineup for that week.
This week, the Monster Energy NASCAR Cup Series continues the third round of the playoffs in Texas, its second stop of the year at the 1.5-mile track. What do we need to know before filling out lineups for the AAA Texas 500? Let's check it out.
Track Overview
After last week, you're probably sick of hearing about laps led. They were the focal point of the race in Martinsville because there were 50.0 points available for laps led on FanDuel, which is the largest number we'll see all year.
The number isn't quite that big this week, but those front-runners will still be a wholly crucial point of our process.
Sunday's race in Texas is scheduled to run 334 laps, equating to 33.4 points for laps led on FanDuel. That's more than we see at most races at 1.5-mile tracks, forcing us to view this one a bit differently than we did the race in Kansas a few weeks ago.
Over the past 5 races at Texas -- including one that was stopped after 293 laps due to rain -- there have been 6 drivers who have led at least 100 laps. In the 2016 spring race, both Martin Truex Jr. and Carl Edwards led more than 120 laps, meaning if you would have overlooked them, your rosters would have been digging out of a hole.
In this five-race sample, each race has featured multiple drivers who led 66 or more laps. The rain-shortened event was the only one that didn't see two drivers lead more than 70 laps, meaning as long as this thing goes the full distance, we're going to get two guys who rack up laps led. That's upside that we want on our rosters.
This should paint a pretty clear picture for roster construction on Sunday. We're going to pick the two drivers we think are going to dominate and lead a bunch of laps. After that, we'll need to find three cheaper drivers to fill out our rosters. Seems simple enough.
On top of that, identifying who will lead those laps this week may be easier than it was in Martinsville as qualifying will play a big role in it. Over the past five races, no driver starting outside the top eight has led more than 75 laps in a race. Kyle Larson led 74 laps from 11th last year, and Truex led 66 from 12th in 2016, but the laps-led upside is pretty limited for drivers starting outside the first few rows.
That, of course, is not to say that you can't finish well after starting poorly. In our timeframe, here's the starting range for drivers who have logged top-10 and top-5 finishes at Texas.
| Starting Range | Top-10s | Top-5s |
| --- | --- | --- |
| 1st to 5th | 17 | 9 |
| 6th to 10th | 10 | 4 |
| 11th to 15th | 5 | 4 |
| 16th to 20th | 4 | 1 |
| 21st to 25th | 6 | 4 |
| 26th to 30th | 0 | 0 |
| 31st to 35th | 6 | 2 |
| 36th to 40th | 2 | 1 |

A lot of the best cars are going to qualify well because Texas is a fast track where the cream can rise to the top. But drivers starting 31st to 35th had more top-10 finishes than those starting 11th to 15th, and a good number of top-5 finishers started between 21st and 25th. It's generally a multi-groove track where passing is very possible, allowing us to target some drivers starting deeper in the pack.
We'll get to how this balances with the previous discussion around laps led in a second. But first, it's important to make a note about the first race at Texas this year.
If you pull up the results from that race, you're going to see some interesting names posting good finishes. That's because the race was a total wreck-fest with blown tires and multi-car incidents taking out a number of solid cars. This is not the norm at Texas.
In last year's playoff race at Texas, 29 of 40 drivers completed 330 or more laps. That number was 27 in the spring race that year with only 2 drivers failing to run at least 300 laps.
In general, the attrition rate here is pretty low, so you're not going to see a ton of those low-cost drivers finishing well often. As such, it's best to view results from that race with a healthy amount of skepticism. Instead, you can use Racing Reference's fantasy tool to see how well drivers have done on 1.5-mile tracks from a macro perspective this year to get an idea of who should compete on Sunday.
Historic Scoring Trends
We do have a general outline of what we want on Sunday based on what was discussed above. We most likely want two lap-leaders and three drivers capable of getting place-differential points. Does the data back this up?
The chart below shows the FanDuel-point output by each driver in the past five Texas races based on where they started.It seems to back up the general thought process.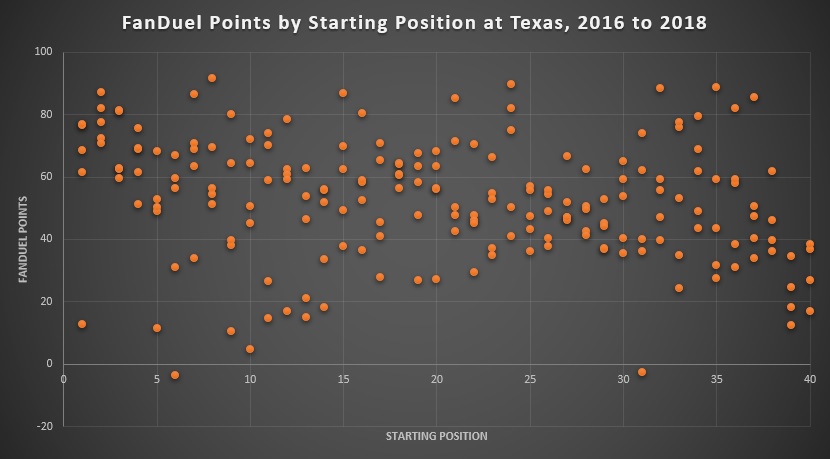 In our 5-race sample, 3 of the top 4 scores came from drivers who started 24th or lower. Seven of the 12 highest scores came from drivers who started outside the top 20. Even with laps led being a major factor here, some of the highest-upside days were from drivers who worked their way forward.
If you look at the 10 highest scores in this sample, it really does illustrate the different routes to upside here. Five of the 10 drivers led 60 or more laps; 2 drivers didn't lead any. You can score big here from pretty much anywhere.
It does help, though, to look at the names of the drivers who scored well after starting in the back. They include Jimmie Johnson, Matt Kenseth, Kyle Larson, Dale Eanhardt Jr., and Joey Logano. At the time those races took place, all of those drivers would have been pretty solid assets. They weren't just scrubs who managed to finish well.
As such, this gives us a bit of flexibility with our rosters based on what happens in qualifying. We're likely going to want two studs regardless. Qualifying can just dictate where they start.
If all of the top-end guys qualify well, there are enough laps available here where we can plug them in and still feel pretty good about our lineups. We won't be missing out on a ton by doing so.
But if we do wind up having a stud who qualifies poorly, they're a pretty baller option. History has shown that they can finish well despite the poor starting spot, and they'll carry both a lofty floor and a comparable ceiling to those up front. As long as that stud flashes more speed in practice than they had in qualifying, they'll be someone we'll want to target.
As far as the cheaper plays, it's definitely fine to target them starting in the back. You just have to be careful when doing so.
In looking back at past Texas races, you don't see a lot of mid-range drivers rack up big place-differential points. Instead, the drivers who wind up doing it most often are the bigger names mentioned before.
It's great if a low-cost driver starts in the back because it gives them some upside. But if they don't get us a good number of finishing points by the end of the race, that roster spot is going to look pretty empty. It means we have to be careful when assessing these cheaper options.
Thankfully, practice times can be a big crutch in deciding whether or not those drivers are worthy of attention. In the 2017 fall race (ignoring the 2018 spring race due to its strange nature), each driver's ranking in the first practice had a correlation of 0.883 to their average running position on Sunday. That's lower than the 0.659 correlation between their starting position and their average running position. So if drivers wind up being faster in practice than where they're starting the race, they're likely to be a pretty solid outlet for place-differential points.
Ignoring the pricing of drivers for a second, broadly, we're looking for drivers who will score well without leading laps. We don't expect laps-led upside out of our lower-dollar plays, so we need to find drivers who can do well without the benefit of them.
In the past 5 races at Texas, 19 drivers have scored 65 or more FanDuel points without leading a lap. Here's where they started the race.
| Starting Range | 65+ FD Pts, 0 Laps Led |
| --- | --- |
| 1st to 5th | 2 |
| 6th to 10th | 4 |
| 11th to 15th | 2 |
| 16th to 20th | 2 |
| 21st to 25th | 3 |
| 26th to 30th | 1 |
| 31st to 35th | 4 |
| 36th to 40th | 1 |

The average starting spot was 18.8 with an average finish of 6.9, but as you can see, the drivers came from a fairly wide starting range, including close to the back. As long as the drivers show speed in practice and have the ability to finish well, you don't have to limit yourself to searching in one specific area of the lineup.
The key here is flexibility across the board. If you don't have a ton of place-differential candidates, you can target drivers closer to the front, whether they're studs or salary-savers. But if competitive drivers struggle in qualifying, we can feel free to take advantage and plug them in.
Due to the number of laps led available, we likely should have one driver starting toward the front on each roster. But after that, you can go with whatever qualifying gives you. As long as the drivers have the ability to get you a solid finish, you should have the flexibility to target them pretty much anywhere in the field.